Meiji Institute for Global Affairs Inaugural Symposium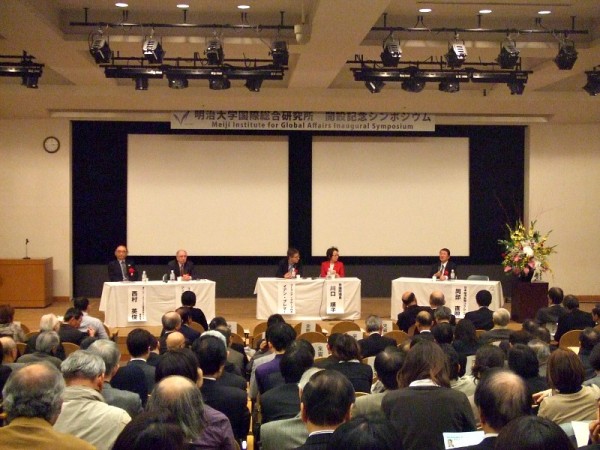 Meiji Institute for Global Affairs Inaugural Symposium was held on 21 February 2012 in Tokyo, Japan. Mr. Hidetoshi Nishimura, Executive Director of ERIA was invited as a commentator in session 1 entitled "the World in Transition and Japan's role". There were more than 500 participants.
Both technological innovations and globalization rapidly advanced in the last half of the previous century. This development has drastically changed, and is continuing to change, the world economic and security order. It has brought remarkable growth and prosperity to many countries. However, serious destabilizing factors have also appeared: growing financial risks, the rapid expansion of energy consumption, widening economic disparity, and the imbalance between the costs and benefits of social welfare programs. With the above in mind, this symposium invites the world's leading experts and scholars to discuss global risks and challenges, innovative and sustainable healthcare, and corporate governance in the age of globalization, to better understand the direction that we are headed.
Mr. Hidetoshi Nishimura, Executive Director of ERIA, made a presentation on "The Asian Economy and Connectivity" explaining about an unprecedented accomplishment of the 2nd unbundling in the manufacturing sector in East Asia which is international division of labor in terms of production processes and tasks, has developed since the 1980s. He also mentioned about considerable potential for growth in ASEAN in comparison with the growth of China in the 2000s.
The symposium provided an opportunity to widen perspectives on respective global problems and to discuss how Japan should respond and react to them.
CHOOSE FILTER