JETRO to push Japan-India business collaboration in Africa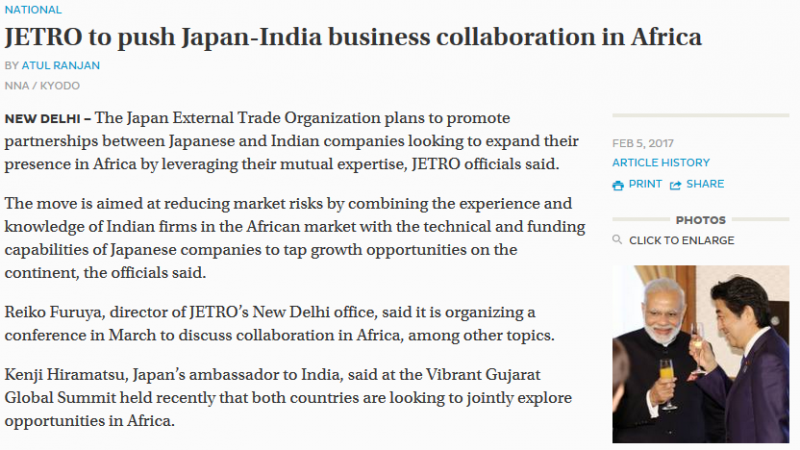 Editor's note: This article was originally published in the Japan Times on 5 February 2017. ERIA's Chief Operating Officer Izuru Kobayashi was quoted.
NEW DELHI – The Japan External Trade Organization plans to promote partnerships between Japanese and Indian companies looking to expand their presence in Africa by leveraging their mutual expertise, JETRO officials said.
The move is aimed at reducing market risks by combining the experience and knowledge of Indian firms in the African market with the technical and funding capabilities of Japanese companies to tap growth opportunities on the continent, the officials said.
Reiko Furuya, director of JETRO's New Delhi office, said it is organizing a conference in March to discuss collaboration in Africa, among other topics.
Kenji Hiramatsu, Japan's ambassador to India, said at the Vibrant Gujarat Global Summit held recently that both countries are looking to jointly explore opportunities in Africa.
"Indians have been doing business in Africa for a long time and have the knowledge and experience of operating in the market. We would like to combine this knowledge with the Japanese technologies and financing capabilities . . . this will be a win-win scenario," the envoy said.
According to experts, the move is in line with a joint statement issued by Japan and India in November last year that "underscored the importance of India-Japan dialogue to promote cooperation and collaboration in Africa, with the objective to synergize their efforts and explore specific joint projects."
Izuru Kobayashi, chief operating officer of the Economic Research Institute for ASEAN and East Asia based in Jakarta, said the Japanese and Indian governments are planning to start consulting on selecting specific projects in Africa as per the November statement.
"Japanese firms are good at production and quality management while Indian firms have strong local presence and connections, which are complementary," he said.
"Japan has been increasing official development assistance loans under the Quality Infrastructure Initiative, and India also extends a substantial amount of lines of credit to African countries," he said.
"The partnership may create opportunities for both Indian and Japanese firms to develop bankable projects in Africa."
According to the Federation of Indian Chambers of Commerce and Industry, collective gross domestic product in the African continent is expected to reach $3.6 trillion by 2020, up from $2.1 trillion in 2011.
Published reports show that Indian foreign direct investment in Africa stood at almost $12.5 billion in 2014 alone, while Japan's cumulative FDI in the continent was $10.5 billion as of that year.
CHOOSE FILTER