IPR Protection Pivotal to Myanmar's SMEs Development and Innovation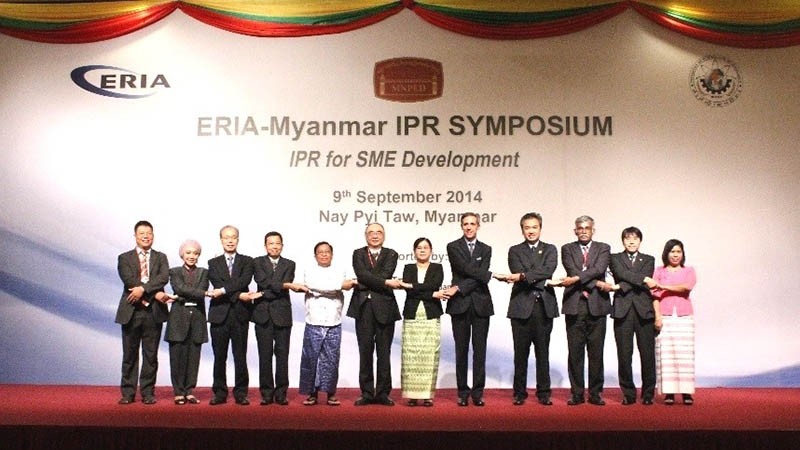 Nay Pyi Taw - 9 September 2014: ERIA-Myanmar IPR Symposium on IPR for SME Development was held on Tuesday, 9 September, 2014 in Thingaha Hotel, Nay Pyi Taw, Myanmar.Protection of intellectual property right (IPR) will attract foreign investment and promote innovation in the small and medium-size enterprises (SMEs) in Myanmar, according to a senior Myanmar official.
In her welcoming remarks speech, H.E. Daw Lei Lei Thein, Deputy Minister for National Planning and Economic Development, said that foreign investors only target destination with respect of IPR. "Hence, strong IPR protection can encourage FDI and, with it, technology transfer to developing countries," she told the participants at the one-day ERIA-Myanmar IPR symposium.
In his keynote speech, H.E. Dr. Aung Kyaw Myat, Deputy Minister of Science and Technology, emphasized that the government is making its best efforts to establish a proper intellectual property system. He revealed that four IP laws are in the process of legislation and soon be submitted to the Parliament.
These laws, he pointed out, will protect not only local IPR owners but foreign ones as well. "We are now developing and nurturing the human resources for the capacity building to handle the new registration system."
As the current chair of ASEAN, Myanmar has been at the forefront to bring about the realization of ASEAN Community which includes economic, political/security and socio/cultural pillars. New measures and legislatures are aiming at promoting Myanmar's economic competitiveness within the region and beyond.
The chair also views the SMEs development as the backbone of the ASEAN economy that will create jobs and improve the incomes and well beings of peoples in the region.
Prof. Hidetoshi Nishimura, Executive Director of ERIA, wrapped up the symposium reiterating that the ASEAN economies should focus on stimulating innovation in SMEs. "Access to foreign source of knowledge, imports of materials and investment flow is important for the innovation in SMEs, especially at the learning phase," he stated. Prof. Nishimura said that recommendations from today's symposium will be put forward in supporting the SMEs role in the realization of the grouping's economic integration.
International and regional experts on IPR sharing their experience include Mr. Denis Croze, Director of World Intellectual Property Organization (WIPO), Singapore Office; Mr. Pornvit Sila-on, Head of International Cooperation Unit 1, Department of Intellectual Property, Ministry of Commerce, Thailand; Prof. Phan Quoc Nguyen, Vice-Director, Science, Technology and International Relations Department and Center of Knowledge Transfer, Viet Nam National University, Viet Nam; Prof. Rajah Rasiah, University of Malaya, Malaysia; Dr. Miranda Risang Ayu, New Emerging IPR Specialist, Universitas Padjajaran, Indonesia; Prof. Hiroshi Kato, Faculty of Law, Japan University; Dr. Moe Moe Thwe, Deputy Director, Head of Intellectual Property Section, Ministry of Science and Technology, the Republic of the Union of Myanmar; Mr. Takeo Donoue, Director-General, Policy Planning and Coordination Department, Japan Patent Office.
This Symposium was organized by Economic Research Institute for ASEAN and East Asia (ERIA) together with Ministry of Planning and Economic Development (NPED) and Ministry of Science and Technology (MOST), the Republic of the Union of Myanmar and Supported by Bangkok Research Center (BRC) JETRO Bangkok, Japan Patent Office (JPO) and JETRO Yangon.
It is the first ERIA event specialized in IPR and also the first event in Myanmar providing insights on the relationship between SMEs and IPR. ERIA has organized a series of capacity-building programs for the promotion of Myanmar's economic development.
To download the Press Release, please click on the following PDF file:
CHOOSE FILTER