Informal Consultation of EAS Economic Ministers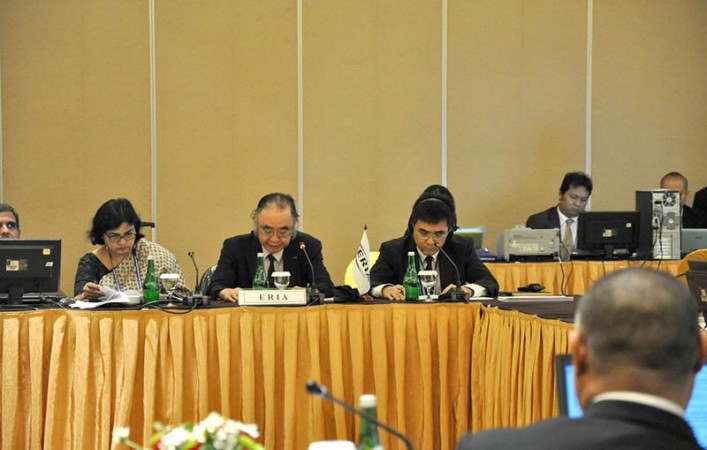 The Informal Consultation of East Asia Summit (EAS) Economic Ministers was held in Manado, Indonesia on 13 August 2011. Trade and Economic Ministers of Australia, India, China, Korea, Japan, New Zealand and the ten ASEAN countries attended the meeting. The meeting was chaired by the H.E. Mary Elka Pangetsu, Trade Minister of Indonesia.
Mr. Hidetoshi Nishimura, Executive Director of ERIA, made a presentation on ERIA's research activities and progress in the year 2011.
Mr. Banri Kaieda, METI Minister, Japan, Mr. Anand Sharma, Minister of Commerce, Industry and Texitile, India, and Mr. Pehin Dato Lim Jock Seng, Second Minister, Ministry of Foreign Affairs and Trade, Brunei Darussalam, responded to the presentation.
ERIA was mentioned in the Joint Media Statement (paragraph 11, 12, 13) as below.
11. The Ministers appreciated the progress of the research activities of the ERIA in a variety of fields such as SMEs, energy, environment, trade and investment, and infrastructure development including the assistance provided to ASEAN in the Mid-Term Review of the AEC Blueprint, improving the AEC Scorecard and conducting a comprehensive mapping of ASEAN-related FTAs.
12. The Ministers also appreciated ERIA's initiative to implement "Comprehensive Asian Development Plan (CADP)" and "Master Plan on ASEAN Connectivity (MPAC)", which will narrow development gap in the region, by supporting implementation of specific projects and enhancing institutional framework for the Public-Private Partnership (PPP). The Ministers reaffirmed necessity to promote CADP in close collaboration with MPAC, relevant Ministerial meetings and international organizations, and agreed to report the progress on CADP to the Leaders at the EAS in 2011 in order to facilitate these collaborations.
13. The Ministers looked forward to ERIA's continued support and contribution recognizing the importance of further strengthening ERIA in enhancing economic integration and community-building in ASEAN and the greater East Asian region through its research works and policy recommendations. From this perspective, the Ministers appreciated the continuous contributions from Australia, India, Japan and New Zealand to ERIA, and expressed their intention to pursue the possibility to make voluntary contribution by capable Members.
To reach the whole Statement, please click on the link below.
On the same day, ERIA was also invited to participate in the Trade Facilitation Forum. It was co-organized by USAID, ASEAN Secretariat, Indonesia Ministry of Trade, and ADVANCE to share the outcomes of the preliminary findings from her study to further improve the AEC Scorecard, particularly in relation to trade facilitation.
Dr. Ponciano S. Intal Jr., Senior Researcher of ERIA, made a presentation on "ERIA Study to Further Improve AEC Scorecard Progress Report and Trade Facilitation". (photo 2)
2011_0813_JointMediaStatement_Informal Consultation the economic ministers of the EAS.pdf
CHOOSE FILTER