Identifying New Growth Path of Services, Urban Amenities and GVC in Cambodia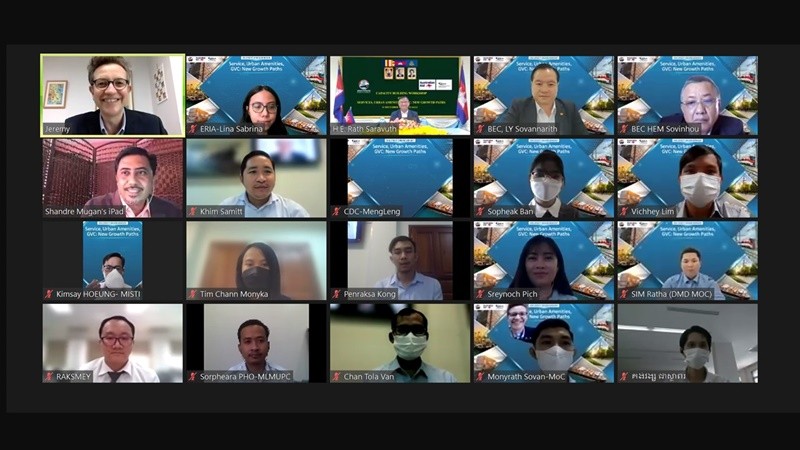 Phnom Penh, 13 December 2021: A key aspect of Global Value Chain (GVC) transformation is the level of growth of service activities and linkages in the production process. The fragmentation of production process within and across countries due to technological advancement has intensified the growth and inter-dependency of production processes between manufacturing and service activities. This transformation has fostered unbalanced growth within and between countries. The dynamic development of service activities and linkages, urbanization and city developments, innovation and digitalization, and GVCs from the multilateral agreements creates a new growth path for ASEAN Member States.
On 13 December 2021, the Ministry of Commerce of Cambodia, along with ERIA, co-hosted a Capacity Building Programme workshop, Services, Urban Amenities, GVC: New Growth Path' for Cambodia. This workshop discussed the new growth path for Cambodia in terms of structural transformation in response to emerging GVCs, services sector development, and their links to city and urban sector developments. It aimed to introduce government officials to the new growth policies and strategies for ASEAN sustainable growth.
Prof Shandre Thangavelu, of the University of Adelaide's Institute of International Trade and the Jeffrey Cheah Institute of Southeast Asia, Sunway University, led the workshop. There were 35 government officials from a wide range of ministries and national agencies participating in the workshop.
In his welcoming remarks, the Director-General of the General Directorate of International Trade, Ministry of Commerce, H.E. RATH Saravuth, noted that based on ASEAN statistics, trade in services contributes over 40% of Cambodia's GDP. Thus, this workshop is expected to provide participants with key knowledge to formulate policies and strategies for services development. He also expressed his gratitude to ERIA and the Government of Australia for their continuous support and technical assistance to strengthen institutional capacity in Cambodia. Mr Jeremy Gross, ERIA's Director of Capacity Building, moderated the session and expressed his sincere gratitude to the Ministry of Commerce, Kingdom of Cambodia.
The workshop consisted of two sessions. The first, Services Sectors, Cities, Connectivity, and GVC: Case in ASEAN, opened with a wide range of challenges in the region and ways to promote inclusive growth in the post-pandemic era. The discussion introduced theoretical evolution strategies of cross-border production sharing and networks across several countries. It also discussed the mapping to develop the services trade and GVC to boost the structural economy and productivity growth.
The second session focused on Agglomeration and Fragmentation. This discussion emphasized critical aspects about city-to-city linkages and GVC to drive socio-economic growth. It also discussed stages of growth for policy formulation around the agglomeration of cities, including human capital development and institutional reform, as well as key elements for structural transformation that will allow Cambodia to capture the dynamic gains from free trade agreements and urbanisation.
The workshop ended by discussing strategies and policy recommendations for assisting the mobility of professional workers during the pandemic, promoting special zone linkages, promoting effective and efficient strategy on investment.
Related Articles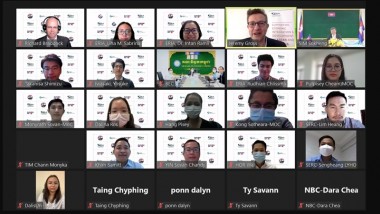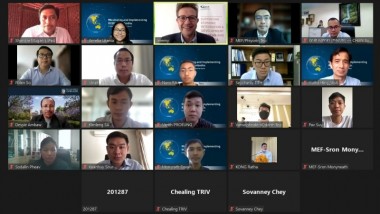 CHOOSE FILTER