Hands Over Important Documents to Prime Minister Hun Sen, Kingdom of Cambodia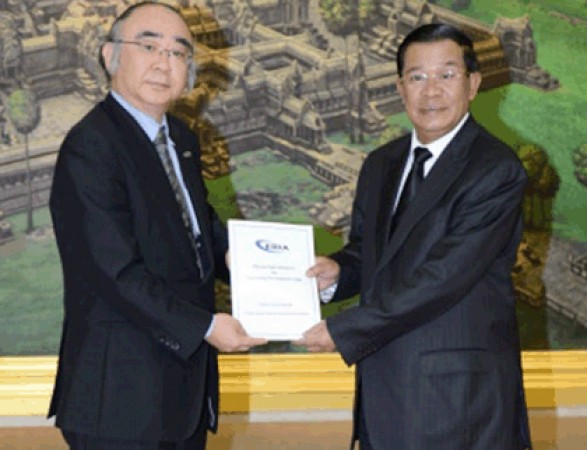 Prof. Hidetoshi Nishimura, Executive Director of ERIA, senior officials and researchers of ERIA, paid a courtesy call to H.E. Samdech Akka Moha Sena Padei Techo Hun Sen,Prime Minister, Kingdom of Cambodia on November 1, 2012 at Peace Palace, Prime Minister's office.
Prof. Nishimura handed over Prime Minister the following three documents; 1. Outcomes and recommendations of the Symposium on "Realizing a More Integrated, Competitive, Equitable, and Resilient ASEAN Community" jointly organized by the Royal Government of Cambodia-ERIA-Harvard University / 2. Executive Summary of Phnom Penh Initiative for Narrowing Development Gaps" which is the framework to support Cambodia's ASEAN Chairmanship this year / 3. Executive Summary of Mid-Term Review of the Implementation of AEC Blueprint (MTR).
During the meeting, Prime Minister Hun Sen expressed His Excellency's appreciation to Prof. Hidetoshi Nishimura and to all researchers for their tireless efforts to complete this important research and compiled documents and mentioned that the submitted documents are very crucial for not only for ASEAN community building by 2015 but beyond.
His Excellency further mentioned that 2015 is not the end but only a set goal to have free flow of goods, services, and other liberalization measures, though there are still some tasks to be done and the gaps would still remain. Therefore, more research and monitoring mechanism is very important. Prime Minister believes that in realizing ASEAN community, measures to tackle human capital development gap will be faster than narrowing income gap.
Prof. Nishimura expected that these documents would be useful for all ASEAN member states to utilize and transform the region and the country to be more competitive and responsible.
CHOOSE FILTER