Government Officials and Experts Discuss Latest LNG Market Trends in 8th Producer–Consumer Conference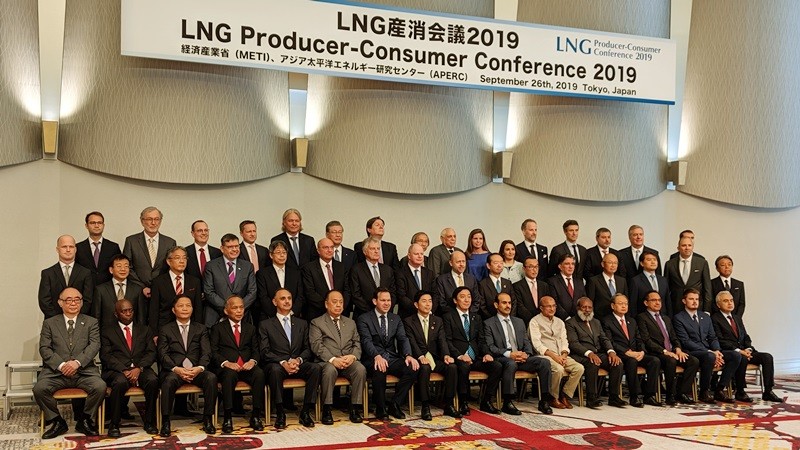 Tokyo, 26 September 2019: More than 500 high government officials, energy experts, academics, and business representatives from all over the world participated in the 8th LNG Producer–Consumer Conference held on 26 September 2019 in Tokyo, Japan. The conference was organised by Japan's Ministry of Economy, Trade, and Industry (METI) and the Asia Pacific Energy Research Center (APERC). An ERIA delegation attended.
First held in 2012 and intended as a global annual dialogue, the conference aims to promote active dialogue among liquefied natural gas (LNG) producers, consumers, and other stakeholders to deepen shared understanding of market trends and to develop the global LNG market.
In his welcome remarks, the Minister of Economy, Trade, and Industry of Japan, H.E. Mr Isshu Sugahara stressed the importance of world energy security and the great contribution of natural gas and LNG to energy security. Citing Japan's 50th anniversary of importing LNG, he announced a ¥10 billion commitment and capacity-building programmes for 500 LNG technicians.
In his opening remarks, Qatar Minister of State for Energy Affairs H.E. Mr Saad Sherida Al Kaabi enumerated the benefits of natural gas and LNG, such as diversity, flexibility, economy, and cleanness, compared with other energy sources, and pointed out the robust growth of LNG demand in Asia and the Pacific.
ERIA President Prof. Hidetoshi Nishimura's keynote speech stressed accelerating the removal of destination restrictions, developing a reliable LNG price benchmark, assisting private investment in the LNG value chain, engaging with emerging LNG markets, developing a fast-tracking tool for project development, and preparing for the emergence of LNG bunkering demand, to develop a robust LNG market in the East Asia Summit region.
CHOOSE FILTER