G20 Digital Innovation Network Aims for a Stronger Post-pandemic Recovery Collaboration with Global Innovation Players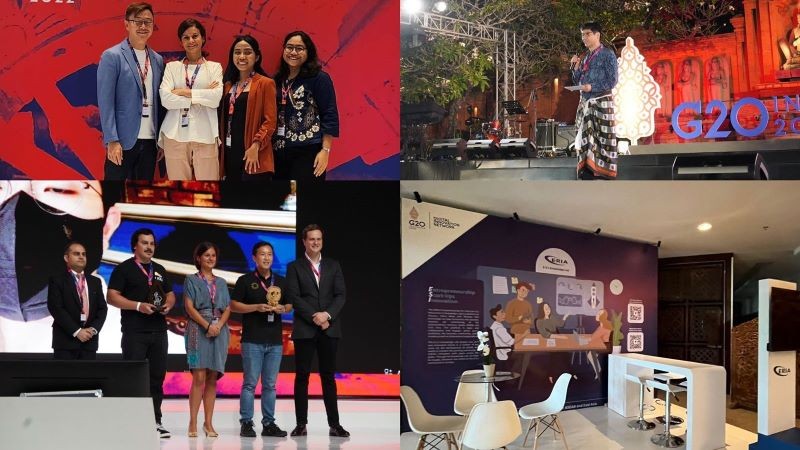 Bali, 2-4 September 2022: More than 200 global innovation players including start-ups, venture capitalists, corporates, and policymakers gathered in Bali, Indonesia, on 2–4 September 2022 to discuss, enhance, and strengthen cooperation and collaboration for digital innovation and transformation that collectively support stronger world recovery. The G20 Digital Innovation Network (G20 DIN) was held as part of the Indonesian G20 Presidency and the Digital Economy Working Group, and was a continued legacy of the previous Group of Twenty (G20) Italian initiative called G20 Innovation League.
With the theme The Rise of Digital Economy: Post Pandemic Recovery and Beyond, the Indonesian G20 DIN aimed to showcase innovative solutions from start-ups amongst the G20 members and invitees from the healthtech, fintech, edtech, supply chain, and green and renewable energy sectors; share knowledge and insight on emerging innovations during the COVID-19 pandemic and post-pandemic recovery; and enhance public–private partnership by providing a platform and business opportunities and junctures to network and collaborate.
In his opening remarks, H.E. Johnny G. Plate, Indonesia's Minister of Communications and Informatics, emphasised the importance of digitally enabled business models and innovation that will continue to drive post-pandemic economic recovery and growth. He said a well-functioning digital economy can be maintained in the long run by building high-quality connectivity and partnership amongst global digital ecosystem players. On a similar note, H.E. Josephine Teo, Singapore's Minister of Communication and Information, pointed out that digital connectivity and cross-border data flow are keys to successful global digital innovation.
Keynote speakers in four-panel discussion sessions shared insights and lessons learnt from global tech companies and industry leaders from Google, Zoom, Grab, Alpha JWC Venture Accel, and Ajaib. In one session, Yossi Matias, Google's Vice President for Engineering and Research, noted that digital innovation, especially the use of artificial intelligence (AI), holds great potential and opportunities to solve some of the most pressing issues such as climate and sustainable environment crises as well as to redefine tech for good such as the use of AI in conversation/language and healthcare. Abhist Arora, Zoom's Head of Corporate Strategy, remarked that the pandemic has accelerated the movement of people towards digital platforms, with the future of work now being defined by flexibility and the ability to do remote or online work
The panel speakers tackled some concerns and shared forward-looking strategies on the future of the tech industry, global tech investment outlook, sustainable investments, and learning from Indonesia's early unicorns, against the backdrop of challenging pandemic times. With start-ups, corporates, and governments needing to navigate global uncertainties whilst preparing for future opportunities, the panel speakers agreed that building a good ecosystem for digital talents/professionals to flourish is critical to enabling more inclusive and innovative solutions. Markus Bracht, DEG's Vice President for Equity Asia, said that there is already a great need for investing in sustainable business and that more companies will need to consolidate and work together to accelerate growth and foster policy implementation and regulation to carry out environmental, social, and governance measures. Another key message was conveyed by Prashanth Prakash, Partner at Accel, who discussed the increasing interconnectedness of global problems as the risks for investors or start-ups that need to be managed effectively. Learning from Indonesia's emerging start-ups, some of the speakers proposed ways to weather the uncertainties that come with relearning and adjusting to different dynamics of market approach and global trends as well as to collaborate on building cooperation in cross-sector and nascent industries amongst institutions and ecosystem players. As Andrew Schoen, NEA Partner, stated: 'Tech is the institution and things will have to change'.
The event held start-up pitching sessions on healthtech, edutech, supply chain, fintech, and renewable energy from selected start-ups amongst the G20 and invited countries. During the gala dinner, Mr Koji Hachiyama, ERIA's Chief Operating Officer, reiterated the commitment of ASEAN and country partners to foster economic integration by collaborating and by enabling policy recommendations to support innovative solutions, including ERIA's Entrepreneurship, Start-ups and Innovation (E-S-I) Knowledge Lab, which aims to engage, empower, and connect ecosystem builders in the region.
Mr Semuel Abrijani Pangerapan, Director General of Informatics Application of Indonesia's Ministry of Communication and Informatics, delivered the closing remarks. At the awarding session for the start-up winners, Dr Giulia Ajmone Marsan, ERIA's Director of Strategy and Partnership, judge for the renewable energy, and Ms Lydia Ruddy, ERIA's Communication Director and judge for inclusive fintech topic, presented the awards. The event closed with a handover ceremony for the G20 India delegation.
Image Gallery
Related Articles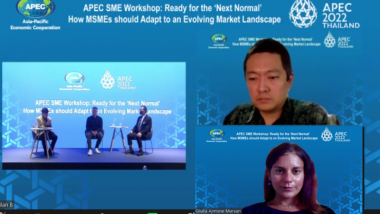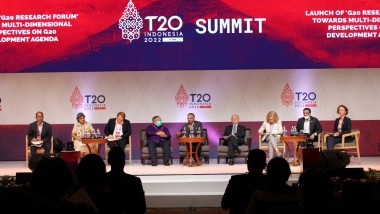 CHOOSE FILTER