First Research Institute Network (RIN) Meeting for FY2013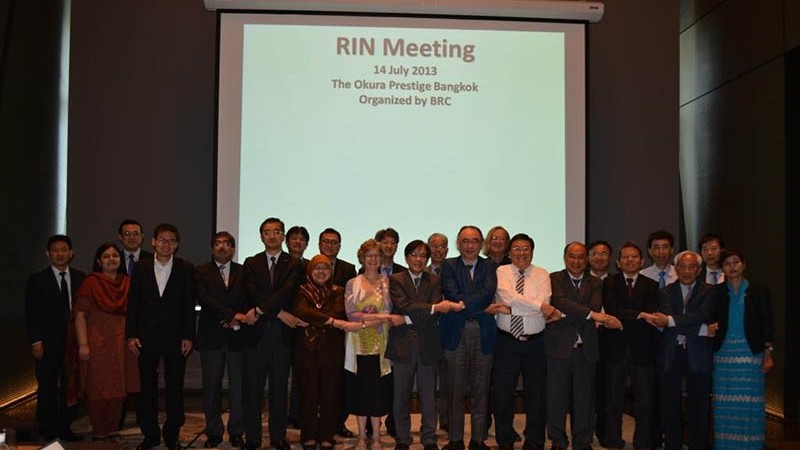 The first Research Institute Network (RIN) Meeting for the fiscal year 2013 was held in Bangkok, Thailand on July 14, 2013 under the Chairmanship of Dr. Hank Giok-Hay LIM.
The RIN mechanism is an important institution of ERIA where the strengths of the 16 participating research institutes are used to provide powerful and regionally relevant research from ERIA. Due to this mechanism, and despite its small size, ERIA is able to provide many relevant research to policy makers in the region.
Session 1 of the RIN meeting was moderated by Prof. Yasuhiro Yamada, President, BRC-JETRO. Prof. Fukunari Kimura, Chief Economist of ERIA presented the status of research project in FY 2013. Mr. Yasushi Iwata, General Manager of ERIA, briefly explained on ERIA's activities since last RIN meeting in October 2012. After that, Dr. Han Phoumin, Energy Economist of ERIA made a presentation on "Energy Market Integration: Renewable Energy & Policy Implications for EAS Countries".
Session 2 of the meeting was moderated by Dr. Hank Lim, where the members discussed ERIA's future activities. Specifically, members discussed ERIA's strategy towards its contribution to the upcoming chairs of the ASEAN, namely Myanmar and Malaysia. In this regard, RIN members from current chair Brunei, Myanmar and Malaysia gave their inputs towards the deliverables expected in the respective chairmanships. RIN members from Australia, Cambodia, Laos, New Zealand and Indonesia also gave ideas for future collaborations with ERIA.
The RIN discussed the format and contents of the next RIN Statement on WTO, which would be prepared by the end of this year. Prof. Hidetoshi Nishimura, Executive Director of ERIA made a closing remark. He appreciated RIN members for their numerous contributions and said that "ERIA will remain committed towards Community building in ASEAN and East Asia".
CHOOSE FILTER