Executive Director of ERIA attends 10th ASEAN Leadership Forum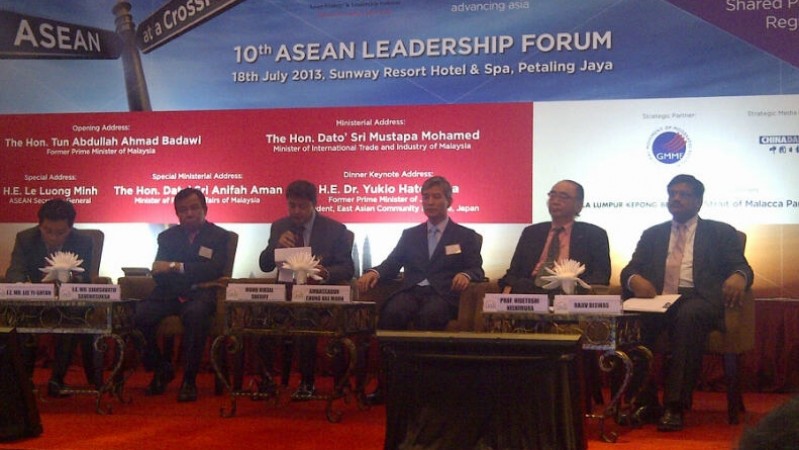 Prof. Hidetoshi Nishimura, Executive Director of ERIA was invited as a panelist to the 10th ASEAN Leadership Forum entitled "ASEAN at a Crossroads - Towards a Common Future, Shared Prosperity and Regional Stability" which was held in Malaysia, on July 18, 2013.
The forum this year created opportunities for government, business leaders, academia, civil society leaders, and experts from ASEAN member countries to discuss the road ahead for ASEAN and the challenges and opportunities towards the ASEAN Economic Community (AEC) 2015, focusing on Regional Comprehensive Economic Partnership (RCEP).
In his message to the forum, Malaysian Prime Minister Dato Sri Mohamed Najib Tun Razak expressed his belief that the journey towards AEC in 2015 is well on course and irreversible and said that the commencement of negotiations for the RCEP creating the world's largest FTA are exciting prospects for ASEAN.
Dato Sri Mustapa Mohamed, Minister of International Trade and Industry of Malaysia, Tun Abdullah Ahmad Badawi, Former Prime Minister of Malaysia, and H.E. Mr. Le Luong Minh, Secretary General of ASEAN, made addresses in the opening session.
Prof. Nishimura made a presentation on "ASEAN & AEC beyond 2015 and development of RCEP" in the session of "Pushing Forward ASEAN Integration: Strengthening Community Building". He explained the progress towards AEC 2015 reflecting ASEAN's achievements and successes, and recommendations on beyond AEC. He also emphasized about the importance of Malaysia's leadership when Malaysia will be in the Chair of ASEAN in 2015. ERIA is ready to contribute for supporting the Malaysia's Chairmanship of ASEAN, he added.
CHOOSE FILTER