Executive Director of ERIA attended Eminent Persons' Forum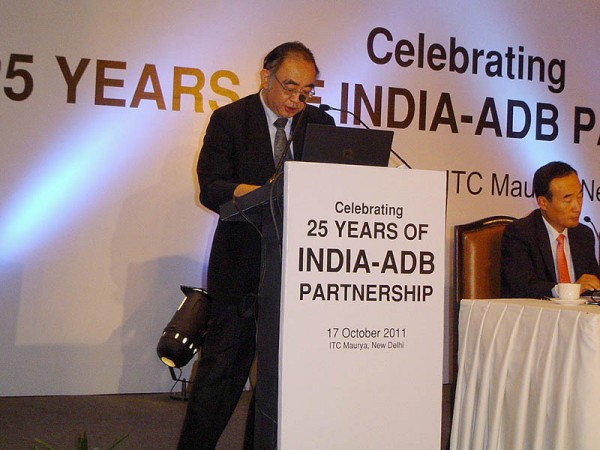 Mr. Hidetoshi Nishimura, Executive Director, ERIA, was invited to the Eminent Persons' Forum organised jointly by the Department of Economic Affairs, Ministry of Finance of Government of India and the Asian Development Bank in New Delhi on 17 October 2011.
Mr. Nishimura met with Mr Pranab Mukherjee, Finance Minister of India, Mr. Sanjay Singh, Secretary (East), Ministry of External Affairs of India and Mr. Haruhiko Kuroda, President of Asian Development Bank. Other dignitaries like the Finance Ministers of Malaysia and the Philippines also attended this Forum. He also met Mr. S. Gopalan, Secretary, Department of Economic Affairs, Ministry of Finance and Mr Sanjay Singh, Secretary (East), Ministry of External Affairs. Besides Mr. Nishimura, eminent economists and members of think tanks addressed the Forum.
Mr. Nishimura addressed the Forum through a presentation on India's Connectivity with ASEAN and East Asia. His presentation emphasised the need for the connectivity between India and the rest of East Asia, in particular with the ASEAN countries. In this he expressed the importance of the Mekong India Economic Corridor (MIEC) in for India, Myanmar, Thailand, Cambodia and Vietnam. He explained how this corridor will link up the production network in the region and lead to economic growth along the corridor. However, for India in particular, he used the ERIA/IDE-GSM Model to show the importance of increased domestic connectivity in India through the Golden Quadrilateral and the North, South, East and West Corridor.
The Forum took note of ERIA's work, especially the MIEC and its role in the resurgence of Asia. The Forum also noted the importance of corridors in connecting the production networks in the region and concluded that these Asian Connectivity Corridors will be the harbinger of growth and development in the region.
CHOOSE FILTER