ERIA Symposium on Disaster Management: Building Disaster Resilience in Asia with Help from Japan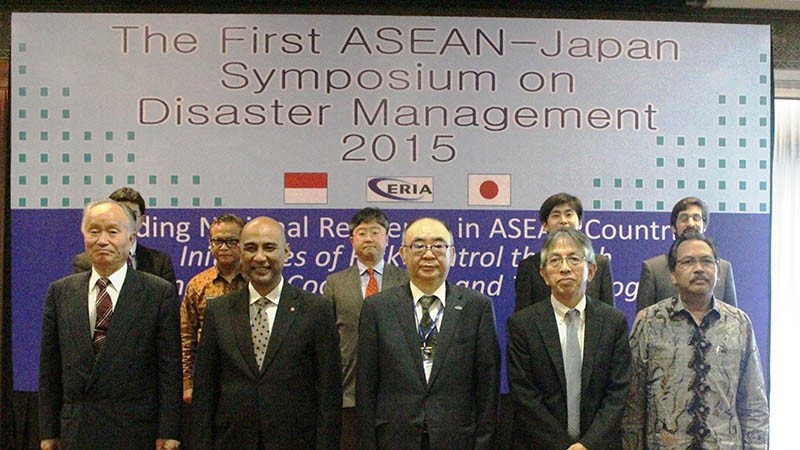 ERIA, the Government of Indonesia, and the Government of Japan held the 1st ASEAN-Japan Symposium on Disaster Management 2015 - Building National Resilience in ASEAN Countries: Initiatives of Risk Control through International Cooperation and Technologies on 2 April 2015, in Jakarta, Indonesia.
The series of three symposia (the second will be in Viet Nam, and the third in Myanmar) aims to raise awareness of national resilience among government officials and related organizations engaged in the economic and disaster management policies in East Asia region, and to share experiences and best practices on cooperation in this field.
The symposium was opened by H.E. Mr. Koichi Aiboshi, Ambassador of Japan to ASEAN. The Ambassador said that Japan will support the building of disaster resilience in the region through Japan's accumulated knowledge and technology on disaster management.
Mr. Wisnu Widjaja, Indonesia's Deputy for Prevention and Preparedness, National Agency for Disaster Management, expressed his gratitude to ERIA and Japan for hosting the event. In their opening remarks, Mr. Wisnu Widjaja and Mr. Larry Maramis, Director for Cross-Sectoral Cooperation, ASEAN Secretariat, stressed that ASEAN should develop a more effective regional disaster risk reduction policy and also focus on how to rebuild after a disaster strikes.
In his keynote speech, Mr. Said Faisal, Executive Director of ASEAN Coordinating Center for Humanitarian Assistance on Disaster Management (AHA Center), highlighted the following five key points in building disaster resilience in Asia - the need to address the changing landscape in disaster management, the need for greater innovation, the need for evidence-based and fact-based disaster management, the development of a disaster management industry, and the need to advance professionalism in disaster management.
Session 1 on Initiatives to Build National Resilience in ASEAN and Japan discussed disaster experiences and lessons from Japan and Indonesia and their disaster management policies and regional risk governance efforts.
Session 2 on Risk Control through International Cooperation and Technologies reviewed international cooperation in disaster management and underscored the importance of international cooperation between the public and private sectors and private-government-academia collaboration.
Prof. Hidetoshi Nishimura, Executive Director of ERIA, wrapped up the sessions and encouraged policymakers to take note of the outcomes of the discussions and to convey the proposals that were made to the relevant bodies under the auspices of ASEAN for their consideration.
List of speakers:
Prof. Yasuyuki Sawada, Professor of University of Tokyo; Prof. Nobuhiro Okuno, Professor of School of Business and Public Policies, Chukyo University; Mr. Wisnu Widjaja, Deputy for Prevention and Preparedness BNPB; Mr. Mohammad Masduki Bardjaki, Director of Ministry of Home Affairs (MoHA); Mr. Takahiro Konami, Director for International Cooperation, Overseas Project Division, Ministry of Land, Infrastructure, Transport and Tourism (MLIT); Mr. Charles Baubion, Policy Analyst in Risk Management, OECD; Mr. Masanori Tasaka, Deputy Manager, Board Member of Japan Bosai Platform/Corporate Planning & Administration, Nikken Sekkei LTD.
CHOOSE FILTER