ERIA President, Prof. Hidetoshi Nishimura, Pays Courtesy Call on Myanmar President U Thein Sein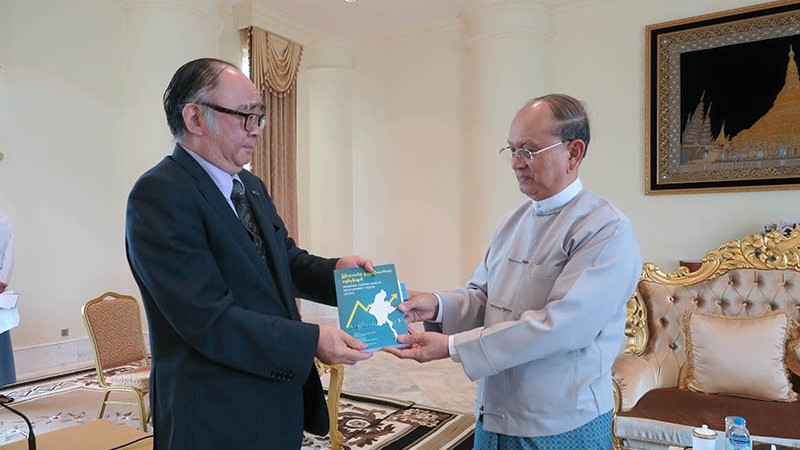 ERIA President, Prof. Hidetoshi Nishimura, paid a courtesy call on Myanmar President, U Thein Sein on 26 June in Myanmar's capital city of Nay Pyi Taw.
In the meeting, President Thein Sein expressed his gratitude to ERIA for its contributions to, and support for, Myanmar's Chairmanship of ASEAN in 2014 through its symposia and capacity building seminars and research products such as the Myanmar Comprehensive Development Vision (MCDV), which will provide valuable inputs to the National Comprehensive Development Plan (NCDP) under the Myanmar government.
Prof. Nishimura presented a Myanmar-language version of the MCDV to President Thein Sein. The MCDV drafted by ERIA offers long-term growth strategies.
Prof. Nishimura also explained ERIA's proposed direction and development strategy for the Dawei Special Economic Zone (SEZ), highlighting how ERIA's research shows Myanmar, together with the Dawei SEZ, will generate massive and geographically extensive economic impacts across East Asia.
President Thein Sein agreed with ERIA's research results, saying that 'Dawei development will bring good economic effect not only for Myanmar but for ASEAN, East Asia, and Middle East countries.'
President Thein Sein also added that he 'would like to ask ERIA for its continued support for the future development of Myanmar.'
CHOOSE FILTER