ERIA President Delivers Keynote Speech to Brunei Darussalam Conference on Agriculture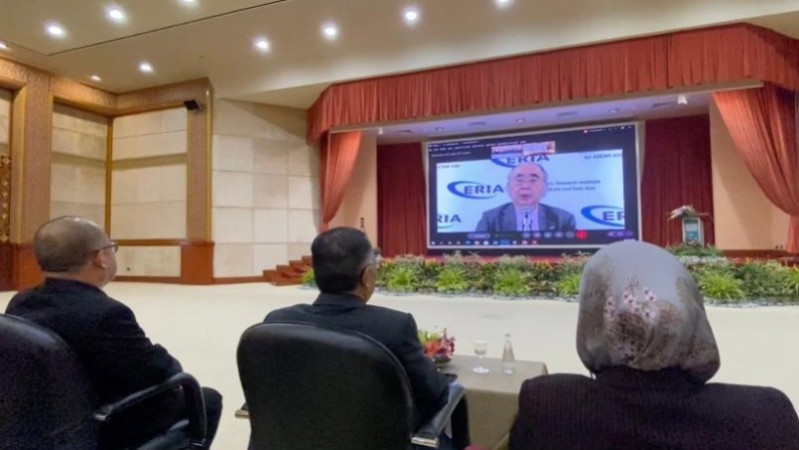 Bandar Seri Begawan, 12 June 2021: Prof Hidetoshi Nishimura, President of the Economic Research Institute for ASEAN and East Asia (ERIA) delivered a keynote speech at the 'Brunei Darussalam Conference on Agriculture Agricultural Sector: Challenges & Way Forward' where he presented ERIA's research on the food and agriculture sector in ASEAN.
Organised by the Ministry of Primary Resources and Tourism (MPRT) of Brunei, the conference was held at the International Convention Centre in Bandar Seri Begawan. Dato Seri Setia Awang Haji Ali bin Apong, Minister of MPRT welcomed the special guest Prof. Nishimura and expressed his appreciation to ERIA for their support.
Minister Ali delivered a keynote speech at the opening ceremony. Following the Minister's speech, Prof Nishimura gave the keynote address which focused on cold chain development and the application of digital technology to the food and agriculture sectors in ASEAN.
With regards to research on cold chain development, Prof Nishimura referred to ERIA research findings from the project titled 'Realization of higher value added of agricultural products in ASEAN countries through development of effective cold chain'. Important findings identified key players in modern cold chains, benefits to farmers due to cold chain, government initiatives, and constraints for the development of cold chains. Prof Nishimura highlighted recommended actions with the conference participants.
Prof Nishimura also shared information about new ERIA research on agriculture and digital technology from the project 'Enhancing food supply chain resilience and food security in ASEAN with utilisation of digital technologies'. This project is composed of research activities including an assessment of digital technologies adaptation and support of the formulation of ASEAN guidelines on the utilisation of digital technologies in agriculture.
Lastly, Prof Nishimura stressed ERIA's support to Brunei Darussalam, as the Chair of the ASEAN Summit and the East Asia Summit in 2021, through the implementation of research activities such as a study to prepare the masterplan for the economic development of Temburong.
The conference was also attended by Dato Seri Paduka Dr Haji Abdul Manaf bin Haji Metsussin Deputy Minister, Ministry of Finance and Economy, and other high-level government officials, diplomats, industry leaders, academics, and experts in Brunei Darussalam. In addition to the high-level speeches, the conference consisted of several sessions of panel discussion on topics related to the agriculture sector.
Image Gallery
CHOOSE FILTER