ERIA President Delivers Keynote Address for the Brunei Darussalam Energy Symposium 2022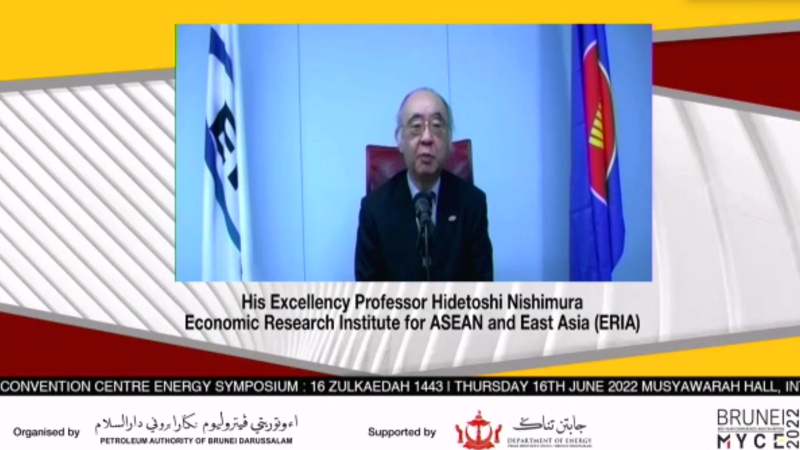 Bandar Seri Begawan, 16 June 2022: Professor Hidetoshi Nishimura, President of the Economic Research Institute for ASEAN and East Asia (ERIA) delivered a keynote address at the Brunei Darussalam Energy Symposium 2022 on 'Energy Security and Energy Transition: Today and Tomorrow'. Organised by the Petroleum Authority of Brunei Darussalam, the conference was held at the Musyawarah Hall, International Convention Centre in Bandar Seri Begawan.
Yang Mulia Awang Haji Azhar bin Haji Yahya, Permanent Secretary, Department of Energy at the Prime Minister's Office and Interim Managing Director, Petroleum Authority of Brunei Darussalam, delivered remarks at the opening ceremony. Following the Secretary of Prime Minister's Office's speech, Professor Nishimura gave the keynote address which focused on ERIA's research on clean energy transition in the ASEAN region.
In his presentation, Prof Nishimura discussed ASEAN's carbon neutrality goals in 2050, 2060, and 2065. These targets were highlighted at COP26 which established the Glasgow Climate Pact to pursue efforts to control the world's average temperature and urges countries to expedite the phase-out of coal power.
ERIA and the Institute of Energy Economics Japan (IEEJ) are currently conducting a study on cost-optimal deployment of renewable energy technology for ASEAN's 2060 carbon neutrality. In the short- to medium-term, efficient gas-fired power plants will reduce CO2 emissions from fossil power generation. In this regard, natural gas will play a crucial part in a realistic mitigation strategy. In the power sector, a rising number of ASEAN countries are interested in converting from coal to natural gas. In the long-term, CCUS (Carbon Capture Utilisation Storage) and co-firing with ammonia and hydrogen will play a predominant role.
Prof Nishimura further stressed the necessity of carbon capture and storage (CCS) for mid- to long-term decarbonisation. ERIA and Japan launched the 'Asia CCUS Network' in June 2021 with the presence of the Chair of the EAS Energy Ministers Meeting, Brunei Darussalam. Additionally, the 4th East Asia Energy Forum was successfully convened by ERIA and Brunei Darussalam in September 2021 under the theme 'A Low-Carbon Energy Transition in the ASEAN Region,' focusing on the role of natural gas, variable renewable energy, hydrogen, ammonia, and CCUS, as well as a net-zero emissions scenario for ASEAN countries.
ERIA's research work including the Asia CCUS Network and the 4th East Asia Energy Forum were strongly welcomed by the leaders. Professor Nishimura also extended his sincere gratitude to Brunei Darussalam for the country's strong support towards carbon neutrality. The ASEAN region should advocate for a gradual, realistic energy transition with available financing.
Prof Nishimura underscored ERIA's willingness to support ASEAN countries with their energy transition efforts. On top of that, ERIA has a plan to promote energy-saving and new energy research projects including green hydrogen in Brunei Darussalam this year. Lastly, Professor Nishimura hoped that the energy symposium would mark a valuable step towards a secure, reliable, sustainable, and affordable energy transition in the region.
The symposium was also attended by Yang Mulia Dato Seri Paduka Awang Haji Matsatejo bin Sokiaw, Deputy Minister, Department of Energy, Prime Minister's Office, as well as government officials, industry executives, intergovernmental organisations, academics, and experts from Brunei Darussalam. The conference included four sessions of panel discussion on energy-related themes in addition to the presentations and discussions by the experts.
Image Gallery
Related Articles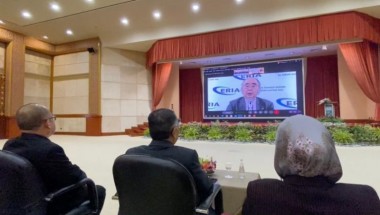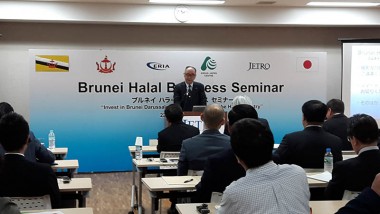 CHOOSE FILTER