ERIA Participates in the Symposium on the 50th Anniversary of ASEAN and the 40th Anniversary of the Fukuda Doctrine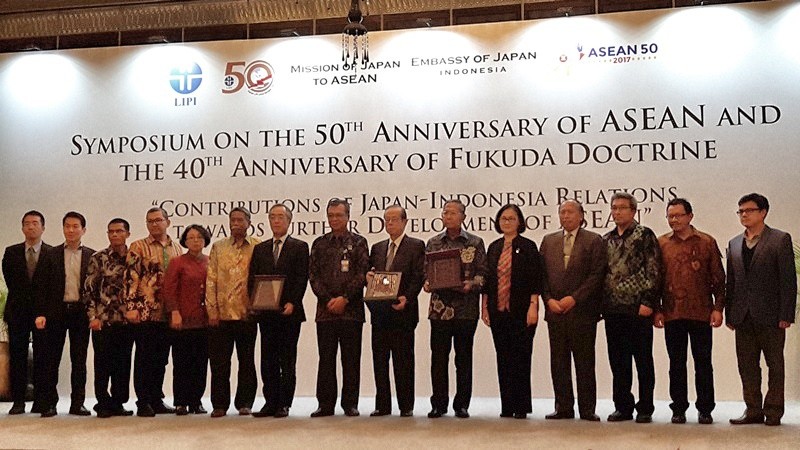 The Indonesian Institute of Sciences (LIPI), Mission of Japan to ASEAN, and Embassy of Japan in Indonesia organised the Symposium on the 50th Anniversary of ASEAN and the 40th Anniversary of Fukuda Doctrine on 27 October 2017. Held at the Kempinski Hotel Grand Ball Room in Jakarta, the Symposium focused on the theme of 'Contributions of Japan-Indonesia Relations towards further Development of ASEAN'.
Prof Dr Ir Bambang Subiyanto, Acting Head of LIPI and H.E. Kazuo Sunaga, Ambassador, Mission of Japan to ASEAN delivered the opening remarks. Prof Dr Ir H Ginandjar Kartasasmita, Chairman for Indonesia-Japan Friendship Association and H.E. Yasuo Fukuda, Former Prime Minister of Japan, both delivered keynote speeches.
H.E. Yasuo Fukuda presented the history of the Fukuda Doctrine, which was developed by his father, the then Prime Minister Takeo Fukuda. The Fukuda Doctrine that outlined Japan's foreign policy was announced in Manila in 1977.
In his remarks, he stated that the development and economic integration of ASEAN cannot be realised without Indonesia's development. Moreover, he underlined how Jakarta has been playing a central function in ASEAN, indicated by the fact that the ASEAN Secretariat and ERIA, which was founded during his tenure as Prime Minister, are based in Jakarta.
In the two panel discussions, panellists from ERIA, LIPI, Bina Nusantara University, and Universitas Indonesia discussed the contributions of Indonesia and Japan to the development of ASEAN in the past 50 years, and how the two countries can improve peace and prosperity in the ASEAN region.
ERIA economist Dr Yasushi Ueki delivered a presentation entitled 'Japan-ASEAN Economic Cooperation: Facts and Figures' in the first panel discussion 'Contributions of Japan and Indonesia to further development of ASEAN Economic Community (AEC)'. He emphasised the importance of developing quality infrastructure and capacity building of local companies, which should be designed appropriately to the development stage. Japan's aid for trade has focused on the development of economic infrastructure and productive capacity. Japan is expected to work together with Indonesia in addressing these policy challenges for further development of the AEC.
CHOOSE FILTER