ERIA Participates in the 52nd ASEAN Economic Ministers' and Related Meetings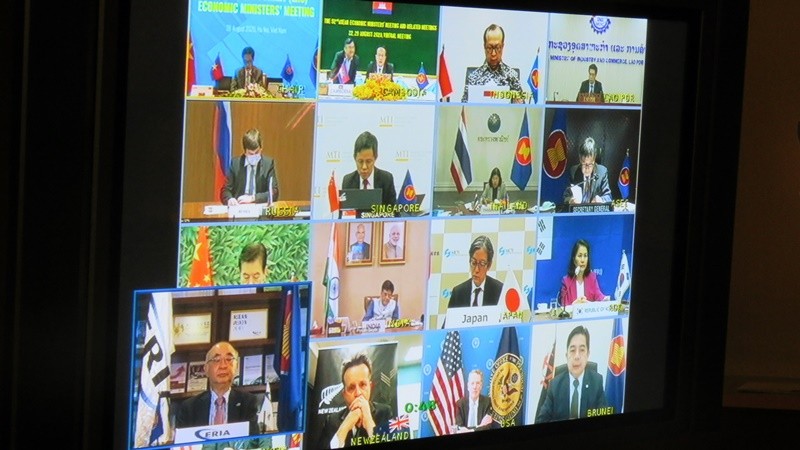 Jakarta, 25-29 August 2020: The 52nd ASEAN Economic Ministers (AEM) Meeting, the 8th East Asia Summit (EAS) Economic Ministers' Meeting and other related meetings were conducted virtually due to the Covid-19 pandemic between 24-29 August 2020. Prof Hidetoshi Nishimura, the President of ERIA, presented ERIA's framework for COVID-19 recovery to the East Asia Summit ministers on 28 August.
The Joint Media Statement of the 52nd ASEAN Economic Ministers Meeting thanked ERIA for continued support and contribution to regional integration and AEC-building efforts:
Economic Research Institute for ASEAN and East Asia (ERIA)
The Ministers thanked the ERIA for its continued support and contribution to ASEAN economic integration and AEC-building efforts. The Ministers noted that, in co-operation with UNCTAD, ERIA is developing the Cost Effectiveness Tool Kit for Non-Tariff Measures, which intends to aid ASEAN Member States in reviewing NTMs on imported intermediate inputs for their design, enforcement and compliance, with a view of promoting domestic value addition for creation of regional value chains. Other contribution from ERIA include on-going and future research activities by ERIA, such as: (i) the study on ASEAN Seamless Trade Facilitation Indicators (ASTFI) and Trade Transaction Cost (TTC), that would help determine the reduction by 10% in trade transactions cost in the region by 2020; (ii) an assessment of the impact of the ATIGA on intra-ASEAN trade since the entry into force of ATIGA in 2010, which is a component of the ATIGA General Review; (iii) the completed ASEAN Regulatory Management System (RMS) study, which provides a baseline on the implementation of core principles of Good Regulatory Practices in ASEAN, including recommendations; and (iv) on-going work on the impact study of ASEAN Economic Integration, which will be a valuable input to the mid-term review of the AEC. Further, the Ministers are cognisant of the contribution of ERIA in supporting the RCEP negotiations and the conduct of focus group discussions and capacity building to AMS officials related to services sectors to contribute towards developing their respective Schedules of Non-Conforming Measures under the ATISA.
Eight EAS Economic Ministers' Meeting 28 August 2020
Prof Nishimura presented ERIA's research on 'Economic Growth, Market Stability, and Resilience of the EAS Region Post COVID-19'. In his opening remarks, he thanked the ASEAN Member States for the 20% increase in contributions over the next five years: a strong indication of ASEAN's trust in ERIA, for which ERIA is deeply honoured.
Prof Nishimura outlined ERIA's proposed model for EAS economic recovery post-COVID-19 which is based on three key policy areas: Macroeconomic, trade and investment, and new technology.
First, under Macroeconomic policies, the East Asia Member Countries should approach the challenges in three phases:
During the emergency phase with the potential prolonged restrictions, provide social protection for severely affected people, and for micro, small and medium enterprises;
During the Exit Phase, engage in macroeconomic stimulus through monetary and fiscal policy, together with the stabilization of asset and foreign exchange markets; and
As we move into the 'new normal', restore fiscal health.
Effective policy coordination needs to take into consideration the essential movement of businesspeople across borders and maintaining economic cooperation that supports the growth of local businesses, particularly during the exit phase. Also, to consider analysing the possible mid- to long-term effects of these stimulus packages on the overall regional and domestic economies.
Second, under trade and investment policies, the East Asia Member Countries may consider making value chains resilient to shocks through the application of new technology and enhanced physical, institutional, and people-to-people connectivity to ensure efficient and effective movement of goods, services and people across borders. This could be done through:
Ensuring an enabling environment with quality infrastructure, information technology connectivity, and a transparent and responsive regulatory environment;
Accelerating connectivity plans – like those in ASEAN and APEC - for seamless movement of goods, services and people;
Maintaining operational continuity of critical infrastructure such as ports for cargo handling ensuring supply chains can deliver essential goods;
Instilling investors' confidence to undertake shared or complementary strategies through active engagement among East Asia Member Countries with the private sector, civil society, and other relevant stakeholders; and
Promoting strong public–private partnerships to support quality infrastructure development to reduce the cost to Governments.
Trade and investment facilitation should be based on internationally accepted rules that are transparent and non-discriminatory. This can be achieved by:
Developing efficient and effective trade facilitation regimes, including the timely release of goods after inspection, to ensure seamless trade for essential goods, especially in times of crises;
Addressing unnecessary non-tariff barriers, particularly those impeding the smooth flow of essential goods; and
Developing and adhering to rules that are transparent; assuring integrity; invoking trust; protecting privacy and security, while encouraging innovation and competition.
The third critical policy area is the promotion of new technologies. Increased reliance on ICT is triggering fundamental change in a wide range of areas including:
Work arrangements and production networks,
Production processes, location, employment, and facilitating trade and investment regimes;
Use of ICT in traditional sectors like farming which allows new businesses and start-ups to flourish; and
The evolving international division of labour means individuals can work together across national borders (the 3rd unbundling).
Addressing these changes requires international collaboration to facilitate cross-border transfer of information and data through electronic means for new businesses and technology applications.
In conclusion, Prof Nishimura noted that the global economy will never be the same, but by setting in motion a new normal with new ways of doing things, the East Asia Member Countries can collectively:
Enhance economic cooperation using the EAS platform;
Strengthen regional information sharing;
Coordinate and collaborate in a sustainable and inclusive manner; and
Accelerate regional economic integration with initiatives such as the RCEP.
ERIA was honoured that the Joint Media Statement of the Eight EAS Economic Ministers' Meeting noted ERIA's 'significant' contributions to the region:
The Ministers acknowledged the significant contribution of Economic Research Institute for ASEAN and East Asia (ERIA) through activities that support economic integration and digital economy in the region. The Ministers welcomed ERIA's paper on "Accelerating restoration of economic growth, maintaining market stability and strengthening resilience of the EAS region in response to the COVID-19 pandemic". The Ministers encouraged ERIA to undertake policy-based research to improve trade and investment including making value chains resilient to shocks of EAS economies, effectively address the impending recession, promote new technologies and develop a framework for the EAS regional economic integration and development after overcoming the COVID-19 pandemic, taking into account existing initiatives.
Image Gallery
Related Articles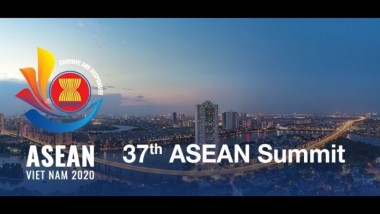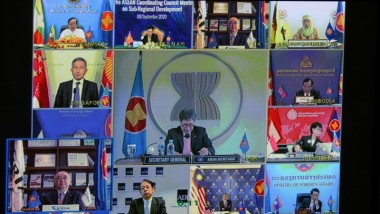 CHOOSE FILTER