ERIA Organizes Intensive Workshop for Vietnamese Government Officials at Phuket, Thailand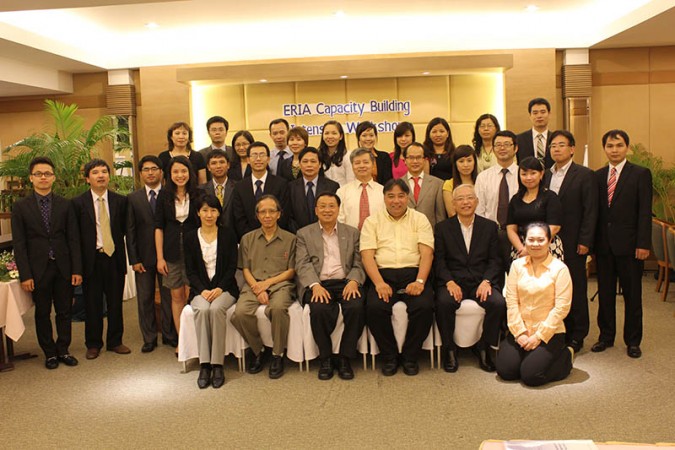 The Economic Research Institute for ASEAN and East Asia (ERIA) organized the Intensive Workshop for Vietnamese government officials on November 21-25, 2011 at Phuket, Thailand. The workshop was co-organized by the Ministry of Industry and Trade of Vietnam, and Central Institute for Economic Management (CIEM), supported by the Bangkok Research Center (BRC), JETRO. 22 Vietnamese officials attended the workshop. The officials were from various ministries and governmental institutions, namely: Ministry of Industry and Trade, Ministry of Finance, Ministry of Planning and Investment, Ministry of Education, Ministry of Labor, CIEM, Vietnam Institute for Trade, Institute for Industry Policy and Strategy, State Bank of Vietnam.
The intensive workshop aimed at raising the awareness of ASEAN Economic Community (AEC) among the ASEAN countries, to share ideas to deepen and broaden economic integration and to narrow the development gaps in the ASEAN countries to meet the goals set by AEC for 2015. In terms of objectives, this workshop was similar to the CLMV seminars held earlier in Naypyitaw, Myanmar in September, and in Vientiane, Laos and Phnom Penh, Cambodia in October, 2011. The workshop was a five day program consisting of lecture sessions for three days, a one day study tour, and a one day session of presentation by the participants. Although the venue of the workshop was abruptly changed from Bangkok to Phuket, due to the current flood situation in Bangkok, it was conducted successfully. The workshop included a study tour to Prince of Songkla University, focusing on local business and tourism industry.
CHOOSE FILTER