ERIA, KeTTHA, ERIN, MASHRAE Holds a Joint Seminar in Malaysia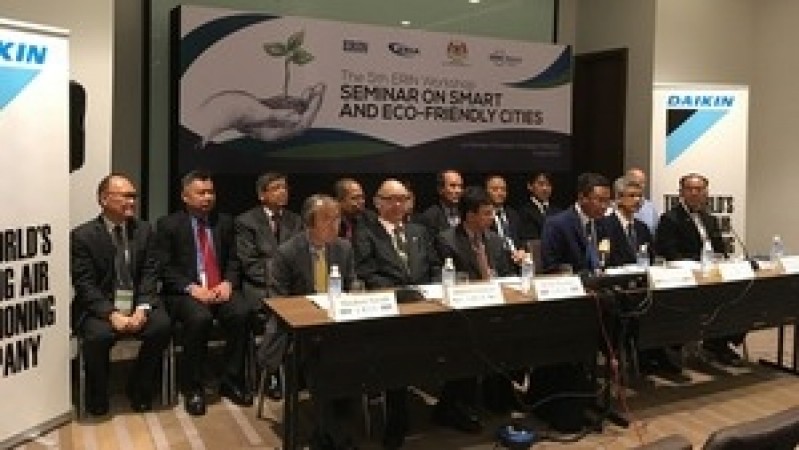 Malaysia's Ministry of Energy, Green Technology, and Water (KeTTHA), the Economic Research Institute for ASEAN and East Asia (ERIA), ERIA's Energy Research Institute Network (ERIN) and the Malaysian Chapter of the American Society of Heating, Refrigerating and Air-Conditioning Engineers (MASHRAE) held a joint seminar 'Smart and Eco-friendly Cities' on 11 April 2017 at Le Meridien Putrajaya, Malaysia.
Secretary General of KeTTHA YBhg Dato' Seri Ir Dr Zaini bin Ujang delivered his keynote speech in which he emphasised that the expansion of smart cities is a key policy to promote energy efficiency and renewable energy in the East Asia Summit (EAS) region.
The seminar mainly consisted of three parts: a. policy support for smart city projects, b. introduction of smart cities, c. introduction of technologies that could be applied to smart cities. More than ten experts delivered their presentations to an audience of more than 100 participants.
Smart and eco-friendly cities promote Energy Efficiency and Conservation (EEC) and renewable energy (RE) deployment in a holistic manner. The concept can potentially expand the application of the technology of new and sustainable energy supply not only in major cities but also in rural areas.
Government leadership can accelerate the expansion of smart cities as some of the requisite technologies may require policy support before becoming commercially viable. Government can also support the increase of renewable energy deployment including storage through introduction of appropriate policies such as Feed-in Tariff (FIT) and Renewable Portfolio Standards (RPS).
The experience and lessons learned on smart city pilot projects in Japan, Malaysia and New Zealand were highlighted at the seminar.
Green buildings, sustainable infrastructure, information and communication technology (ICT), smart meters, and time-of-use pricing are essential elements of 'Smart & Eco-friendly Cities'.
Low carbon technologies which can be implemented in a smart city concept, such as hybrid solar system, district infrastructure system, district cooling system, smart energy system, and geothermal were also discussed during the seminar.
Prof Hidetoshi Nishimura, President of ERIA, gave his closing remarks and wrapped up the discussions of this seminar.
CHOOSE FILTER