ERIA Joins 2nd Energy Transition Working Group Meeting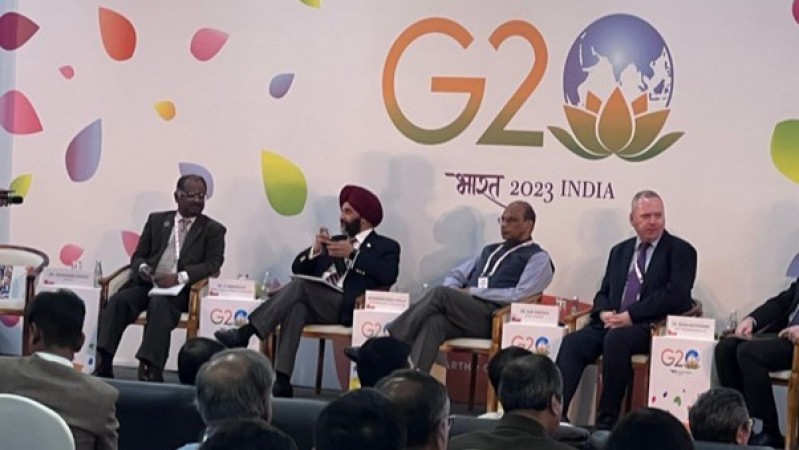 Gandhinagar, 2–4 April 2023: More than 100 delegates from the Group of Twenty (G20) countries, international organisations, and special invitee countries gathered in Gandhinagar, India, on 2–4 April 2023 for the Energy Transition Working Group (ETWG) meeting. The meeting aimed to harness international perspectives on energy transition to find pathways to meet the goals of net zero emissions. The G20 member countries account for 75% of the global energy demand and are deemed to hold significant responsibility and a strategic role in pushing for energy conservation.
The meeting, the second held under India's G20 Presidency, focused on six priority areas: energy transition through addressing technology gaps; low-cost financing for energy transition; energy security and diversified supply chains; energy efficiency, industrial low-carbon transitions, and responsible consumption; fuels for the future; and universal access to clean energy and just, affordable, and inclusive energy transition pathways.
During the inaugural session, Dr Mahendrabhai Munjpara, Minister of State for Ayurveda, Yoga, Naturopathy, Unani, Siddha and Homeopathy (AYUSH) and Women and Child Development, stressed the need for the countries and organisations gathered to work together to accelerate the transition to clean energy and promotion of sustainable growth. The Minister emphasised research and development of new and innovative technology as essential in promoting an advanced clean energy and making it cost-effective and affordable. Dr Munjpara added that the G20 nations should collaborate.
Mr Alok Kumar, ETWG Chair and Secretary of India's Ministry of Power, spoke about the need to address the threat of climate change, saying that it is crucial to transition to a cleaner and sustainable source of energy. He said that India is leading the way to achieve energy transition and address the challenges related to technological gaps. Mr Kumar announced that India has drafted a framework for the Indian carbon market whilst the Ministry of New and Renewable Energy gives selected power manufacturers the right to install solar cells with more than 80-gigawatt capacity.
Dr Venkatachalam Anbumozhi, Director of Research Strategy and Innovation at the Economic Research Institute for ASEAN and East Asia (ERIA), and Dr Han Phoumin, ERIA's Senior Energy Economist, presented 'Renewable Energy Supply Chains: Imperatives, Resilience and Regional Strategies for Development'. The presentation shared ERIA's research findings and interventions on the ETWG priorities being discussed, and underlined the need for international collaboration to achieve universal access to clean energy and a socially just energy transition.
As part of the just transition, the meeting's participants strongly emphasised the creation of decent jobs and social and economic development as part of the road map. They all agreed that the latter should include universal energy access, equity, gender equality and diversity, social inclusion, and fairness. It was suggested that the building blocks for India's G20 presidency should reflect the need to support investment in energy technologies that offer opportunities for skills-matched work. The investment should be deployed in a targeted manner, removing barriers for lower-income communities through direct support, and making it easier for members of the communities to create their own clean energy businesses to serve their fellow residents and to expand. Another emerging view highlighted that universal access to clean energy requires a stable supply of equipment and resources, which, in turn, requires the establishment of resilient supply chains.
Complementing the meeting were three side events: Seminar on Global Green Hydrogen Ecosystem—Enabling Zero Pathways, Seminar on Accelerate Cooling as a Key Enabler Towards Energy Transition, and Workshop on the Diversified Renewable Energy Supply Chains for Advancing Energy Transitions.
During a high-level panel discussion on the workshop on Diversifying Renewables and Critical Minerals Supply Chains to Advance Energy Transition, Dr Anbumozhi underscored the need for innovative public–private partnerships for risk-proof critical minerals supply chains. He said a risk-proof transition to renewables would be possible only if G20 countries could secure access to uninterrupted and affordable supply chains of critical minerals and renewable energy technologies such as solar and wind power, batteries, and hydrogen. The panel was chaired by Mr Bhupinder Singh Bhalla, Secretary of India's Ministry of New and Renewable Energy, and consisted of Dr Ajay Mathur, Director General of International Solar Alliance; Dr Brian Motherway, Head of Energy Efficiency at International Energy; and Dr Pradeep Tharakan, Director of Energy Transition at the Asian Development Bank. They outlined various facets of building global renewable energy supply chains, with a focus on supply chain diversification, catalysing of investments, technology development, skilling, standards, and an increase in the Global South's participation in securing critical minerals and establishing new renewable energy supply chains. The discussions also focused on policy, regulatory, and financial frameworks and the promotion of cooperation amongst G20 nations.
The event featured an exhibition of India's first H2 Internal Combustion Engine (ICE) truck. The delegates visited Gift City, Dandi Kutir, and Modhera Sun Temple. The latter is the first solar-powered village in India and uses an innovative concept of grid-connected solar power system integrated with a battery energy storage system.
The meeting ended on a note of collaboration and commitment by the G20 member countries to advance the cause of global cooperation towards a just clean energy transition. The meeting's discussions will be taken up in the 3rd Energy Transitions Working Group Meeting in Mumbai on 15–17 May 2023.
Image Gallery
Related Articles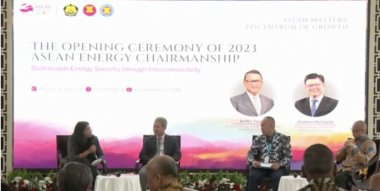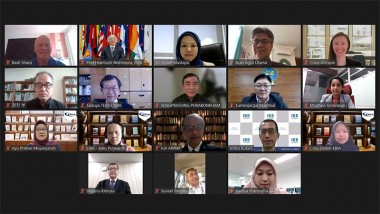 CHOOSE FILTER