ERIA Holds Workshop to Discuss a Better Implementation of the Non-Tariff Measures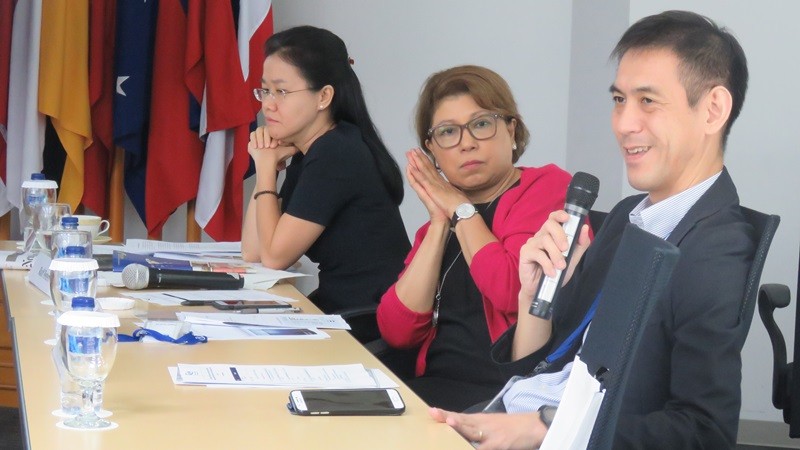 ASEAN needs to create a structured mechanism to manage the trade barriers created from the implementation of non-tariff measures (NTMs) in the region, said Izuru Kobayashi, Chief Operating Officer of the Economic Research Institute for ASEAN and East Asia (ERIA) during the workshop Deepening Economic Integration through Better Understanding and Better Implementation of the Non-Tariff Measures
The workshop was was held in Jakarta on 27 July 2017.
Although the number of tariffs has significantly decreased in recent years, the number of NTMs have been continuously rising, causing additional barriers to trade in the region and the slowdown of ASEAN economic integration.
In order to assist ASEAN Member States (AMS) in dealing with this problem, the ASEAN national team 1.5 track, ERIA, and the United Nations Conference on Trade and Development (UNCTAD), have completed the ASEAN NTM database, which is now available on http://asean.i-tip.org. The database is a platform where stakeholders in AMS can identify the list of NTMs in exporting or importing certain products to other ASEAN countries.
According to ERIA Senior Policy Fellow Tan Sri Datuk Dr Rebecca Fatima Sta Maria, AMS can use the database to identify ways to enhance transparency in trade, and to make it easier for traders and companies to do business in ASEAN.
'If ASEAN can streamline NTMs, it would be the first region to do so. It is very ambitious, but it is worth trying. ERIA will give its utmost support for this,' said Dr Rebecca.
Demand for environmentally friendly products that guarantee customers' safety is driving the increasing numbers of NTMs, explained Dr Ralf Peters, the Chief of Trade Information Section from UNCTAD. But this becomes a problem when businesses, especially small and medium enterprises (SMEs), decide not to trade due to their inability to fulfil the requirements under certain NTMs. In other words, good intentions (environmental protection and consumer safety) result in an unintended consequence: blocking trade.
ERIA Senior Economist Dr Lili Yan Ing showed how three issues underlie this problem: (1) the lack of transparency and information about NTMs, (2) the lack of knowledge regarding policy incentives and ways to design market-based regulations, and (3) the lack of coordination between agencies/ministries within and between ASEAN countries.
Dr Ing quoted the former Director General of the World Trade Organization (WTO) Pascal Lamy's introduction of the WTO's report on NTMs in which he stated that the NTMs 'are moving from protection [of domestic producers] to precaution.' She stated that 'unlike tariffs, NTMs could play a role of check and balance for the quality of goods.' She then reminded the participants that their tasks are not to eliminate NTMs, but to design good NTMs that can be well implemented in the future.
Dr Peters elaborated that although evidence suggests that NTMs are a significant trade barrier, eliminating NTMs is not an option since a majority of NTMs are technical measures protecting consumer health and the environment. He also stated that currently there are efforts to harmonise regulations in order to maintain consumer protection and to minimise negative impacts on trade. 'If countries apply similar regulations, easier trades between them will be achieved,' said Dr Peters.
The workshop also includes a session where the participants discussed the challenges faced by every country when dealing with NTMs, as well as the possible solutions at the national and regional levels. All participants agreed that political willingness and support are important factors to ensure better implementation of NTMs.
In her closing remarks, Dr Rebecca stated that the result of the workshop will be conveyed to the ASEAN Secretariat as well as to the High-Level Task Force on ASEAN Economic Integration (HTLF-EI) Meeting which will be held in the coming months.
Image Gallery
Related Articles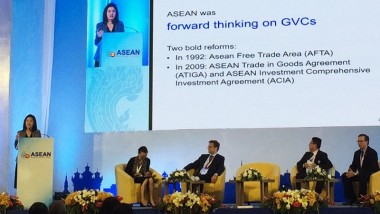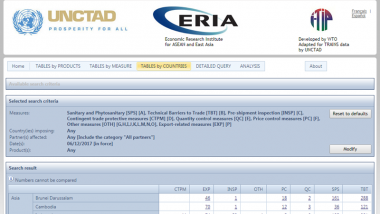 CHOOSE FILTER