ERIA Holds 13th Academic Advisory Council Meeting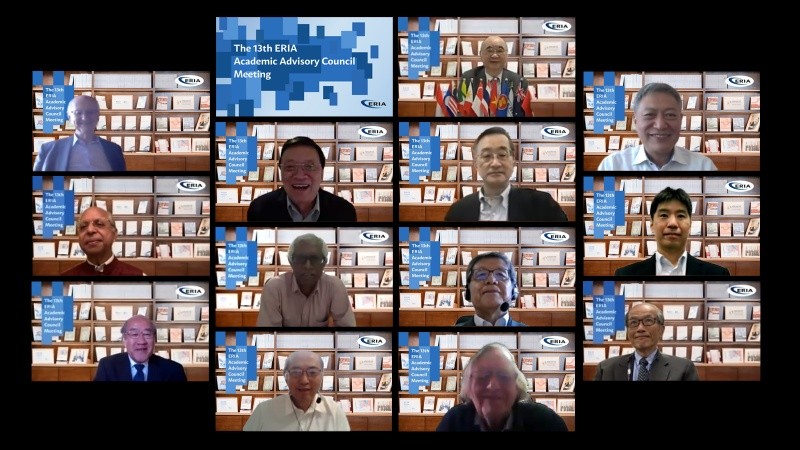 Jakarta, 22 September 2021: The Economic Research Institute for ASEAN and East Asia (ERIA) held the 13th Academic Advisory Council (AAC) Meeting. Due to the ongoing pandemic, it marked the second year of hosting the event virtually.
Dr Hank Lim, Senior Research Fellow of the Singapore Institute of International Affairs, moderated the event. He expressed his deep appreciation of ERIA's high level of activity throughout the pandemic including producing numerous research outcomes and making important contributions to high-level meetings including the East Asia Summit (EAS) and supporting Viet Nam as ASEAN's chair last year.
Prof Hidetoshi Nishimura, President of ERIA, highlighted a recent survey conducted by ERIA that indicated 23% of firms in ASEAN accelerated the adoption of digitalisation during the pandemic. Prof Nishimura also announced that the Asia carbon Capture Utilisation and Storage (CCUS) network was officially launched in June this year to support carbon neutrality. Important themes for the low-carbon energy transition were presented by ERIA at the EAS Energy Ministers Meeting held in mid-September, including 1) energy saving and electrification in end-use sectors, 2) utilising all available technologies, and 3) a cost optimisation scenario that could be used as an input for each country's consideration of its own unique transition pathway.
ERIA Chief Operating Officer, Koji Hachiyama, delivered a presentation on the direction of ERIA's Work Plan for FY2021 and beyond. He mentioned that this past April ERIA signed the renewal of the Memorandum of Understanding with the Organisation for Economic Cooperation and Development (OECD). He also stated that ERIA will continue to conduct COVID-19 related research, especially on the impact on supply chains, structural change, and connectivity. Afterwards, ERIA's Chief Economist Prof Fukunari Kimura and ERIA's Senior Policy Fellow for Energy and Environment Prof Jun Arima presented the organization's research activities in FY2020 and FY2021.
During the discussion, several members of the Committee congratulated ERIA on its accomplishments including Prof Drysdale who commended ERIA for carrying out a tremendous amount of work despite the very difficult circumstances. He also emphasised 'political and non-economic uncertainties are coming to dominate the conduct of the current economic affairs which potentially damage our economic performance.' To address these concerns, he suggested that cooperation mechanisms like the Regional Comprehensive Economic Partnership (RCEP) play a crucial role and need to be incorporated into all work on the region especially interaction with global economies. ERIA's current work on RCEP can make a real and substantial contribution.
ERIA's Academic Advisory Council is composed of internationally renowned scholars and experts from universities, research institutions, the private sector, international organizations, and non-governmental organizations of members of the East Asia Summit countries', who provide advice and support to ERIA on the annual work programme, research outcomes, and the performance of researchers.
The AAC members in attendance were Chairperson of AAC Dr Hank Lim (Senior Research Fellow of the Singapore Institute of International Affairs) who also moderated this virtual meeting, Prof Peter Drysdale (Emeritus Professor of Economics, and Head of the East Asian Bureau of Economic Research and East Asia Forum, Crawford School of Economics and Government, Australian National University), Prof Gary Hawke (Emeritus Professor of Victoria University of Wellington, and Associate Senior Fellow of New Zealand Institute of Economic Research), Prof Kyoji Fukao (President of Institute of Developing Economies Japan External Trade Organization), Prof Zhang Yuyan (Director and Senior Fellow of Institute of World Economics and Politics, Chinese Academy of Social Sciences), Mr Pravin Kumar Agarwal (Director of the Energy and Resource Institute), and Dr Shankaran Nambiar (Senior Research Fellow and Head of Policy Studies Division of Malaysian Institute of Economic Research).
In closing, both Prof Nishimura and Dr Lim highlighted ERIA's commitment to strengthen the ASEAN economy and contribute to promoting ASEAN integration, centrality, and economic community.
Related Articles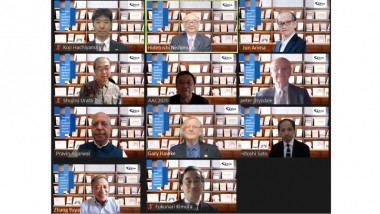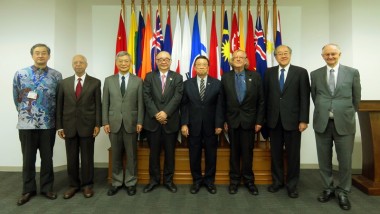 CHOOSE FILTER