ERIA Executive Director Pays Courtesy Visit to Cambodia's High Level Officials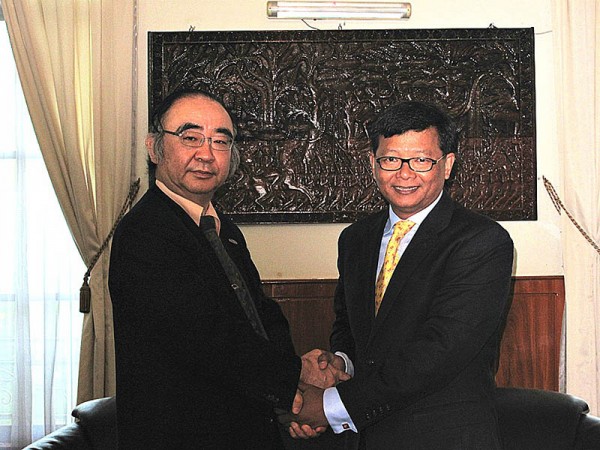 Mr Hidetoshi Nishimura, Executive Director of ERIA, paid a courtesy visit to Dr Hang Chuon Naron, Secretary of State, Ministry of Economy and Finance of Cambodia (member of ERIA's Governing Board) on 19 July 2011at his office at Ministry of Economy and Finance.
The main purpose of the meeting is a consultation on a preparatory groundwork for the coming Cambodia's chairmanship of ASEAN in 2012, for which ERIA would provide routine intellectual supports to advance the ASEAN's integration process. Dr. Naron expressed his appreciation to ERIA for coming to visit Cambodia and offer strong supports for her coming ASEAN chairmanship.
On the same day, Mr Nishimura called on Prince Samdech Norodom Sirivudh, Member of Constitutional Council of Cambodia.
On both occasions, Mr Nishimura mentioned about the status of pilot project of Kitahara International Hospital (one of the PPP Projects in Cambodia which listed in Comprehensive Asia Development Plan) and asked their further support to this project. He also mentioned the Nara Cosmopolitan Award, which was established at ERIA Regional Network Forum held in Nara, Japan, on 3 July 2010, to be granted to the most outstanding achievement, the champion of regional integration awards in the region. Regarding this, he suggested that the first award be granted in Cambodia. Both Dr. Naron and Prince Norodom expressed their support and welcomed our proposals.'
Photo1: Dr Hang Chuon Naron, Secretary of State, Ministry of Economy and Finance of Cambodia(right)
Photo2: Prince Samdech Norodom Sirivudh, Member of Constitutional Council of Cambodia (right)
CHOOSE FILTER