ERIA Conducts the 5th Governing Board Meeting and Ambassadors Meeting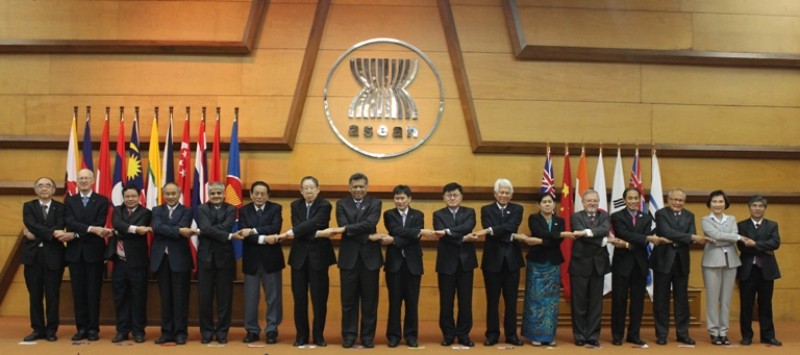 ERIA 5th Governing Board (GB) Meeting was successfully conducted in ASEAN Secretariat Office Jakarta on June 23, 2012.
Around 16 GB members and Academic Advisory Council (AAC) Members attended the meeting. GB meeting is the annually event which held to review the ERIA activities during one year and discussing the next year projects and activities for better impacts and implementation of the research activities.
The meeting was chaired by Dato Paduka Lim Jock Hoi, Chairperson of ERIA Governing Board. The chairperson opened the meeting with welcoming all GB members and participants. He mentioned the objective of the meeting was to provide guidance to ERIA and its research activities in addressing the needs of policy makers and businesses in the region.
In this occasion, Prof. Hidetoshi Nishimura, Executive Director of ERIA presented the progress report of ERIA's activities since the last GB meeting. He explained the important events and activities of ERIA including the setting up of new energy unit in ERIA.
Dr. Surin Pitsuwan, Secretary General of ASEAN called upon ERIA to do more in engaging the ASEAN and East Asia region through dialogue on how to position the region in global uncertainties.
During the meeting, valuable comments for ERIA's activities were proposed by GB members and Statement from 5th Governing Board Meeting entitled "Community Building Efforts through Consultation, Cooperation and Consensus" was adopted.
The 5th GB meeting was followed by Ambassadorial meeting where the GB members, AAC members and the ambassadors from EAS countries were updated on the current research activities of ERIA, ERIA's research program and the statement. The importance of close communication and cooperation was reconfirmed by all participants.
The meetings were expected could give the real contribution in improving the economic development in ASEAN and East Asian countries and narrowing development gaps between the regions.
ERIA Conducts the 5th Governing Board Meeting and Ambassadorial Meeting.pdf
Statement from 5th ERIA Governing Board Statement.pdf
Photo1: 5th ERIA Governing Board Meeting
Photo2: EAS Ambassadorial Meeting
Image Gallery
CHOOSE FILTER