ERIA Co-organise 2nd General Assembly Meeting of International Tsunami Disaster Prevention Society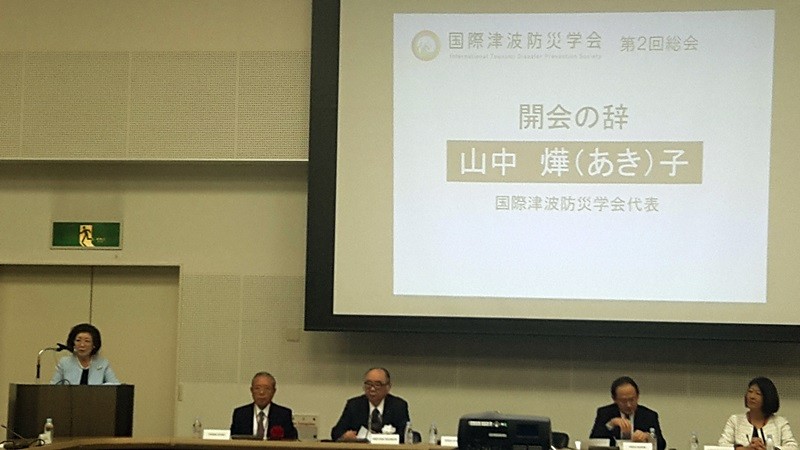 Tokyo, 19 November 2018: Prof Hidetoshi Nishimura, President of ERIA, attended the 2nd General Assembly Meeting of International Tsunami Disaster Prevention Society chaired by Prof Akiko Yamanaka, Special Advisor to the President of ERIA, as co-organiser on 19 November 2018 in Tokyo.
The International Tsunami Disaster Prevention Society was established on 11 November 2017 to improve interdisciplinary and international research aimed at reducing or eliminating the loss of life and property due to tsunami. Prof Yamanaka was assigned as the President of the Society in 2018 to encourage international activities.
The 2nd General Assembly meeting was held to be a medium for (1) the discussions for the exploration of the generation of tsunamis and relation to the submarine landslides in the past tsunami disasters, including those associated to 2004 Sumatra-Andaman Earthquake and 2011 Great East Japan Earthquake; (2) the promotion of the social implementation and education for the tsunami disaster prevention; and (3) the miscellaneous business of the Society, such as the approval of closing accounts of the previous fiscal year, the budget plan for the next fiscal year, and activity report.
ERIA invited Dr Muzaillin Affan (Syiah Kuala University), an expert of 2004 Sumatra-Andaman Earthquake from Aceh, Indonesia and Mr Robert Patton (Adventist Development and Relief Agency), an expert of emergency management and community-based disaster risk reduction from Australia, to contribute to the first and second objectives, respectively. Dr Affan explained that historical and religious background was the reason why people failed to prevent major damage due to the Sumatra-Andaman Earthquake from happening despite a big tsunami before in the same region. Mr Robert Patton emphasised that it is important to include disaster risks in the reconstruction plan in advance and to educate community how to act to realise sustainable reconstruction based on his experiences of reconstruction assistance after tsunami in Sumatra and Samoa.
'While disasters reveal potential problems in the region, it could be an opportunity to consider ways to promote disaster prevention and mitigation and to maintain economic and social functions after the disasters,' said Prof Nishimura, adding that 'It is important not only to discuss among a part of experts but also to corporate with various organisations such as governments, private sector and international organisations, and even with residents in order to find countermeasures according to local problems.'
The other speakers are as follows:
Mr Yoshiki Otake, President, Foundation for Advancement of International Science
Mr Hideo Suzuki, Director-General / Assistant Minister (Ambassador), Divition of Global Issues, Ministry of Foreign Affairs
Ms Naoko Okamura, Deputy Director-General, Research and Development Bureau, Ministry of Education, Culture, Sports, Science and Technology
Dr Yuki Matsuoka, Head, United Nations Office for Disaster Risk Reduction Office in Japan
Mr Teru Fukui, Member of the House of Representatives, Liberal Democratic Party of Japan
Mr C. W. Nicol, Environmentalist/Novelist
Prof Taikan Oki, Institute of Industrial Science, The University of Tokyo, Senior Vice-Rector of United Nations University
Prof Hiroo Kanamori, California Institute of Technology
Prof Shigenori Maruyama, Tokyo Institute of Technology
Mr Kimio Takeya, Japan International Cooperation Agency
Prof Nobuaki Shimizu, Aichi Prefectural University
Mr Masahiro Kasahara, Gyosei International Junior and Senior High School
Prof Mitsumasa Etoh, Shobi University
Mr Freddy Svane, Ambassador of the Kingdom of Denmark to Japan
Ms Kiyoko Mii, Kirincho Inc.
Mr Hitoshi Murata, NEC Corporation
Image Gallery
Related Articles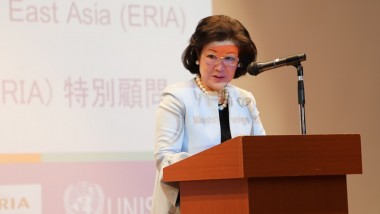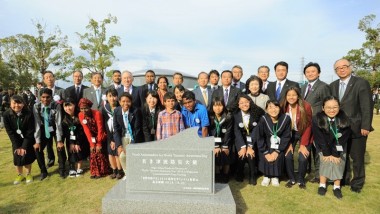 CHOOSE FILTER