ERIA attends Preparatory Meeting of ASEAN Economic Ministers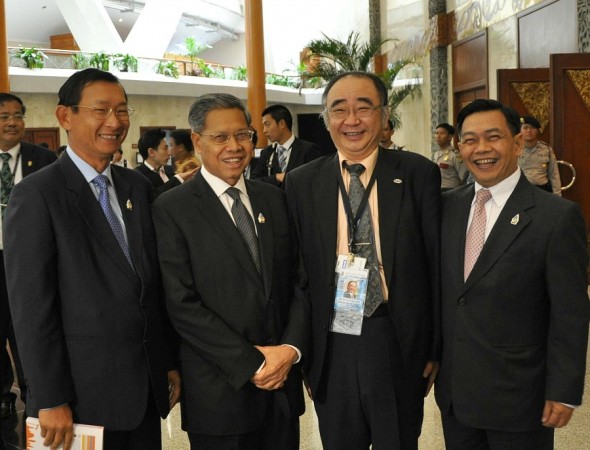 Preparatory Meeting of the ASEAN Economic Ministers took place in Bali, Indonesia on 16 November 2011 to prepare contents for the 19th ASEAN Summit, which will take place from 17-19 November 2011.
Attendances of the meeting were Secretary General of ASEAN and Economic Ministers from 10 ASEAN member countries.
ERIA delegation led by Mr. Hidetoshi Nishimura, Executive Director of ERIA and Dr. Ponciano S. Intal Jr., Senior Researcher of ERIA attended the meeting. Mr. Nishimura made a presentation on "ERIA Study to Further Enhance the AEC Scorecard Phase ll" and "Mid-term Review of AEC Implementation (MTR)" to the Ministers.
Ministers thanked ERIA for a comprehensive report and recommendations and expressed their expectation on further contribution by ERIA.
The Ministers appreciated in the Chair's Statement of the 19th ASEAN Summit , paragraph 68.
<Chair's Statement of the 19th ASEAN Summit>
Review of AEC Blueprint and AEC Scorecard
68. We appreciate ERIA's support for its undertaking of the midterm review of the AEC Blueprint and the improvement of the AEC Scorecard Monitoring System and Mechanism to facilitate the timely establishment of the ASEAN Economic Community by 2015.
CHOOSE FILTER