ERIA Attends Africa Development Bank Group Meetings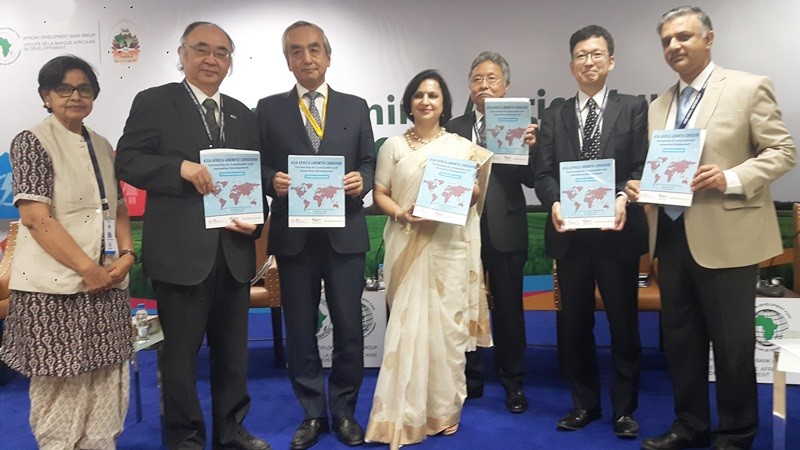 A delegation from the Economic Research Institute for ASEAN and East Asia (ERIA) attended the 52nd Annual Meetings of the Africa Development Bank (AfDB) Group held in Ahmadabad, Gujarat, India, from 22 to 26 May 2017.
ERIA President, Prof Hidetoshi Nishimura, led the delegation, accompanied by Chief Operating Officer Izuru Kobayashi and Director General of Policy Design Department Anita Prakash.
In his inaugural speech delivered in the opening ceremony of the Annual Meeting, the Prime Minister of India H. E. Narendra Modi stressed the joint commitment of the Government of India and Government of Japan declared with the Prime Minister of Japan H.E. Shinzo Abe on 'enhancing growth prospect for all' through the Asia Africa Growth Corridor (AAGC).
ERIA's Policy Design Department has started conceptualising the AAGC Vision Document together with the Research and Information Systems for Developing Countries (RIS) and the Institute for Development Economics – Japan External Trade Organisation (IDE-JETRO) based on the request from the two countries. The outline of the Vision Document was handed to the respective Governors of AfDB attended to the Annual Meeting.
'India is also working with United States and Japan to support development in Africa. I gladly recall my detailed conversation with Prime Minister Abe during my visit to Tokyo. We discussed our commitment for enhancing growth prospects for all. In our joint declaration, we mentioned an Asia Africa Growth Corridor and proposed further conversations with our brothers and sisters from Africa,' said Prime Minister Modi.
'Indian and Japanese research institutions have come up with a Vision Document. I congratulate RIS, ERIA and IDE-JETRO for their efforts in putting it together. This was done in consultation with think tanks from Africa. I understand the Vision Document would be presented at the Board meeting later. The idea is that India and Japan, with other willing partners, would explore joint initiatives in skills, health, infrastructure, manufacturing and connectivity,' he added.
The Executive Summary of the Vision Document stated that 'the AAGC-led growth in Africa and Asia will be responsive to the collective commitment for the Sustainable Development Goals (SDGs). The AAGC Vision Study will use Geographical Simulation Model (GSM) to bring out the economic gains for Africa through its integration with India, South Asia, Southeast Asia, East Asia and Oceania. The AAGC will contribute to develop institutional mechanisms and models for connecting businesses, people and think tanks that represent, and contribute to, the integration efforts in Asia and Africa.'
Related Document
CHOOSE FILTER