ERIA and Newly Established Network on Energy Research Sign MoU on Collaborative Undertakings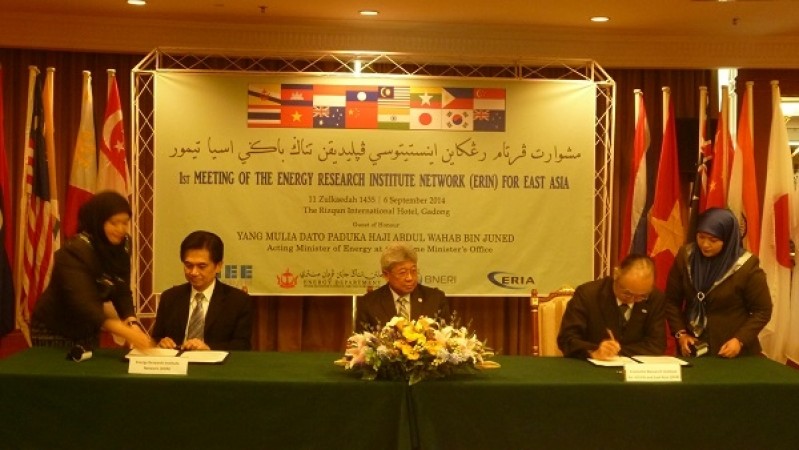 ERIA (Economic Research Institute for ASEAN and East Asia), prominent energy institutes from 16 countries, and the newly formed Energy Research Institute Network (ERIN) signed a Memorandum of Understanding (MoU) in Brunei Darussalam on 6 September, 2014.
The memorandum formulates and establishes a mechanism for collaboration in terms of conducting joint research and cooperative undertakings that would provide valuable policy recommendations to policymakers and key decision makers on energy issues in the East Asia region.
Energy issues are not only the problem of each country, to be addressed in the area of whole region. The East Asian region that produces most of the increase in global energy demand in the future has a responsibility to consider its initiatives to cope with energy issues. With this background, energy research institutions with a great deal of familiarity with the energy policy of each country gathered and established ERIN in order to tackle the regional challenges.
This partnership between ERIA and ERIN will be reported to the upcoming EAS Energy Ministers Meeting and is expected to receive high level of expectation from the participating countries.The signing ceremony between H.E. Dr. Weerawat Chantanakome, of the Brunei National Energy Research Institute (BNERI)and Chairperson of ERIN, and Prof. Hidetoshi Nishimura, Executive Director of ERIA, was witnessed by Yang Mulia Dato Paduka Haji Abdul Wahab bin Juned, Acting Minister of Energy at the Prime Minister's Office of Brunei Darussalam.
Member List of the Energy Research Institute Network (ERIN)
Australia : The Australian National University (ANU)
Brunei : Darussalam Brunei National Energy Research Institute (BNERI)
Cambodia : Ministry of Mines and Energy (MME)
China : Beijing Institute of Technology (BIT)
India : The Energy and Resources Institute (TERI)
Indonesia : Indonesian Institute for Energy Economics (IIEE)
Japan : The Institute of Energy Economics, Japan (IEEJ)
Lao PDR : National University of Laos (NUOL)
Malaysia : Universiti Tenaga Nasional (UNITEN)
Myanmar : Ministry of Energy (MOE)
New Zealand : The University of Auckland (UoA)
Philippines : University of the Philippines (UP)
Republic of Korea : Seoul National University (SNU)
Singapore : Energy Studies Institute (ESI), National University of Singapore(NUS)
Thailand : Energy Research Institute (ERI), Chulalongkorn University (CU)
Vietnam : Institute of Energy (IE)
To download the Press Release, please click on the following PDF file:
Press Release -ERIA and Newly Established Network on Energy Research Sign MoU on Collaborative Undertakings
CHOOSE FILTER