East Asia: Global Economy's Game Changer 7th ERIA Governing Board Meeting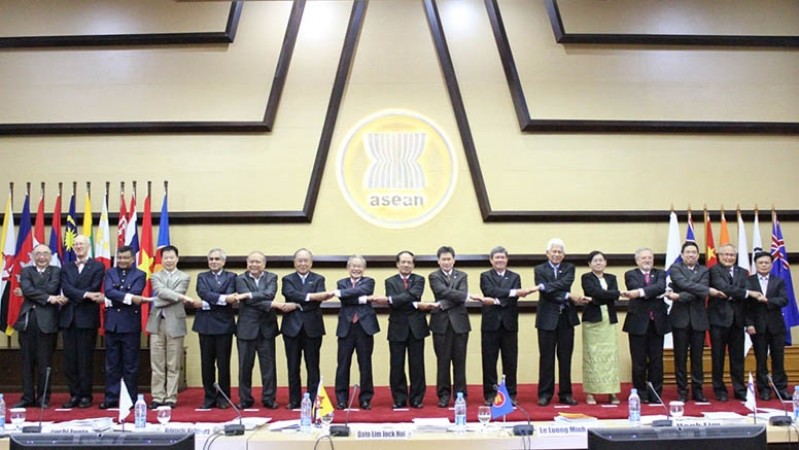 Jakarta, Indonesia - 30 May 2014: ERIA Governing Board adopted a joint statement today outlining the vision of ERIA in coming years.
ERIA will also continue to promote the economic integration of ASEAN and East Asia. On the current effort to conclude the Regional Comprehensive Economic Partnership, the ASEAN-led regional free-trade framework, ERIA will provide "analytic support" to all RCEP members.
The joint statement reiterated that the conclusion of RCEP will bring deeper regional integration and further the pivotal role of economies in East Asia. On the strengthening of small and medium size business, ERIA will continue its capacity building and human resource development in this area.
Given the diversity of East Asia, the joint statement added that the Asean approaches provide a workable frameworks to strengthen cooperation in all areas including energy and food security, disaster management and connectivity related issues.
Dato Paduka Lim Jock Hoi, chair of the Governing Board, opened the meeting praising the work of ERIA over the past years. He said ERIA has achieved much progress with expansion of research inputs and activities to assist the integration of ASEAN and East Asia.
Echoing this sentiment, ASEAN Secretary General, H.E. Le Luong Minh, said that ASEAN is reaching a critical juncture as the ASEAN Community is approaching. He urged the Asean members to accelerate their economic cooperation and the make the ASEAN Community a reality.
Dato Paduka Lim Jock Hoi was re-elected as the chair of the Governing Board for another three years.
The Governing Board also welcomes five new members--Prof. Dr. Jusuf Anwar from Indonesia, Dr. Rajiv Kumar from India, Mr. Fujio Mitarai from Japan, Mr. Tae Shin Kwon from South Korea and Dr. Nguyen Dinh Cung from Vietnam.
ERIA also held a dialogue partner meeting with Mongolia for the first time. H.E. Lundeg Purevsuren, National Security and Policy Advisor to the President of Mongolia, said that Mongolia would like to integrate with the economic linkages and grouping in the region.
As part of East Asia, he pointed out that Mongolia is aspired to become a dialogue partner of ASEAN, a member of Asia Pacific Economic Cooperation as well as East Asia Summit.
To download Press Release, please click on the following PDF file:
Press Release - East Asia Global Economy's Game Changer 7th ERIA Governing Board Meeting
Statement from the 7th ERIA Governing Board Meeting Statement
CHOOSE FILTER