Dr Angel Gurria Receives the 5th Asia Cosmopolitan Award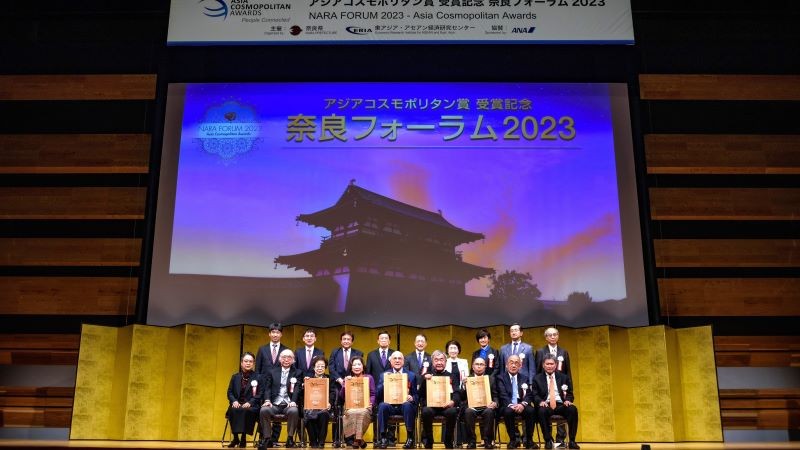 Nara, 19 January 2023: The Economic Research Institute for ASEAN and East Asia (ERIA) and Nara Prefecture co-organised the Asia Cosmopolitan Award (ACA) Ceremony marking the fifth time that the organisers have held this event after a 4-year blank due to COVID-19. It was followed by the Nara Forum in which the Under-Secretary-General of the United Nations and Executive Secretary of ESCAP, Prof Armida Salsiah Alisjahbana, made a keynote speech.
This award aims to recognise on a biennial basis individuals or organisations that have made significant contributions to the development of a peaceful and stable East Asian Community, to narrow the development gaps in the region, as well as to establish sustainable social growth towards cultural and economic integration within the region.
The former Secretary-General of the Organisation for Economic Co-operation and Development (OECD) received the Grand Prize of the 5th ACA, in recognition of his continuous support and longstanding contribution to the field of development. In his acceptance speech, Dr Gurría said, 'What we are doing here is for honouring people who have capacity to transform the policies into actions, then into well-being which is ultimate. This is to continue work for better policies and for better lives.'
The Economic and Social Science Prize was awarded to Prof Mari Elka Pangestu, the World Bank Managing Director of Development Policy and Partnerships, for her contributions to sustainable global economic development. In accepting her award, Prof Pangestu said 'This is to remind us of the importance of spirit of the award itself, so we have to remain close together to resolve today's problems.'
The Cultural Prize was presented to Prof Kengo Kuma for his achievements and dedication to produce remarkable architectural design. He noted that East Asia plays a prominent role in the chaotic world, and he was impressed by the activities of ERIA. Prof Kuma showed his respect for East Asia where people-friendly architecture and people-friendly products have been created with natural materials such as wood.
The Memorial Prize is given to Mr Lee O-young (1934–2022), the First Minister of Culture of the Republic of Korea, for his distinguished achievements to develop the cultural relationship amongst East Asian countries, and Dr Ponciano Intal Jr (1949-2019), the Senior Economist and Senior Policy Fellow of ERIA, for his devoted significant contributions toward ASEAN's development. Mr Lee's wife, Mrs Kang In-sook, thanked the organiser and said that her husband, who really loved Nara, must be happy. And Dr Aniceto Orbeta Jr, the President of the Philippine Institute for Development Studies (PIDS) mentioned that he is grateful to represent Dr Intal's family to receive the memorial award.
Prof Alisjahbana delivered the Keynote speech at the Forum, emphasising how global and regional issues affect people because all aspects of their lives are economically, socially and environmentally intertwined. She mentioned the impacts of the Covid-19 pandemic which include rising fuel and food prices, disruptions in international supply chains, and slowed economic output, especially in the service sectors. She pointed out, 'We realised that national policies must be coupled with international cooperation in order to reach long-lasting solutions. We will be able to successfully maintain international financial stability, mitigate climate change and attain sustainable development only by working together. And by working together, the realm of possibilities becomes greater.'
Also during the Forum, Dr Gurria discussed global challenges such as climate change, biodiversity, and increasingly fragmented politics which force increasingly fragmented policies. He projected that Asia will also face a world of much higher interest rates. And he echoed how to address current problems, 'The answer is multilateralism, international cooperation, freer trade and investment flows, increasingly independent and autonomous institutions that deal with justice and with elections, independent and autonomous central banks, more freedom of thought, of expression, of the media, of sexual preference, of movement, of religion. It's about climate change, biodiversity, oceans, deserts, forests, and soil so that we can save the planet; so that we can continue to live from it rather than kill it; so that we don't disappear as a species. It's about the quality of the policies. It's about "Better Policies for Better Lives".'
Prof Nishimura closed the Forum by thanking all awardees and emphasised their tireless efforts to help create new values and their ambition to move to a new and better era in the Asian region. He added that ERIA will continue to contribute further to the economic integration and economic and cultural development of the region by working together with people like the awardees who are active in various fields while responding immediately to the new trends of the times. He specifically also praised Dr Intal's dedication of his life to the development of ASEAN. He spotlighted that without Dr Intal's dedication, ERIA would not have grown into such an important international organisation that makes policy recommendations at ASEAN summits.
The ceremony and forum were held at the Nara Convention Center and attended by about 230 participants. Each of the Laureates of the 5th ACA, Dr Angel Gurria, Prof Mari Elka Pangestu, and Prof Kengo Kuma also presented their speeches.
Press Releases
Image Gallery
CHOOSE FILTER