Competition Policy, Consumer Protection, IPR: Important Aspects of ASEAN's Vision of Regional Economic Integration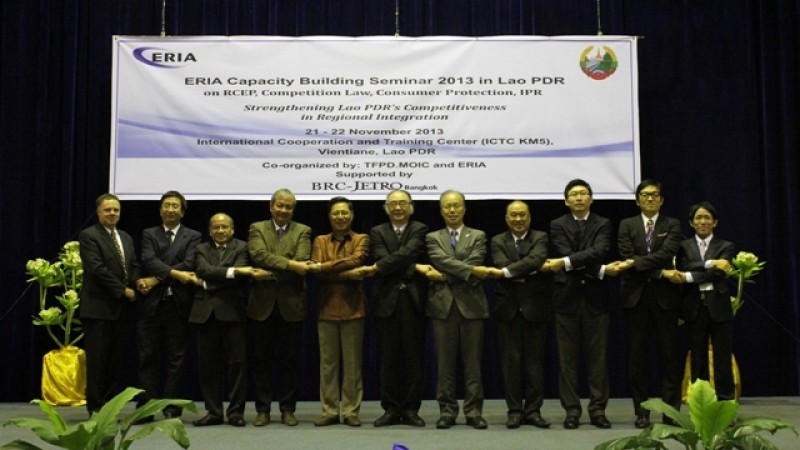 Capacity Building Seminar on "Strengthening Lao PDR's Competitiveness in Regional Integration" was started at the International Cooperation and Training Center (ICTC KM5), Vientiane on 21 November 2013.
The Economic Research Institute for ASEAN and East Asia (ERIA), in collaboration with the Ministry of Industry and Commerce of the Lao People's Democratic Republic and with the support of the Bangkok Research Center (BRC) JETRO Bangkok, started the two- day Capacity Building Seminar. The seminar focuses on RCEP, Competition Law, Consumer Protection, and IPR, and follows closely after another series of seminars on Public-Private Partnership (PPP) held in July this year in Vientiane.
In his opening remarks, H.E. Nam Viyaketh, Minister of Industry and Commerce, pointed out the importance of RCEP as a wider framework than ASEAN integration. He said that the RCEP is now into its second round of negotiations. For this, the Lao Government is focusing on the implementation of the commitments under the regional and international agreements and in the process of ratifying the FTAs wherein Lao PDR is a member.
"In the area of competition and consumer protection, there is need to build the capacity and ensure more transparency in all the sectors in Lao PDR inasmuch as these will help boost the economy of Lao PDR. There are many agencies and developed countries interested in helping and supporting Lao PDR enhance its capacity," H.E. Nam Viyaketh further noted. He likewise said that the issue of consumer protection and competition in Lao PDR is still a new issue. Thus, this two-day seminar is very critical in enabling the key players in Lao PDR to learn and understand these issues so as to know what fair competition is and how the consumers would be protected and assured of having high- quality products.
Reiterating the importance of competition policy, meanwhile, Prof. Hidetoshi Nishimura, Executive Director of ERIA, said in his opening remarks, "Competition policy is an important aspect of ASEAN's vision of regional integration. The formation of a single market and production base is premised upon the notion of competition across markets in the ASEAN Member states."
The following prominent speakers were also invited: Dr. Leeber Leebouapao, Director General, NERI, Mr. Ikumo Isono, Economist, ERIA, Prof. Shujiro Urata, Senior Research Advisor to the Executive Director of ERIA and Professor, Waseda University, Japan, Mr. Oudeth Souvannavong, Vice President, Lao National Chamber of Commerce and Industry (LNCCI), Mr. Fabian Teja Boegershausen, German Management Consultant, Sanet Network in Vietnam, Mr. Saysana Sayakone, Deputy Director General, Ministry of Industry and Commerce, Lao PDR, Dr. Casey Lee, Senior Lecturer, University of Wollongong, Australia, Dr. Vince Eng Teong See, LLB (Hons), Associate Fellow, UMCoRS, Malaysia, Dr. Michael Schaper, Deputy Chairperson, Australian Competition and Consumer Commission, Australia, Mr. Shimpei Yamamoto, Managing Director for Research Affairs, ERIA, Mr. Ratsamy Phanthavong, Deputy Director General, Department of Intellectual Property Rights, Ministry of Science and Technology, Lao PDR, and Mr. Hiroshi Kato, Professor, Nihon University, Japan.
The seminar is part of a long-term capacity building program initiated in 2008 by the ERIA for the new ASEAN members (Cambodia, Lao PDR, Myanmar and Vietnam) to help upgrade their efforts in economic integration within the ASEAN.
To download Press Release, please click on the following PDF file:
Competition Policy, Consumer Protection, IPR Important Aspects of ASEAN's Vision of Regional Economic Integration
CHOOSE FILTER