Climate Change Vulnerabilities, Social Impacts, Education for Autonomous Adaptation Tackled in Siam Reap Workshop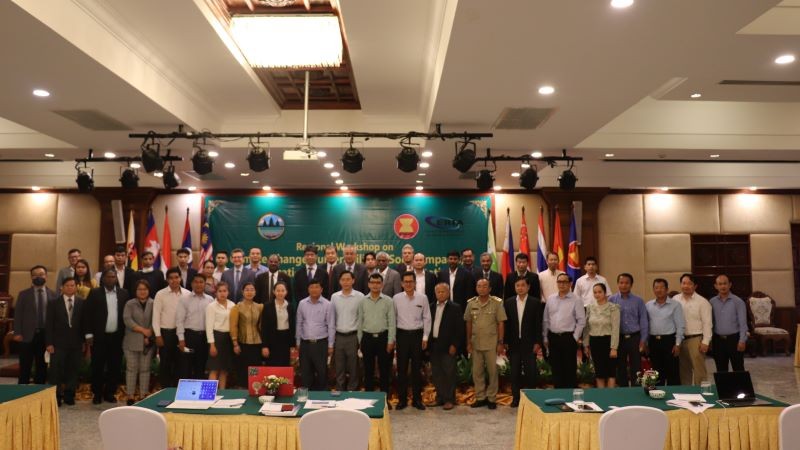 Siem Reap, 12–14 September 2022: Climate Change Vulnerabilities, Social Impacts, and Education for Autonomous Adaptation was the theme of a workshop held on 12–14 September 2022 in Siam Reap, Cambodia, highlighting these issues has been a priority of the Ministry of the Environment, Kingdom of Cambodia, during 2022, Cambodia's Year as Chair of ASEAN. In support of this, ERIA, under a Memorandum of Understanding signed in February 2022 with the Ministry of Education, Youth and Sport, Cambodia's lead for the ASEAN Social and Cultural Community (ASCC), was pleased to support a three-day mixed onsite-online workshop, jointly organised between the Economic Research Institute for ASEAN and East Asia (ERIA) and the Ministry of Environment Cambodia, comprised six technical sessions and two interactive group discussions with 80 participants.
The workshop comprised of six technical sessions, two interactive group discussions and a field visit. Attended by 50 people in person, including government officials from Cambodia, Lao PDR and Viet Nam under ERIA's Capacity Building Program, and 30 people online. Aimed to strengthen the ability of ASEAN officials to understand climate change vulnerability assessment and the implementation of successful autonomous and planned adaptation measures.
Southeast Asia is one region most vulnerable to climate change due to its long coastlines; high concentration of population and economic activities in coastal areas; and heavy reliance on agriculture, fisheries, forestry, and other natural resources. Climate change threatens agricultural production and, indirectly, food security, ecological stability, and sustainable development. Climate variability and change present many risks to the well-being of ASEAN populations. Vulnerability, capacity and adaptation assessments conducted from provincial to national levels have been designed in response to provide information for policymakers about the risks of climate variability and the options for managing those risks.
Mr Koji Hachiyama, Chief Operating Officer of the Economic Research Institute for ASEAN and East Asia (ERIA), welcomed the participants and spoke of the importance of climate change adaptation in the context of sustainable development. He pointed out the role of ERIA as a knowledge partner of ASEAN through its many technical studies on climate change adaptation, such as Resilient ASEAN: A Risk-based Approach in Building Adaptation Road Maps, conducted in 2019, to help ASEAN Member States (AMSs) cope with the impacts of climate change and natural disasters. He cited the Supply Chain Resilience study, carried out in 2016 and 2021, aimed at deepening the understanding of the technological and economic factors that enhance the capacity of agricultural and manufacturing value chains against external shocks such as climate change, pandemic, and financial crises. He said that the same study provides an accelerated framework to meet the Sustainable Development Goals (SDGs), including SDG 13 (Climate Change).
In his opening remarks, Dr Tin Ponlok, Secretary of the State of Cambodia's Ministry of Environment, pointed out that Cambodia has made climate change action a top priority, and reported the country's remarkable progress in climate change policy, particularly in mainstreaming climate change into national policies, strategies, and sub-national planning and budgeting.
Dr Venkatachalam Anbumozhi, ERIA's Director for Research Strategy Innovations, presented climate risk scenarios and sector-level adaptive capacities and discussed the information, decision-making, and financing gaps amongst AMSs. The third day of the workshop included a field trip to an orchid farm and a reservoir where effective climate change adaptation measures are being implemented.
Through deliberations, the participants came to understand the critical need to boost the adaptive capacity of low-income households and firms, many of which already have incentives to adapt but need help to overcome obstacles that range from lack of information, downscale assessment tools, and financing, to behavioural biases and imperfect markets. The workshop aimed for AMSs to provide information on climate risks, clarify responsibilities and liabilities, support innovation, provide access to the best adoptive technologies, and ensure that financing is available to all, especially for expensive solutions. AMSs will need to directly support the most vulnerable communities that cannot afford to invest in adaptation.
Image Gallery
Related Articles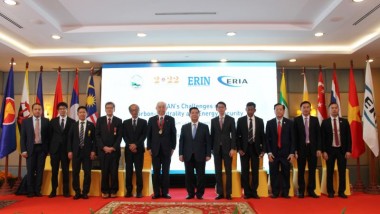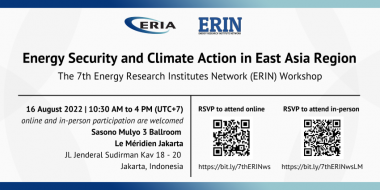 CHOOSE FILTER