BBL Seminar hosted by RIETI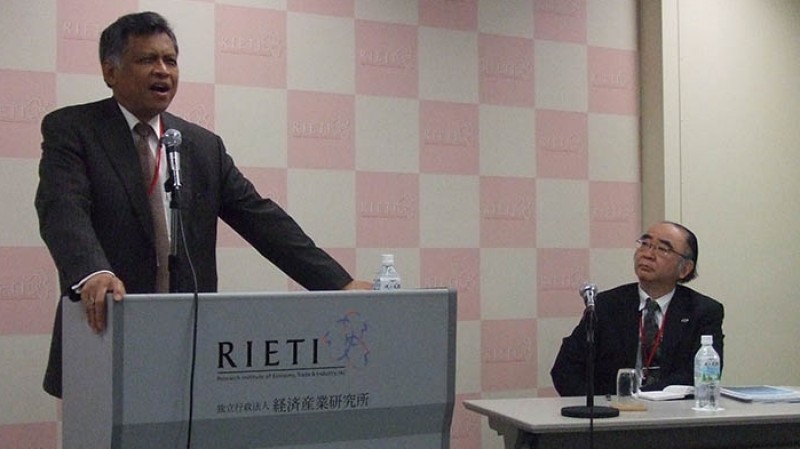 Prof. Hidetoshi Nishimura, Executive Director of ERIA, attended the BBL Seminar hosted by Research Institute of Economy, Trade and Industry (RIETI) as a commentator on February 27, 2013 in Tokyo, Japan.
Speaker was Dr. Surin Pitsuwan, Former Secretary-General of ASEAN and moderator was Mr. Daiki Kasugahara, Director, Asia and Pacific Division, Ministry of Economy, Trade and Industry of Japan.
Dr. Surin spoke on "ASEAN Future: Responsibility of Thailand and Expectations for Myanmar". Dr. Surin highlighted the 4 pillars of ASEAN's responsibility to face, which are 1. Regional Integration, 2. Improvement of Competitiveness, 3. Equitable Society, 4.Linkage with the world. He added that the existing supply chain network and further infrastructure development are important for realizing these 4 pillars.
Prof. Nishimura commented that the 4 pillars mentioned by Dr. Surin are the potential way for realization of the ASEAN Economic Community (AEC) by 2015 and furthermore, the implementation of the Master Plan on ASEAN Connectivity (MPAC).He added the importance of economic corridor taking an example of Mekong-India Economic Corridor (MIEC), saying "the economic corridor would provide opportunities to individual countries, especially for Myanmar, Thailand, Cambodia and Vietnam to build a strong economic and industrial base".Dr. Surin closed his conclusion by mentioning the latest achievements by ERIA to the audience.
CHOOSE FILTER