ASEAN Connectivity: Region's Future Economic Backbone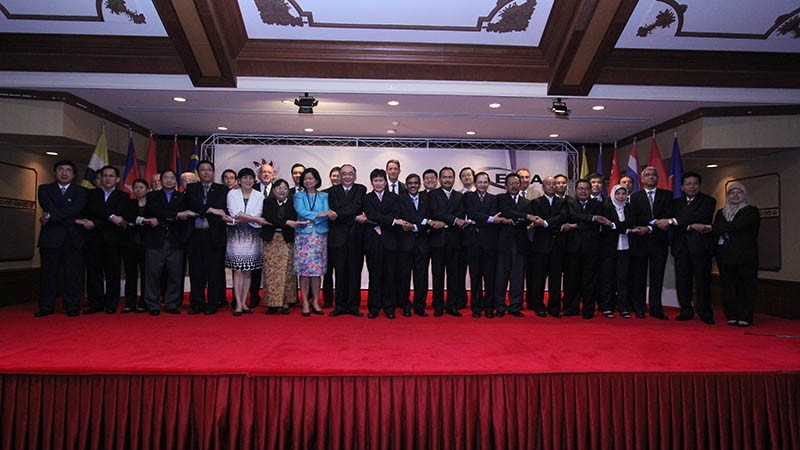 Bandar Seri Begawan, August 27, 2013 - The Economic Research Institute for ASEAN and East Asia ( ERIA ) held the 4th ASEAN Connectivity Symposium "Partnering Private Sector for ASEAN Connectivity" co-organized by the ASEAN Secretariat and the Ministry of Foreign Affairs and Trade of Brunei Darussalam.
The ASEAN Connectivity will serve as the backbone of economic and social development in the region, according to Dato Paduka Lim Jock Hoi, Permanent Secretary, Ministry of Foreign Affairs and Trade. "The infrastructure that gets built now will stay on for generations and will be the platform for the future economic and social development in this region," he said. In his opening speech to the 4th ASEAN Connectivity Symposium: Partnering Private Sector for ASEAN Connectivity", he reiterated that ASEAN "need an appropriate administrative infrastructure" to manage and coordinate various national and regional projects. He emphasized that so-called "Project Champions" must be identified to take the lead and give momentum to other ASEAN members. In his speech, he suggested that ASEAN can select one project from existing sub-regional arrangement such as in GMS, BIMP-EAGA and IMT-GT and conduct a detailed feasibility study and identify leaders to take care of the selected projects.
In his key-note speech, on behalf of the Secretary General of ASEAN, H.E. Le Luong Minh, Mr. Subash Bose Pillai, Director, Market Integration Directorate, ASEAN Secretariat urged ASEAN to create conducive environment for the private sectors to invest in the ASEAN Connectivity projects. According to Goldman Sachs and the Asian Development Bank, these projects would require an estimated of US$600 billion through 2020. He added "ASEAN cannot be truly connected without creating an enabling environment that connects our peoples as well our instructions that facilitate the free movement of goods, services and people".
"PPP with regional perspectives and regional cooperation could be one of the solutions for the further MIEC development." Prof. Hidetoshi Nishimura, Executive Director of ERIA, pointed out the importance of Mekong-India Economic Corridor (MIEC) for ASEAN Connectivity utilizing PPP framework. He reiterated the importance of PPP guideline for ASEAN which can realize "PPP in ASEAN way". He also mentioned the necessity of a Regional PPP Center of Excellence which includes the concepts of promoting cross-border projects, providing technical assistance and capacity building, and exchanging knowledge across stakeholders.
The one-day symposium, which is organized by ERIA consecutively for the fourth year, is designed to connect the policy makers, private investors and academics within the region and dialogue partners to implement ASEAN Connectivity projects.
The symposium is attended by around 140 representatives from ASEAN and dialogue countries. International and regional experts reviewed the implementation of ASEAN Connectivity, methods to mobilize funding as well as recommendations of best practices within the PPP framework.
To download Press Release, please click on the following link:
CHOOSE FILTER