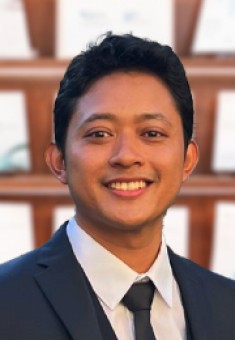 Ryan Wiratama Bhaskara
Research Associate
Ryan Wiratama Bhaskara has joined ERIA since February 2023. As a Research Associate, he is currently involved in various energy research projects: transport modeling; energy outlook and statistics; electric vehicle; hydrogen development; and carbon capture, utilization, and storage (CCUS).
Before joining ERIA, Ryan worked as a research assistant in Centre for Energy Studies Universitas Gadjah Mada, where he worked in various energy projects across Indonesia.
Ryan graduated from University College London, taking a master's degree in Energy Systems and Data Analytics. He studied the intersection of energy and data, utilizing statistics, AI, machine learning algorithms for energy modeling.
Research Interests
Energy modeling
Data analysis
Energy system
Energy and transport analytics
Education
2021 - 2022

Master of Science in Energy Systems and Data Analytics

University College London, UK

2014 - 2018

Bachelor of Engineering

Universitas Gadjahmada, Sleman, Indonesia
Experience
2018 - 2021

Research Assistant

Centre for Energy Studies Universitas Gadjah Mada
Recent Publications
Fitrady, A., Deendarlianto, Widyaparaga, A., Budiarto, R., Putranto, L. M., Handika, I., Novitasari, D., Imaddudin, M. H., Prasakti, L., Kusuma, D. A., Winata, E., Muthahhari, A. A., Ginting, M. G., Bhaskara, R. W., Rosyadi, S. A., & Nugrahaningsih, F. (2021). Business Model to Strengthen the Role of Local Government in Implementing the Renewable Energy Potential in Indonesia. Centre for Energy Studies Universitas Gadjah Mada. Yogyakarta. ISBN: 978-623-91932-32. Available at: https://www.researchgate.net/publication/356522915