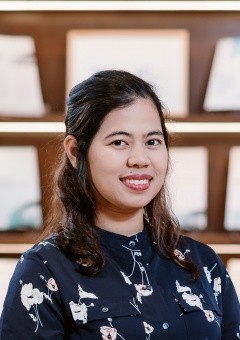 Dian Lutfiana
Research Associate
Dian Lutfiana joined ERIA in March 2018. She obtained her Master's degree from the Australian National University. Currently, she supports Dr Venkatachalam Anbumozhi in researching energy issues and disaster resilience across ASEAN and Asia region.
Prior to joining ERIA, she worked for PT Deloitte Konsultan Indonesia and actively involved in Deloitte Global Sustainability network and local NGO to improve the sustainability project. She managed several projects related to market-based policy options for the energy and industrial sectors, environmental performance data focusing on energy (energy use, energy flows, and energy efficiency), and the circularity of waste in the post-consumer packaging and economic value chain quantification for an alternative energy source. She received her bachelor's degree from Institut Teknologi Bandung (Bandung Institute of Technology) and conducted several research on natural disasters and climate change impacts on economic, social and environmental resilience.
Research Interests
Energy economics
Climate change and disaster management
Corporate sustainability responsibility
Environmental management
Education
2016

Master of Environmental Management and Development
Australian National University

2012

Bachelor of Engineering in Urban and Regional Planning
Institut Teknologi Bandung
Experience
March 2017 to March 2018

Associate Consultant
Strategic Risk and Reputation, Risk Advisory, PT Deloitte Konsultan Indonesia

Jan 2013 to Jan 2016

Affiliated Researcher
Resilience Development Initiative (RDI)

Oct 2012 to Dec 2014

Junior Planner
Rural and Regional Planning Research Group, Institute of Technology Bandung
Recent Publications
Sagala, S., Lutfiana, D. and Wimbardana, R. (2013) Housing Reconstruction Management of Post West Java Earthquake in Bandung District, West Java. J. Penataan Ruang Volume 2.
Sagala, S., Dodon, D., Lutfiana, D., & Wimbardana, R. (2013). Wetlands Land Use Change in Palembang City: Issues and Implication to Urban Flood Mitigation Policy. In H. Anwar (Ed.), Disaster Management Issues in Indonesia. Bandung, Indonesia: Indonesian Institute of Science (LIPI) (accepted).
Lutfiana, D., Sagala, S., Furqon, T. and Wimbardana, R. (2013) Exploring Social Capital Role to Restore Community Resilience after West Java Earthquake: Case Study Pangalengan District, Bandung Region, West Java. Proceeding of 2nd Plano Cosmo International Conference on Regional and City Planning, Institute of Technology, Bandung, Indonesia, 21-22 October 2013.