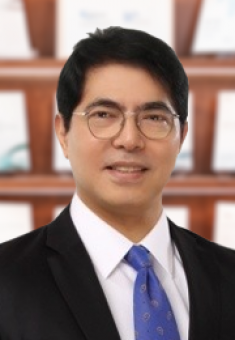 Antonio Fredelindo Dela Resma Villanueva
Senior Advisor on Healthcare Policy (Clinical Trials and Health Development)
Dr Antonio Villanueva, Doc Anton, or Avn is a family & community medicine and infectious disease & tropical medicine specialist with a background in public international health and clinical trials with global health diplomacy. He serves as Senior Advisor for Healthcare Policy (Clinical Trials and Health Development), focusing on regional recommendations supported by evidence produced from medicine and medical device studies. His prior post as a Regional Manager in the Department of International Trials, National Center for Global Health and Medicine, Tokyo most recently found him in research and operations for the favipiravir global trials and other COVID-19 projects. His pandemic experience further includes the Philippine Ebola mission to West Africa as Medical Team Leader and policy writer alongside the United Nations Mission in Liberia. From there, he co-authored 'Bring Them Home', as well as journal publications for Africa and Southeast Asia.
Anton also brings in a portfolio as a former clinical director of Allied World Healthcare (UK and Singapore-based), where pilot projects included expanding the electronic healthcare record to rural communities, dean and curriculum development manager of MTC Academy (Manila), where he enjoyed creating the revolving curriculum for both physical and online programs, and former member of the National Epidemiology Center (Philippines) guidelines committee.
While his academic medical and graduate background began primarily from the University of the Philippines with continuing medical infectious education at Johns Hopkins and graduate studies in public international health at the UN University (EUCLID), his industry certification in clinical trials comes from WHO's TDR (Special Programme for Research and Training in Tropical Diseases) and the Association of Clinical Research Professionals (ACRP), as well as ISO and TB-HIV during his subspecialty training at San Lazaro (infectious) Hospital, Department of Health-Philippines.
Having been raised across four continents, Avn believes in working with the positive influences of all cultures and appreciates the universal sound of music and outdoors, as can be seen from his stints with marching bands in Texas, Far East music festivals in Tokyo and Okinawa, and the University of Santo Tomas Symphony, while cycling recreationally, climbing to the summit of Mt. Fuji, and looking forward to hang gliding and skydiving. He has also been a "solo parent" and relaxes with huskies … and is learning Nihongo and Bahasa.
Education
2018-Present

Doctorate Degree in Public International Health
EUCLID University

1996-2003

Master Degree in Medical Education
University of Santo Thomas, Our Lady of Fatima

Continue Medical Education
Johns Hopkins University


Bachelor Degree in Law
University of the Philippines

2012-2015

DFM in Specialty in Family and Community Medicine
Philippine Academy of Family Physicians


Including:

Occupational Medicine, Philippine College of Occupational Medicine
School Health, Philippine Academy of Physicians in School Health

2015-2016

DTM in Subspecialty in Infectious Diseases & Tropical Medicine
Philippine Academy of Primary Care Specialists in Tropical Medicine


Including:

Venereology, Philippine Society of Venereologists
Professional Experience
2020

Senior Advisor on Healthcare Policy (Clinical Trials and Health Development)


Economic Research Institute for ASEAN and East Asia, Jakarta, Indonesia

2017-2020

Regional Manager, Philippines Department of International Trials
National Center for Global Health and Medicine, Tokyo

2017

Clinical Director


Allied World Healthcare

2016-2017

Medical Specialist for Asia and the Pacific


IMED Global, FMD K&L, Manila

2014-2015

Medical Team Leader, Ebola Mission in West Africa


Department of Foreign Affairs/Department of Health Emerging & Re-emerging Infections/UNDP

2010-2017

Clinician and international company physician
St. Luke's Global, Taguig and The Medical City, Pasig in Metro Manila and Clark, Pampanga


2003-2010

Dean/ Curriculum Development Manager (Allied Health)
MTC Academy Makati, Metro Manila

Trainings
2020

Global Health Network
Health Research in Vulnerable Populations program


2019

University of Sienna, Italy
WHO-TDR certificate program on clinical trial management

2018

Tokyo University-NCGM iGHP
Global Health Diplomacy certificate program


2018

Tokyo University-NCGM iGHP Systematic Review/Meta-analysis workshop

2018

Johns Hopkins Online
Clinical Trial Design and Interpretation certificate course

2018

Rochester Institute of Technology online
Project Management certificate course


2018

Japan Society for the Promotion of Science
Certificate in Research Ethics


2018

National Center for Global Health and Medicine, Japan
Certificate in Clinical Trial Protocol


2018

ThinkScience online
Certificates in Clinical Research Writing for Publication


2017

NCGM Japan
Certificate in Internet Security


St. Luke's and Pfizer
Certificate in Good Clinical Practices-International Council for Harmonisation
Certification and License
| | |
| --- | --- |
| 2010 | Licensed to practice medicine in the Philippines and ASEAN |
| | Licensed to teach biology and special education in the US (East Coast) |
| | Certified HIV/AIDS Counselor (Department of Health-Philippines: #CHD3-B20-2014-0556) |
| | Certified ISO internal auditor |
| | Certified in ICD-10 |
Publications
Co-Author: The progression of clinical trials in Indonesia: an observational study of records from clinical trial registries databases, Global Health Journal (2020)

Co-Author: Comparative evaluation of anthropometric measurements and prevalence of hypertension: Community-based cross-sectional study in rural male and female Cambodians, Heliyon (2020)

Co-Author: Biomass energy, particulate matter, and the prevalence of chronic obstructive pulmonary disease among Congolese women living near a cement plant, in Kongo Central Province, Environmental Science and Pollution Research (2020). DOI 10. 1007/s11356-020-10099-2

Co-Author: Prevalence of chronic obstructive pulmonary disease among Congolese cement workers exposed to cement dust, in Kongo Central Province, Environmental Science and Pollution Research (2018). https://doi.org/10.1007/s11356-018-3401-4

Co-Author of Ebola mission book 'Bring Them Home' published by the Department of Foreign Affairs for all Philippine embassies and Department of Health-Philippines units nationwide (2016)

MOQA-VS: The Measles Outbreak Quality Assurance Validation Study, a QA model for improvement in accuracy of admitting diagnoses by Family Medicine residents at San Lazaro Hospital from October 2013 to March 2014. Key concepts include PIDSR (Philippine Integrated Disease Surveillance and Response), QA monitoring, Bayesian statistics, and WHO/ RITM epi-linked cluster data. Note: publication not required for postgraduate graduation (2015)

The Firefly. Documentation of the case of an HIV patient with PTB who succumbed to a new, emerging infection called IRIS (Immune Reconstitution Inflammatory Syndrome), the measures taken to treat him and to reach out to his friends and the community, and our changes made in the public health sector to help prevent others from succumbing to the illness. Note: national research winner (2014)

The Monster in Me. Interesting Case competition-winning presentation about how love for man's best friend can lead to loss of human eyesight if proper hygiene is not maintained. Note: regional research winner (2013)

The Alpha Quadrant. Investigative paper on how PTB regimen, if not followed correctly, can lead to quadrantanopsia. Note: hospital research winner (2013)

CPC clinicopathologic champions: 2012 (regional, as member), 2013 (national finalists), 2014 (national, as captain), 2015 (national, as consultant)