Mapping the Innovation-Driven Entrepreneurial Ecosystem in ASEAN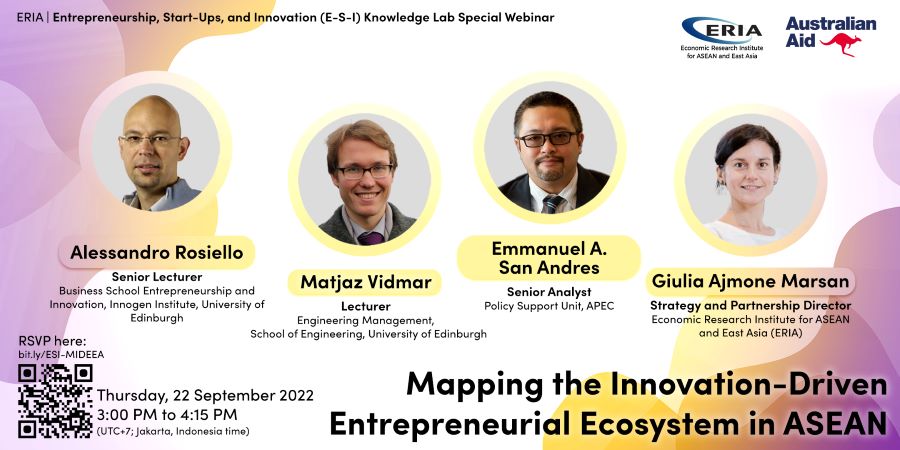 Innovation-driven entrepreneurship enables people and companies to pursue global opportunities based on innovative processes, products, or services. Studies show that innovation-driven entrepreneurial high-growth firms represent a small fraction (<10%) of all start-ups but create more than 50% of jobs and are more resilient during crises, including the recent coronavirus disease (COVID-19) pandemic.
However, their growth depends on an entrepreneurial ecosystem surrounding them, including access to key markets, finance, networks, and human resources, especially new knowledge and education. To ensure the development of innovation-driven entrepreneurial activities, their geographical and sectoral distribution needs to be mapped, but indicators are lacking, especially for the Association of Southeast Asian Nations (ASEAN). New sources of data, including social media, offer a new way to expand these indicators, and we propose a new methodology to identify emerging places of innovation-driven entrepreneurship (E-PIE).
So what are the key messages of innovation-driven entrepreneurial ecosystems and why is it important for ASEAN? Join our line of speakers to discuss more on the topic in an afternoon of conversations.
Event Details
Date: Thursday, 22 September 2022
Time: 3 PM - 4:15 PM (Jakarta time, UTC+7) / 09:00 - 10:15 AM (BST)
Agenda
3:00PM - 3:05PM

Welcome Remarks:

Giulia Ajmone Marsan, Strategy and Partnership Director, ERIA
3:05PM - 3:20PM

Presentation

Alessandro Rosiello, Senior Lecturer, Business School Entrepreneurship and Innovation, Innogen Institute, University of Edinburgh
Matjaz Vidmar, Lecturer in Engineering Management, School of Engineering, University of Edinburgh

3:20PM - 3:50PM

Panel Discussion

Speakers:

Emmanuel A. San Andres, Senior Analyst, Policy Support Unit, APEC
Alessandro Rosiello, Senior Lecturer, Business School Entrepreneurship and Innovation, Innogen Institute, University of Edinburgh
Matjaz Vidmar, Lecturer in Engineering Management, School of Engineering, University of Edinburgh

Moderator:

Giulia Ajmone Marsan, Strategy and Partnership Director, ERIA
3:50PM - 4:05PM

Q&A

Moderator:

Tiat Jin Ooi, Lead Consultant, E-S-I Knowledge Lab, ERIA
| | |
| --- | --- |
| 4:05PM - 4:15PM | Closing Remarks |