ADB SEADS 2023: Imagining a Net-Zero ASEAN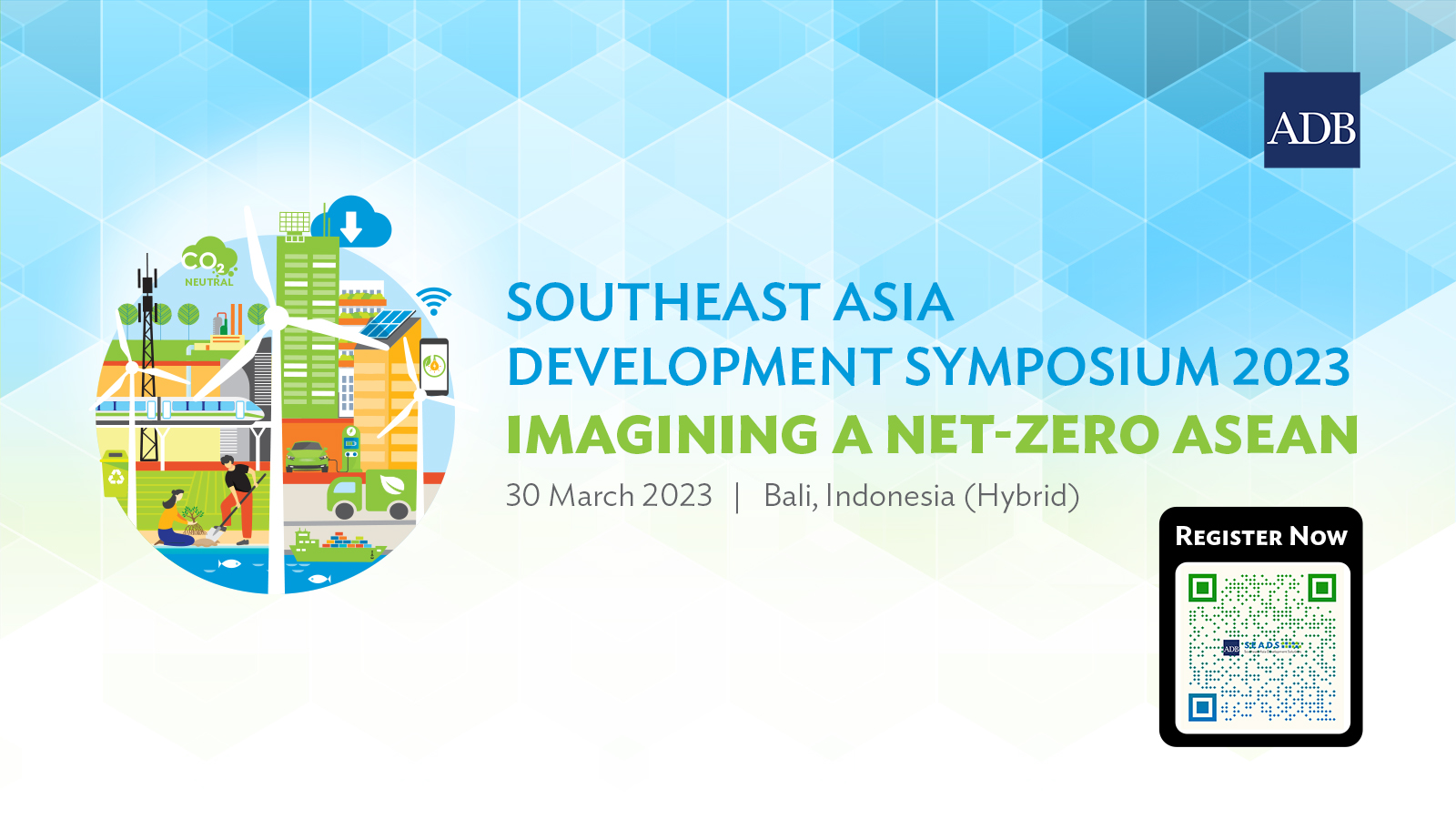 Countries in Southeast Asia are committed to a net-zero future, with 8 out of 10 ASEAN member states at the COP26 climate conference in Glasgow committing to net-zero targets by 2050.
The Asian Development Bank's Southeast Asia Development Symposium (SEADS) 2023, "Imagining a Net-Zero ASEAN," will bring together thought leaders, decision makers, and climate action advocates from government, industry, academia, and the development sector to discuss innovative solutions that can help countries focus on becoming net-zero economies and rebound from the COVID-19 crisis.
SEADS 2023 will examine how the region can harness new green, innovative, and cost-effective approaches; adopt new technological solutions; accelerate the availability of finance; and deploy other effective measures to support decarbonization in a wide range of sectors while revitalizing economies.
Schedule
Date: Thursday, 30 March 2023
Time: 9 AM - 7:30 PM (Bali Time / GMT+8)
Place: The Westin Resort Nusa Dua, Bali / Hybrid
Agenda
9:00–9:05

SEADS 2023 - ADB Introduction

Winfried F. Wicklein, Deputy Director General, Southeast Asia Department, ADB

9:05–9:10

Welcoming Remarks

Masatsugu Asakawa, President, ADB

9:10–9:20

Opening Keynote

Sri Mulyani Indrawati, Minister of Finance, Indonesia

9:20–9:25

Featured Talk - Global Perspective

Amina J. Mohammed, Deputy Secretary General, United Nations

9:25–9:30

Featured Talk - Regional Perspective

Amitabh Kant, G20 Sherpa, India

9:30–9:35

Recorded Featured Talk - Innovation Perspective

David Turk, Deputy Secretary, Department of Energy, United States

9:35-9:40

Featured Talk - Climate Finance Perspective

Sean Kidney, CEO, Climate Bonds Initiative

9:40-10:10

Break and Networking | Innovations and Solutions Marketplace

Opening Plenary Panel: Financing Net Zero

10:10–11:25

Ahmed M. Saeed, Vice-President (Operations 2) East Asia, Southeast Asia, and the Pacific, ADB

Senior government official, central bank governor or finance minister (TBD)

Mafalda Duarte, CEO, Climate Investment Funds

Herry Cho, Managing Director, Head of Sustainability and Sustainable Finance, Singapore Exchange

Moderator: David Ingles, TV Anchor and Chief Markets Editor, Bloomberg TV APAC

11:25–11:40

Fireside Chat

Ramesh Subramaniam, Director General, Southeast Asia Department, ADB on the new ADB report: Global Value Chains in Southeast Asia: Building Resilience and Sustainability

11:40-12:05

Renewable Energy in Manufacturing: Opportunities for Southeast Asia

A presentation by ADB and McKinsey. Commentary by Bloomberg Philanthropies and Sustainable Energy for All

12:05-12:15

Google.org Sustainability Seed Funding Award Announcements

Michaela Browning, Vice-President, Government and Public Policy for Asia– Pacific, Google

12:15–13:30

Lunch Break and Networking | Innovations and Solutions Marketplace

12:30-13:00

Media Briefing

ADB Report Launch—Global Value Chains in Southeast Asia: Building Resilience and Sustainability

Afternoon Keynote Addresses

13:30–13:40

Featured Keynote

Bambang Susantono, Chairman, Nusantara National Capital Authority, Indonesia

13:40–13:45

Featured Talk - Southeast Asia Perspective

Dechen Tsering, Regional Director and Representative, Asia and the Pacific Office, United Nations Environment Programme

13:45–13:50

Featured Talk - Global Perspective

Douglas Sabo, Chief Sustainability Officer, Visa

Thematic Sessions

14:00–15:30

Digital Innovation to Advance a Net-Zero Future | ADB and Tech for Good Institute

14:00–15:30

Designing Resilient and Net-Zero Cities of Tomorrow | ADB and Arup
| | |
| --- | --- |
| 14:00–15:30 | Enabling Energy Transition in Southeast Asia: Mechanisms and Initiative | ADB and Infrastructure Asia |
| 14:00–15:30 | Jobs of the Future: Building Diversity into the Net-Zero Transition | ADB, Economic Research Institute for ASEAN and East Asia, and Generation.org |
| 14:00–15:30 | Virtual Only: Health Sector Net-Zero Solutions—An Opportunity Hiding in Plain Sight | ADB |
| 15:30–16:00 | Break and Networking | Innovations and Solutions Marketplace |
| 16:00-17:30 | An Ocean of Opportunity: How a Sustainable Blue Economy Creates Pathways toward Net Zero | ADB and Climateworks Centre |
| 16:00-17:30 | Opportunities for Transitions and Decarbonization Pathways in Southeast Asia | ADB and Climate Bonds Initiative |
| 16:00-17:30 | Ecotourism 2.0: Navigating the Transition to Net Zero | ADB, Visa, and Pacific Asia Travel Association |
| 16:00-17:30 | Meeting Sustainability and Climate Goals with the Cloud | ADB, Economic Research Institute for ASEAN and East Asia, and Amazon Web Services |
| 17:30-19:30 | Closing Remarks and Networking Reception | Innovations and Solutions Marketplace |