Database and Programmes
Back
Prizes for Best Research Paper in Capacity Building Policy Modelling Workshop Series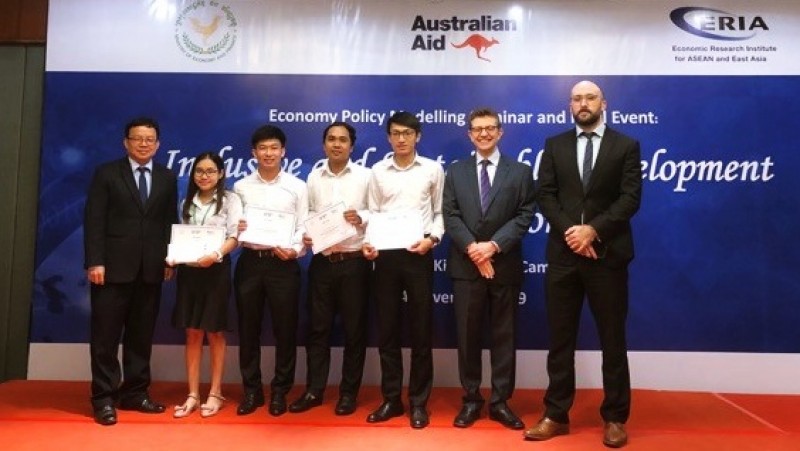 Phnom Penh, 4 November 2019: A symposium was held on a 'Inclusive and sustainable Development in an Open Economy' on 4 November 2019 in Phnom Penh. This symposium was tied to the economic policy modelling workshop series for Cambodian government officials, organized by ERIA's Capacity Building Programme with support from the Australian Government.
Opening comments were delivered by H.E. Ros Seilava, Under-Secretary of State, Ministry of Economy and Finance, and Mr David Bloch, First Secretary, Australian Embassy, Cambodia. These were followed by a Key Note Speech delivered by Dr Jayant Menon, then Lead Economist at the Asian Development Bank.
Participants in the workshop series presented their research papers, which they had developed over the previous months, at the symposium. The research papers were entitled:
Opportunities and Challenges of Investment in Cambodia: Importance of Investment Promotion and Facilitation
Digital Economy: Emerging Challenges for Cambodia
Trade, Fiscal Status, and Economic Liberalisation
Reducing Domestic Vulnerability of Domestic Economy to External Shocks: Case of Cambodia
Regionalism and Structural Adjustments Using FTAs
Social Assistance Programs Contribution to Human Capital Development: School Food Feeding Program in Cambodia
Prizes were awarded to the top three papers, with the 1st prize being presented to the team from the Ministry of Economy and Finance for their paper on 'Digital Economy: Emerging Challenges for Cambodia'.
The workshop series followed the signing of a Memorandum of Understanding between Dr Aun Pornmoniroth, Deputy Prime Minister and Minister of Economy and Finance, and ERIA. Nearly 40 participants from the Ministry of Economy and Finance, the Ministry of Commerce and the National Bank of Cambodia participated in the two workshops and symposium.
Related Articles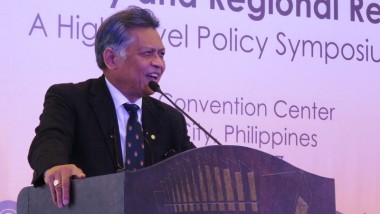 CHOOSE FILTER