Database and Programmes
Back
Participation in Research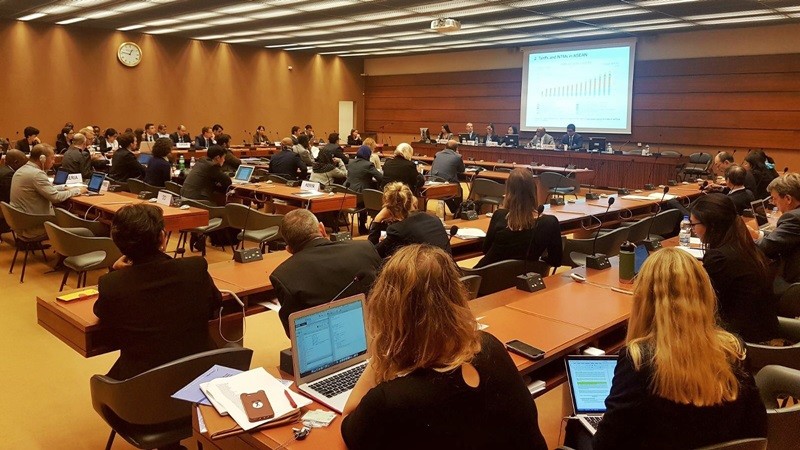 Integrating government officials in ERIA research teams allows officials to gain a stronger understanding of the complexities of an issue, comments from the perspective of a government's needs, as well as allow participants to discuss the issue with their academic as well as government counterparts from the wider Asian region. Government officials are currently involved in four ERIA studies:
i) Reducing Unnecessary Regulatory Burdens
Many regulations are not crafted using established principles of good regulatory process. Undertaking a review of existing practices will identify the burdens of most concern for priority export sectors in participating countries. This study, to be completed in 2017, included a third and final workshop in November 2016.
ii) Industry 4.0: Empowering ASEAN for Circular Economy
The transition to a circular economy is a unique opportunity for fast growing CLMV economies to be resource efficient, competitive and innovative. The circular economy aims to eradicate wasteful use of raw materials and energy. A public-private dialogue, including CLMV officials, was held in June 2016 to review study draft chapters and for further discussions about the challenges and opportunities for how governments and corporations can strike a better balance between growth and resource efficiency stewardship. The stud will be completed in early 2017.
iii) Global Production Value Chain, Cities and Urban Amenities: Implications for Services Trade Liberalization in East Asia and ASEAN
This study examine how the development of cities creates urban networks and urban amenities, attracts and develops skills and human capital, resulting in the development and liberalization of the services sectors within the global production value chain in the Asian region. The project is expected to contribute to key policy discussions on the development of services liberalization and the development of services supply chain in the region.
iv) 21st Century Regionalism, Mega FTAs, and Asian Regional Integration
The study uses the Trans-Pacific Partnership (TPP) as an example to investigate possible new rules and regulations in global governance from an Asian perspective. This study is also examining what new global standards will look like, the opportunities and challenges arising from them, and how inclusive global value chains can sustain growth The policy recommendations will be "gaps-orientated", for example, identifying what actions countries need to undertake to implement the new global standards.
v) Distributional Effects of Disasters and Climate Change on Food Security
ASEAN Socio-Cultural Community (ASCC) Blueprint and East Asia Summit (EAS) statements clearly recognize the need for concerted efforts to address the issue of disasters and climate change and their impacts on socio-economic development, health and the environment. As such, the objective of this study include to understand key food security challenges posed by disasters and climate change and the required actions taken by policy-makers to address these risks, to share experiences on adjustment of key planning instruments relating to the agriculture sector, and exchange experiences on successful adaptation measures across key vulnerable areas.
CHOOSE FILTER