Database and Programmes
Back
Officials Participate in Workshop on Climate Change Vulnerabilities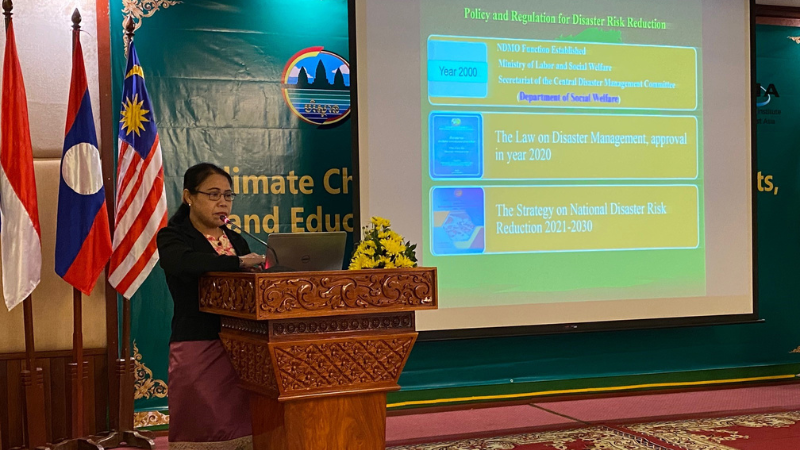 Siem Reap, 12-14 September 2022: Southeast Asia is one of the world's most vulnerable regions to climate change due to its long coastlines, high concentration of population and economic activity in coastal areas, and heavy reliance on agriculture, fisheries, forestry and other natural resources. As climate change threatens agricultural production and indirectly food security, ecological stability and sustainable development, climate variability and change presents many risks to the well-being of the populations of the Association of Southeast Asia Nations (ASEAN). Vulnerability, capacity and adaptation assessments conducted from provincial to national levels therefore have been designed in response to provide information for policymakers about the risks of climate variability and the options for managing those risks.
Six government officials from Cambodia, Lao PDR and Viet Nam participated in a three-day regional workshop, Climate Change Vulnerabilities, Social Impacts, and Education for Autonomous Adaptation, through ERIA's Capacity Building Program. The officials joined around 40 other participants in this workshop, held in Siem Reap, in addition to 30 people online. The workshop was designed to strengthen the ability of ASEAN officials to understand climate change vulnerability assessments and the implementation of successful autonomous and planned adaptation measures.
The workshop was supported by ERIA as part of its support for ASEAN Social and Cultural Community (ASCC) priority projects being led by Cambodia as Chair of ASEAN in 2022. The Capacity Building Program is supported by the Australian Government. The workshop was opened by Mr Koji Hachiyama, ERIA Chief Operating Officer, who highlighted the importance of climate change adaptation in the context of sustainable development. He also stressed the role of ERIA as a knowledge partner of ASEAN in the context of the many technical studies done on the topic of climate change adaptation. In his opening comments, Dr Tin Ponlok, Secretary of the State, Ministry of Environment, Royal Government of Cambodia, noted the remarkable progress made by Cambodia in terms of climate change policy, particularly in mainstreaming climate change into national policies, strategies, and also sub-national planning and budgeting.
The workshop discussed themes including climate change vulnerability, risks and planning tools; socio economic implications of climate vulnerability and framework conditions for adaptation planning; and successful climate change adaptation strategies and policies in vulnerable areas. The workshop consisted of presentations, group discussions and a field trip.
CHOOSE FILTER