Database and Programmes
Back
ERIA Organizes Capacity Building Seminar and Workshop in Vientiane towards ASEAN Economic Integration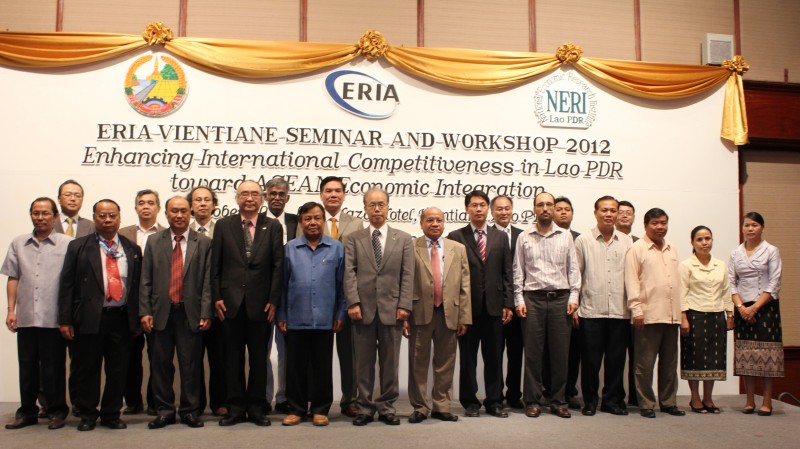 CO-ORGANIZER
---
Foreign Trade Policy Department, Ministry of Industry and Commerce (MOIC) and National Economic Research Institute, Ministry of Planning and Investment (NERI) of Lao PDR
Supported by
---
Bangkok Research Center (BRC), JETRO
---
The two-days Vientiane Seminar and Workshop 2012, was conducted at Lao Plaza Hotel, Vientiane Capital, Lao PDR on 11-12 October 2012. The Seminar and Workshop was mainly organized by the Economic Research Institute for ASEAN and East Asia (ERIA) and the co-organizers were Foreign Trade Policy Department, Ministry of Industry and Commerce (MOIC) and National Economic Research Institute, Ministry of Planning and Investment (NERI) of Lao PDR. This seminar was supported by Bangkok Research Center, IDE-JETRO.
There were 132 participants excluding speakers attended in this seminar. They were from Prime Minister Office; Ministry of Foreign Affairs; Ministry of Industry and Commerce; NERI; Lao National Chamber of Commerce and Industry; Lao National Tourism Authority; Ministry of Science and Technology; Ministry of Public Work and Transportation; Railway Authority; Ministry of Finance; Bank of Lao PDR; Economic Research Institute for Trade or ERIT (under MOIC); Small and Medium Enterprise (SME) office (under MOIC), National Assembly, National University of Lao PDR; NOSPA; Ministry of Education and Sports; several private companies and Business Associations.
It was officially opened by H.E. Siaosavath Savengsuksa, Vice Minister of Industry and Commerce of Lao PDR and Prof. Hidetoshi Nishimura, Executive Director, ERIA. The key speakers were Dr. Dionisius A. Narjoko, Researcher of ERIA; Dr. Rajah Rasiah, Professor of Technology and Innovation Policy and Chair of Regulatory Studies, University of Malay; Mr. Akinori Okazaki, Vice President, Production Division, DENSO international Asia Co.; Ltd., Thailand. The Seminar was summarized by Dr. Leebor Leebouapao, Director General, NERI.
The main objective of this seminar is aiming at sharing experiences and brainstorming from participants on economic integration issues, in particular the preparation toward the ASEAN Economic Community (AEC), Blueprint and ASEAN Free Trade Area, which will emerge in 2015. The main issues presented in the VSW include the prospects and challenges for Lao PDR under the ASEAN Regional Economic Integration; technological catch up and competitiveness in East Asia; some key recommendations to be an engine for global growth towards vital economic integration; connectivity and logistics development in Lao PDR, particularly Air and Land transportation; and the potential industry in Lao PDR by focusing on tourism development.
Experts from the region shared their experience and knowledge of models of economic development. Speakers including Dr. Dionisius Narjoko, ERIA, Dr. Rajah Rasiah of University of Malay, Mr. Akinori Okazaki of DENSO International Asia Co. Ltd and Dr. Leeber Leebouapao, Director General of National Economic Research Institute.
Dr. Dionisius said that Laos has done well on non-tariff measures while other performances need to catch up. He reiterated that improvement of trade facilitation, customs reforms, the use and upgrade of ICT and dther logistic sectors should be stepped up.
Dr. Rajah Rasiah pointed out that in transitional economies such as Laos, it is pivotal to promote good governance to facilitate transfer of technology and knowledge.
On capacity building in his country, Dr. Leeber said that increased coordination among intra-government agencies are necessary to have better implementation of policies.
On the second day, participants divided into two working groups concentrating on issues to improvement of connectivity and logistic development and tourism development.
Their reports and recommendations will be submitted to relevant ministries in Laos for future consideration and planning. ERIA will also follow-up on the outcome of workshop.
CHOOSE FILTER