Database and Programmes
Back
COVID-19 Pandemic Best Policy Strategies: Balancing Health and Economy (Part 2)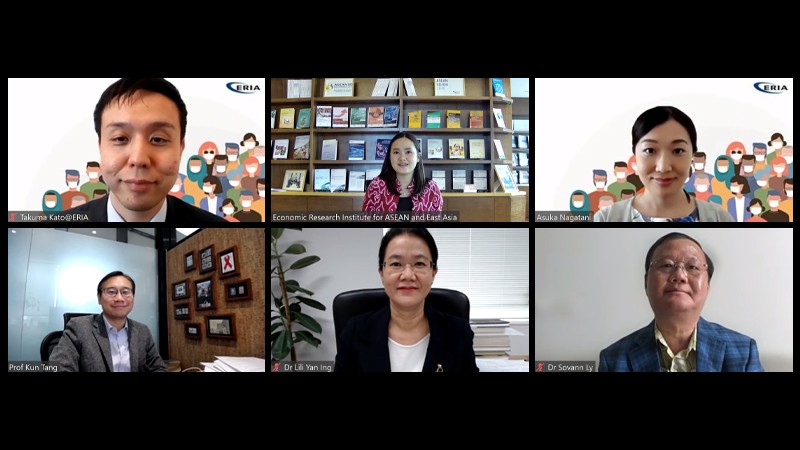 Jakarta, 13 October 2022: The Healthcare Unit and the Communications and Information Department of the Economic Research Institute for ASEAN and East Asia (ERIA) held the second virtual regional conference on Pandemic Best Policy Strategies: Balancing Health and Economy (Part 2) on 13 October 2022. Five experts from Cambodia, China, Singapore, and Viet Nam, and ERIA's economic lead advisor for Southeast Asia shared their national and regional strategies for handling and planning their smooth exit from the ongoing COVID-19 pandemic whilst preparing for upcoming shocks.
Although many pandemic experts have predicted that COVID-19 would follow the path of other coronaviruses in history and die out after 2 years, the Omicron variants have pushed the timeline to 3 years. Inevitably, governments across the globe have been hard-pressed to work alone within their borders as well as together across borders whilst striving to balance health and economy. Within the diverse community of ERIA Member States alone, a variety of measures for survival have been tackled in attempts to balance each nation's health and economy.
Discussing this balance were Dr Sovann Ly, Advisor to the Ministry of Health as Secretary of State in Phnom Penh, Cambodia; Prof Kun Tang, Member of the World Health Organisation COVID-19 Global Research Roadmap Social Science Group, Vanke School of Public Health, Tsinghua University, in Beijing, China; Dr Lili Yan Ing, Lead Advisor for Southeast Asia, ERIA, in Jakarta, Indonesia; Prof Alex Cook, Vice Dean of the Saw Swee Hock School of Public Health, National University of Singapore; and Dr Tran Thi Mai Oanh, Director of Health Strategy and Policy Institute, in Hanoi, Viet Nam. The programme was opened by Dr Takuma Kato, ERIA Healthcare Unit's Director, and moderated by Dr Antonio Villanueva, ERIA Healthcare Unit's Senior Advisor on Healthcare Policy, and Ms Asuka Nagatani, ERIA Healthcare Unit's Senior Policy Officer. Ms Isabella Gentajaya, ERIA's Information and Communications Department Senior Assistant, moderated the question-and-answer and closing portions.
Dr Ly, representing Cambodia as the Association of Southeast Asian Nations (ASEAN) 2022 Chair, reported that Cambodia's public health systems have been well-prepared to be resilient and sustainable against sudden health crises through effective surveillance, available field teams and equipment, 24/7 access, and simplified logistics and hierarchy. He stated that most people have received their fourth or fifth dose of COVID-19 vaccines.
Prof Tang presented a comprehensive overview of China's COVID-19 policies and practices on resilience and innovation, with focus on reproductive health. He said that China definitively focused on containment, especially in the populous urban centres such as Shanghai from March to May 2022. He mentioned essential health services that were disrupted, citing as an example his team's study on COVID-19's impact on various aspects of reproductive health, which revealed a decrease in sexual activity, apparently to avoid pregnancy. Asked about China's stand on Western mRNA vaccines, he answered that whilst China focuses on local traditional vaccines, an mRNA equivalent has recently been released and approved in Indonesia.
Dr Ing assessed COVID-19's impacts on Southeast Asia's economy, now aggravated by geopolitical tensions. She also summarised the region's overall recovery response, citing as examples Singapore, which is hardest hit because of tremendous losses in tourism, and the Philippines, which is experiencing double-digit unemployment. She reported that reactions from ASEAN have included an increase in targeted fiscal interventions and monetary interventions such as managing interest rates. She recommended that the next steps should focus on temporary social protection policies, fiscal policies to maintain lower fiscal deficits and a manageable range of interest rates, and operational policies to improve supply and logistics in response to increasing demands.
Prof Cook focused on Singapore's low-COVID-19 approach as opposed to a zero-COVID-19 one, stating that this is being managed by targeting high-risk groups whilst procuring large quantities of vaccines to mitigate the virus. In this manner, he said, extreme lockdowns are avoided. He added that the targeted measures include regular mass testing at, for example, offices and universities, manual and digital contact tracing of those at highest risk, encouraging social distancing, mask-wearing outside the home, institutional isolation to reduce household secondary infections, a quarantine system that includes migrant populations, and admittedly lengthy risk-stratified border restrictions. Moreover, Singapore's policies are gradually being relaxed through an evidence-based approach and home-grown modelling applications that are readily available to policymakers.
Dr Oanh reported that Viet Nam successfully combatted the first wave of the pandemic by prioritising health over economy. Measures taken, he said, included political commitment and multi-stakeholder collaboration, early case detection and strict quarantine especially at the borders, aggressive third-degree contact tracing, quick strategic testing in areas with community transmission, a timely and transparent public communications campaign, and, most importantly, participative individual and community engagement. The commune system in Viet Nam, he noted, has stimulated a culture of positive citizen action. He pointed out that when 90% of the population had already been vaccinated by October 2021, measures were relaxed, with social distancing applied only in high-risk areas, which thus supported economic recovery. For the new normal, he said the government now focuses on policies to support socio-economic development, including fiscal packages, loans with zero interest, social protection packages, and others, as well as enhanced preparation for future pandemics.
Dr Ly was asked how Cambodia has adjusted its COVID-19 policies to accommodate the rapid influx of visitors as the country is ASEAN Chair for 2022. He answered that the COVID-19 vaccine requirement and testing at the borders have been lifted, and the new requirement for delegates is to be tested before attending meetings. Otherwise, only thermal scanning is practised.
Dr Cook was asked if Singapore's policies on targeted populations could be successfully applied to larger Member States. He answered that it should be possible. He was asked on how Singapore has been able to implement policies to reach purported sources of infection, such as migrant workers. He said that because of the sudden outbreak of cases in areas with a high density of migrant workers, quarantine measures are restrictive and that dormitory living conditions are being studied to prevent such incidents from recurring.
Dr Oanh was asked how Viet Nam was able to encourage citizens unwilling to follow the new COVID-19 rules to comply with health measures. She said that whilst citizens comply through participative action, those who do not comply are subject to punitive measures. However, she said, few are affected because community engagement remains high and friendly.
Related Articles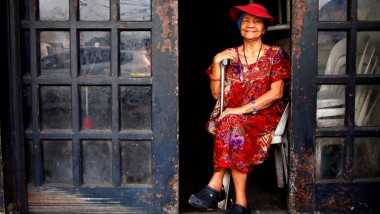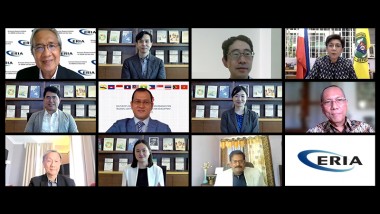 CHOOSE FILTER