Distinguished Lecture Series presented by ERIA and UPH starts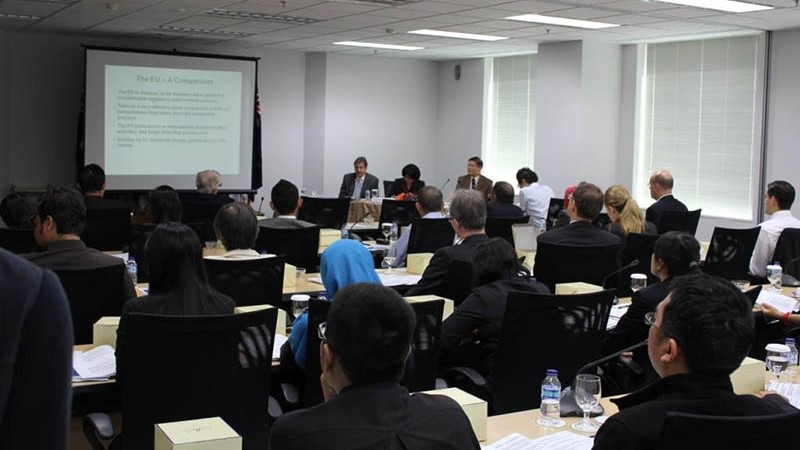 Economic Research Institute for ASEAN and East Asia (ERIA) organized the first lecture session of the Distinguished Lecture Series "International Trade and ASEAN Integration 2015 - Can Trade Barriers be Reduced in Support of Deeper ASEAN Integration" jointly together with Universitas Pelita Harapan(UPH) on February 6, 2013 at the ERIA office in Jakarta.
Around 60 participants from government officials, embassies, international organizations, research institutes, and private sectors attended this event. The presentation was given by Dr. Arthur E. Appleton, Founding Partner, Appleton Luff, who has been engaged in the field of international trade law for more than 22 years and is WTO specialist. He gave a distinct insight and made recommendations to ASEAN by comparison with the EU cases. The discussion was moderated by Dr. Ponciano S. Intal, Jr., Senior Researcher, ERIA with Dr. Appleton and the guest discussant, Ms. Donna Gultom, Deputy Director, Directorate General of International Trade Cooperation, Republic of Indonesia and open to the floor at the end. The five more lectures for the series will be coming forth up to May 2013, which covers the topics such as global value chain in services, investment law, global economy governance, agriculture and food security, and trade remedies. Attendance at the Lecture Series is by invitation only.
CHOOSE FILTER