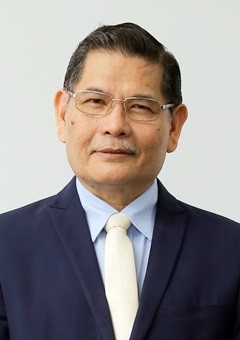 Ponciano S. Intal, Jr.
Senior Economist and Senior Policy Fellow
Ponciano S. Intal, Jr. recieved his PhD in Economics from Yale University in Connecticut, USA. He was previously affiliated with National Economic Development Auhtority (NEDA) and Philippine Institute for Development Studies (PIDS) in the Philipines. Before joining ERIA he served De La Salle University for eleven years as a professor and executive director for Angelo King Institute. His research focuses on international trade, agriculture, macroeconomic, and poverty.
Expertise
International trade and economic relations
Agro- industrial adjustment
Agricultural pricing and R & D policy
Macroeconomic policy
Poverty and inclusive growth
Education
1983

PhD in Economics

Yale University, New Haven, Connecticut, U.S.A.

1979

M Phil in Economics

Yale University, 1979

1978

Master of Arts in Economics,

University of the Philippines, 1978

1970

Bachelor of Science in Business Administration

Mindanao State University, 1970 (Summa Cum Laude)
Experience
1998 - 2009

Full Professor

Department of Economics,
College of Business and Economics,
De La Salle University

1999-2008

Executive Director

DLSU Angelo King Institute for Economic and Business
Studies,
De La Salle University

1991 - 1998

President

Philippine Institute for Development Studies (PIDS)



1990 - 1991

Deputy Director General

National Economic and Development Authority (NEDA)



1989 - 1990

Assistant Director General

National Economic and Development Authority (NEDA)



1989

Director

National Planning and Policy Staff, NEDA



1988 - 1989

Director

Trade, Industry and Utilities Staff, NEDA


Publications (selected)
Others