Upon the Occasion of the Death of Dr Surin Pitsuwan
It is with the greatest sorrow that I, and all of us at ERIA, have learned of the passing of Dr Surin Pitsuwan. A statesman without parallel, a man of both vision and warmth, a leader for ASEAN like no other. Asia, in fact the whole world, suffers a great loss today. At ERIA, he was a most engaged Special Advisor to the President who provided guidance and inspiration. He will be greatly missed.
It is impossible to measure the impact of someone like Surin whose aspirations for the region blossomed far into the future, while his kindness and caring touched the hearts of each person he met.
As a true leader of ASEAN, even well after his term as Secretary General, he gave himself fully to promoting the dream of a peaceful and prosperous region where every person could be a member of a caring and sharing community, a people-oriented ASEAN. He was also a strong believer in ASEAN centrality and the need for the region to promote intra-regional trade: 'We have to do more of our own integration and globalization. It is the only way to go forward in the next half century,' he said at an ERIA symposium in June this year. And ASEAN must know itself as a global player and contribute to the common goods within the global community.
Never one to shirk the duty of visionary: 'ASEAN has to transform this planet for all people,' he said.
Now with heavy hearts we must say goodbye to this true gentleman, statesman, friend and leader who gave so much to all of us.
On this sad occasion, to those closest to him, we grieve with you.
Hidetoshi Nishimura
President of the Economic Research Institute of ASEAN and East Asia
Dr Surin Pitsuwan as Moderator of a Conversation with Former Heads of State at the High Level Forum on ASEAN@50
Related Articles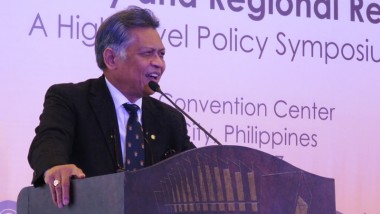 CHOOSE FILTER