The Power of Female Leaders - Women and Leadership 4.0 Webinar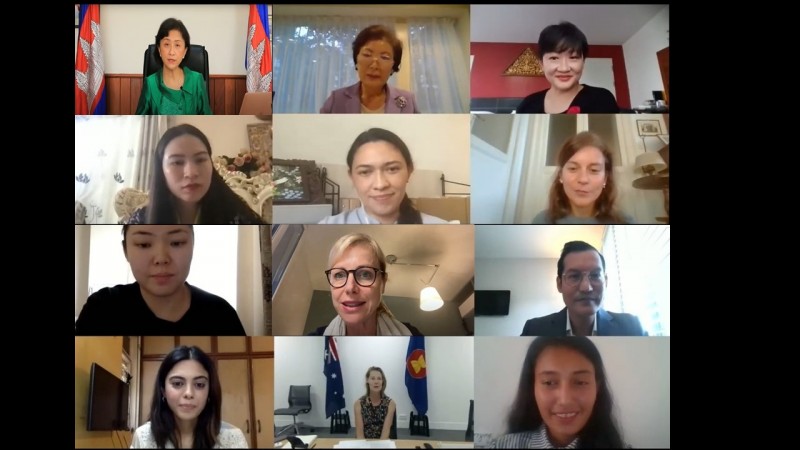 Jakarta, 7 October 2021: Effective leadership has generated intense attention since the wake of the COVID-19 pandemic as the world faces rapid changes and unprecedented challenges. The global health crisis has shed light on the extraordinary impact of female leadership and how empathy and compassion can be harnessed to become critical leadership skills. The multi-sectoral impact of the pandemic has nonetheless resulted in widening the gender equality gap. Across the Asia Pacific, women need to become increasingly recognised for their roles as leaders and agents of change. Governments, businesses, political bodies, and corporations have responded to the trend by improving gender parity, though with slow progress. To achieve the Sustainable Development Goals, the Asia Pacific region must couple moral and ethical imperatives with greater female leadership to boost productivity, innovation, and to create a more sustainable socioeconomic ecosystem.
In partnership with The Asian Network, the Economic Research Institute for ASEAN and East Asia (ERIA) held an online event to support women's empowerment and the UN Sustainable Goal Five, gender equality, and brought together 12 female leaders from Asia to share their expertise on leadership, entrepreneurship, youth, and technology for good. These powerful female speakers have attained several accolades including from the UN and have been recognised as young leaders in Asia on global platforms such as Forbes 30 under 30 List, TEDx, UN prizes, Asia Society 21, and the World Economic Forum.
The webinar consisted of four panels with different topics of discussion as follows:
Panel 1: Women in Tech (50)
Opening Remarks: Prof Akiko Yamanaka, Special Adviser President of ERIA and Former Vice Minister of Foreign Affairs, Japan
Speakers:
Ms Aimi Ramlee, Co-founder SoutheastAsiaWomen.org, Brunei Darussalam
Ms Lena Ng, Chief of Investment AMATA Corporation, Thailand
Ms Kieu My (Kimiko) Doan, Doan Chief Marketing Officer, VinFast, Vietnam
In her Opening Remarks, Prof Yamanaka stipulated three important elements about women's empowerment namely (1) ensuring social resilience, (2) addressing common interest, and (3) establishing an age of balance. She emphasized how equality for women is not simply the absence of discrimination, but rather granting women the rights, opportunities, and responsibilities to take part in their personal and professional development.
Ms Ramlee highlighted the structural problems and barriers that women often face in the tech sector. She shared that in Brunei, there are more female graduates in Science, Technology, Engineering, and Mathematics (STEM) than male graduates, however, most women choose a career outside of the tech sector. Although equal access to the internet remains a significant challenge in Brunei, Ms Ramlee sees strong potential for women to expand their business through digitalisation and to increase their skill set thus enhancing employment opportunities in the tech sector.
Ms Ng explained how technology can be harnessed to raise awareness and bring change to society. She explained that female leaders should provide opportunities to other women as well as encourage conversations and push for concrete actions to support women's empowerment initiatives in a business or corporate setting.
Ms Doan shared her experience of challenging the status quo and expectations from society when working in a traditionally male-dominated industry. She underscored the importance of businesses and companies in ensuring diversity and a balance of opportunity for male and female working professionals. She further explained how policy interventions such as equal parental leave and flexibility of remote working can increase the number of working women in the tech industry.
Panel 2: Youth and UN Women
Opening Remarks: Ms Caroline Scott, Deputy Head of Mission, Australian Embassy to ASEAN
Speakers:
Ms Kyzzhibek Batyrkanova, Program Director, Kyrgyz Space Program
Ms Avani Awasthee, Explorer to Antartica, India
Ms Sumitra Magrati, Education Field Reed, Nepal
In her Opening Remarks, Ms Scott focused on the role of women in health care and post-pandemic economic recovery. Through her longstanding work, Ms Scott has found that society is more likely to become inclusive, productive, and stable when it includes women in all aspects of economic and cultural life. She also reiterated the Australian government's commitment to supporting gender equality and women's empowerment in the Asia Pacific.
Ms Magrati shared her perspectives in working with UN Women to support women's leadership, participation in decision-making, and economic empowerment. She further mentioned several obstacles women in Southeast Asia face including sexual harassment, lack of access to basic services, and an income gap between women and a gender wage gap. Ms Magrati expressed her aim to increase access to education for children in rural areas through her work with Education Field Reed.
Ms Batyrkanova shared her backstory as a pioneer in leading the Kyrgyz Space Program which aims to assemble Kyrgyzstan's first satellite with an all-female team. Despite difficulties upon initiating the project such as in building her team and finding the right mentors, she encourages young women to break stereotypes and expand their understanding of the STEM fields.
Ms Awasthee talked about her adventures from determining her first initiative to going on an expedition to Antarctica at the age of 18. Her incredible journey inspired her to empower more girls to challenge barriers and society's stereotypes of being female. Ms Awasthee calls for greater advocacy to ensure vulnerable communities have equal access to education, particularly women and children in underprivileged areas.
Panel 3: Tech for good
Opening Remarks: Ms Alessia Mosca, Secretary-General of Italy ASEAN Association and Former Member of European Parliament
Speakers:
Ms Hla Hla Win, Founder of 360 Ed, Myanmar
Ms Lala Rukh Fazal Ur Rahman, Founder & CEO at Science Fuse, Pakistan
Ms Priya Prakash, Founder & CEO at HealthSetGo, India
In her Opening Remarks, Ms Mosca raised the issue of increasing inequality between women and men across sectors around the world and stressed the importance of promoting STEM skills and education from an early age. She described an initiative she recently founded "Il Cielo Itinerante – The Travelling Sky", which provides girls from underprivileged backgrounds access to STEM skills. She shared her personl experience that young people can drive transformative change when they are given adequate support.
Ms Win offered insights on how the COVID-19 pandemic created challenges for students and teachers in accessing education materials especially in Myanmar, where 75% of the population lives in rural areas. Mobile learning and digital apps will continue to play a crucial part in the future of education and can counter problems that Myanmar experienced. Through 360 Ed, she has improved access to learning materials by offering digitalised textbooks and educational videos.
Ms Rahman shared her experience in establishing Science Fuse, a social enterprise that works to improve the quality of science education for children in Pakistan. Over the years, she has equipped children with science education and technology skills to expand their opportunities in life. She explained that the pandemic has encouraged her to further harness technology to stay connected with educators and students across Pakistan.
Ms Prakash discussed her work with HealthSetGo which focuses on expanding a digital health record to track and prevent chronic diseases from an early age which she expects will become increasingly important in the future, especially during a pandemic. With HealthSetGo, she instills healthy habits among school children across India and mobilises a team of doctors who conduct school visits and medical check-ups of children.
Panel 4: Leadership in Cambodia
Opening Remarks: H.E Dr Ing Kantha Phavi, Minister of Ministry of Women's Affairs, Cambodia
Speakers:
Ms Channe Suy Lan, Managing Director, InSTEED iLab, Cambodia
Mrs Seng Takakneary, Founder CWEA, Cambodia
Dr Seanglidet Yean, Research Fellow NTU, Cambodia
In the Opening Remarks, H.E. Dr Ing Kantha Phavi stated that whilst the pandemic continues to disrupt global development, it has also encouraged ASEAN Member States to push for unity and cooperation to maintain regional stability and prosperity. ASEAN initiatives such as ASEAN Women Leaders' Summit 2020 and ASEAN Ministerial Meeting on Women showcase the increasing significance of gender equality, women's leadership, and their participation in a crisis management scenario as well as for a post-pandemic recovery path. As the Chair of ASEAN in 2022, H.E. Dr Phavi reaffirms Cambodia's commitment to advocating for inclusive gender equality and women's economic empowerment.
Dr Yean shared her views on how to nurture young women to take leadership roles especially in STEM and how to help women into those leadership roles. To achieve this, it is critical to tackle public misconceptions about women pursuing higher education in the STEM fields. She further explained how male involvement could be beneficial in supporting gender equality and transparency in the recruitment process hence boosting the chances of more women in leadership roles.
Ms Takakneary shared how Cambodia has seen a significant increase in the number of women in leadership roles over the past decade, adding that the use of ICT has proven critical in promoting women's empowerment. As a proponent of female leaders, her work with Cambodia Women Entrepreneurs Association (CWEA) is heavily engaged in the promotion of gender equality and offering support for female entrepreneurs who lead small and medium enterprises. CWEA additionally provides legal consultation for women-led e-commerce businesses.
Ms Lan expressed her opinion on the importance of female teachers to integrate and incorporate ICT in the curricula of public schools as it would inspire more girls to consider and choose ICT or STEM as their career path. She also explained how the entrepreneurial drive of Cambodians have resulted in various programmes focused on the growth of female entrepreneurs and transitioning their businesses online.
The webinar was co-moderated by Dr Giulia Ajmone Marsan, ERIA Director for Strategic and Partnership, and Mr Ravindra Ngo, the founder of ASIAN Network.
The online webinar was organised under ERIA's Strategy and Partnership Programme and was funded by Australia.
Image Gallery
Related Articles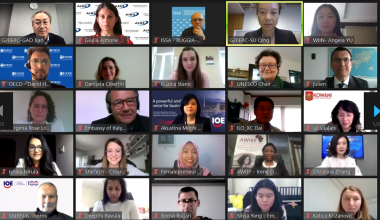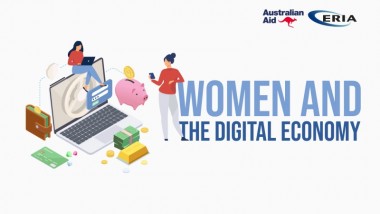 CHOOSE FILTER