Nine Youthful Leaders Receive 2022 Head and Heart Award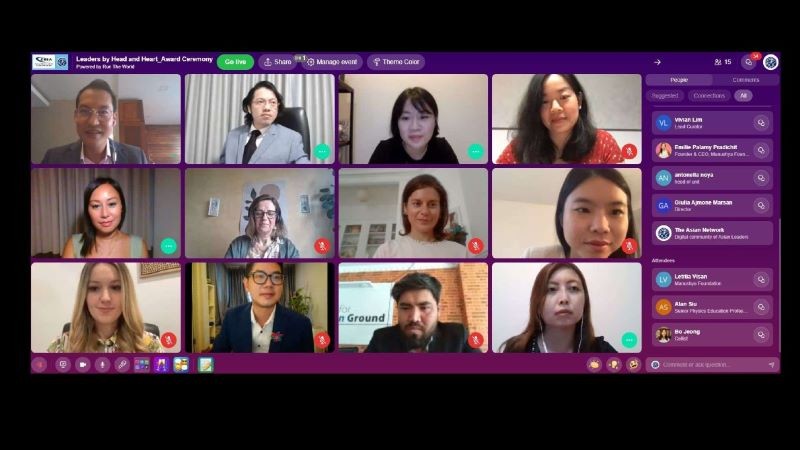 Jakarta/Singapore, 19 May 2022: Nine outstanding individuals from various countries who have made major contributions to their communities and countries in the fields of health, gender, equality, and youth empowerment were the latest recipients of the Leaders by Head and Heart Award, an annual award given by The Asian Network in partnership with the Economic Research Institute for ASEAN and East Asia (ERIA). The Asian Network is a digital community dedicated to connecting like-minded individuals who can empower each other to make a positive impact within their communities and inspire the younger generation through speakers' series, webinars, and virtual conferences.
The awardees for 2022 were Dr Darren Chua (Singapore) for disability awareness, Mr Ali Fayez (Afghanistan) for peace, Dr Skye Kinder (Australia) for health, Ms Saijai Liangpunsakul (Thailand) for technology for good, Ms Vivian Lim (Singapore) for gender equality, Mr The Huy Luong (Viet Nam) for social justice, Ms Emilie Palamy Pradichit (Thailand) for social justice, Ms Sherry Soon (Singapore) for invisible disability awareness, and Ms Catherine Sarah Young (Philippines) for the environment.
During the awarding ceremony, held virtually on 19 May 2022, Mr Ravindra Ngo, founder and chief executive officer of The Asian Network, welcomed and introduced the awardees. In his introductory speech, he emphasised that empathy and compassion to those who need them the most are important to tackle global challenges. He congratulated the awardees for their dedication, passion, and valuable work for community, society, and country.
In her opening remarks, Ms Antonella Noya, head of the Social Economy and Innovation Unit of the Organisation for Economic Co-operation and Development (OECD) expressed thanks for the opportunity to send a good message on how and why it is possible to scale social impact of social enterprises on top of strengthening the social, economy, and policy ecosystem in different regions. She said she was counting on new generations to help address the challenges as met by OECD, which has demonstrated the importance of action to increase levels of social inclusion to provide jobs and promote digital transition. She noted that although Asia is the epicentre of global value chains, much of its population still lives below the poverty line and is excluded from the formal economy. She cited the need for increased awareness to achieve more resilient and inclusive growth. She said every actor in society and the economy has a role in promoting awareness and supporting the growth of business.
In her response, Ms Pradichit, founder and executive director of Manushya Foundation, shared her personal background as a political refugee since birth in the suburbs of France, and how she had witnessed inequalities and racial discrimination. She narrated how she used her personal story to focus on supporting marginalised communities and making local communities more visible and be at the centre of decision-making processes that concern them. She said she helps marginalised people know their rights, fight for social justice and equality, and amplify their voices. The Manushya Foundation is a women-led and innovative non-profit organisation promoting community empowerment to advance the human rights of marginalised communities and fight for social justice.
Ms Lim, co-founder of GEN, a non-profit organisation that works to close gender gaps, bridge generational differences, and find alternative voices to the general perspective, spoke of being passionate about building inclusive communities. She stated her belief in the need to understand cultural and gender diversities as one of the first steps to achieve progress in gender equity, especially in Asia. She cited the need to close gender gaps, bridge generational differences, and find alternative voices to the general perspective. She said understanding the unique gendered social structures is important to bridge the gaps and achieve gender equality.
Ms Young, a participatory artist whose work explores emerging technologies and alternative futures through interactive storytelling and sensory experiences, said she used her background in molecular biology, fine art, and interaction design to create interdisciplinary art projects about the environment. She specifically cited climate change as the focus of her work. She told her audience that the years ahead are years of repair of destruction by catastrophes that humans have created, such as fossil fuel emissions that lead to climate emergencies or habitat destruction causing diseases or rising inequality worldwide. She ended her response by stating that art and many disciplines play a part in planetary repair.
Dr Chua, founder of the Potter's Clay Education, suffered a stroke when he was 24 years old. Unable to practise medicine, he became an inspirational speaker, empowerment coach, and health ambassador. The foundation is a boutique tuition centre set up in 2009 to help students achieve their best. In his response, Dr Chua spoke of pushing boundaries and demonstrating strength in helping others, and helping people realise their strength and gift. He also spoke of how mindset is the core of what people do but is also the foundation upon which their potential is formed. Thus, he said, people can use their mindset to add value to the people they want to impact, with the ultimate desire to do what is best for society.
Dr Kinder, vice chair of the Women's Health Loddon Malee board, said in her response that she is an ardent advocate for rural and marginalised patients and their communities, and does clinical work in mental health. She said that geographic location continues to be a major predictor for the future of marginalised people and that, in Australia, those who live outside major cities continue to experience poorer health outcomes across almost every disease type. She now raises awareness, she said, about marginalised patients to ensure better support for them, whilst pointing out that geography should not predetermine one's destiny. The Women's Health Loddon Mallee is the regional women's health service for communities across regional North-West Victoria, Australia.
Mr Fayez is a policy officer who advocates for the national adoption and localisation of the United Nations 2250 resolution on youth, peace, and security. He promotes a culture of tolerance, openness, and respect. In his response, he noted how he had learned that the terms of peace and security are much more politicised in conflict-affected countries like Afghanistan. He observed that although people often relate peace with political agreement, looking at terms of peace and security from a new perspective, promoting new concepts related to everyday life, and adjusting to compromise with one another's response to emotions are steps to resolve disputes.
Diagnosed and living with vasculitis, Ms Soon, founder of Be Kind SG, said her experience of going through pain, suffering, and loss of opportunities made her realise what people with disabilities face, especially those with invisible disabilities. She said she used her experience to live a life that aims to create and inspire a kind and inclusive society for persons with special needs and those unable to find a stable job, or caregivers for people with special needs, through building relationships and empathy. Be Kind SG is a volunteer-led group whose mission is to create and inspire a kind and inclusive society for persons with invisible disabilities.
Mr Luong, co-founder of Đi đường Nghe chuyện, is an openly gay jurist who works in the first non-governmental organisation working for lesbian, gay, bisexual, and transgender (LGBT) rights in Viet Nam. He claimed that laws in several countries still prohibit LGBT rights and that although some countries are more advanced than others, what they are doing is still just a starting point in the LGBT movement. He said that to understand people, one must see how they treat people with less power. Similarly, he said, it is important to see how a society treats minority groups.
Ms Liangpunsakul, social impact director of Myanmar Innovation Lab, spoke of how technology brings joy and opportunity to young people, on top of enabling them to access global information. The Myanmar Innovation Lab, also known as Phandeeyar, is a technology seed accelerator that pioneers the use of technology to drive transformation and development. Her work, she said, involves spearheading the use of technology to accelerate change. She noted, however, that technology divides people at the same time. Nonetheless, she remarked, technology can be used to raise awareness and impact democracy. She said that although technology allows people to communicate more but connect less outside the digital world, technology should essentially be about awareness and connection in a community.
Closing the awarding ceremony, Dr Giulia Ajmone Marsan, director of strategy and partnership at ERIA, congratulated the awardees and expressed how interesting it was to listen to experiences from different countries' leaders in various fields and disciplines. She said that each of the awardees carry an important reminder in their respective topics and fields, whilst also noting the importance of different approaches and initiatives for a sustainable and inclusive economic development of ASEAN and Asia in general. She cited inclusiveness and sustainability as the main field to which people should not lose focus upon, and that she hoped to grow a community that would work together for a more sustainable and inclusive community.
Related Articles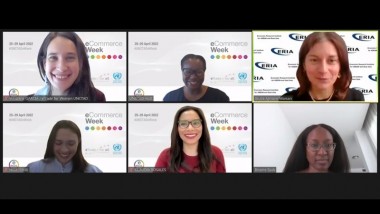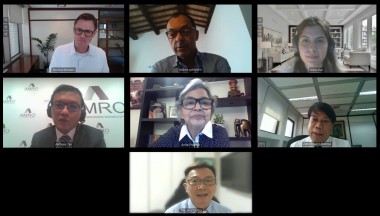 CHOOSE FILTER