Incubators and Accelerators are Key Actors of Innovation and Entrepreneurship Ecosystems: The E-S-I Webinar #6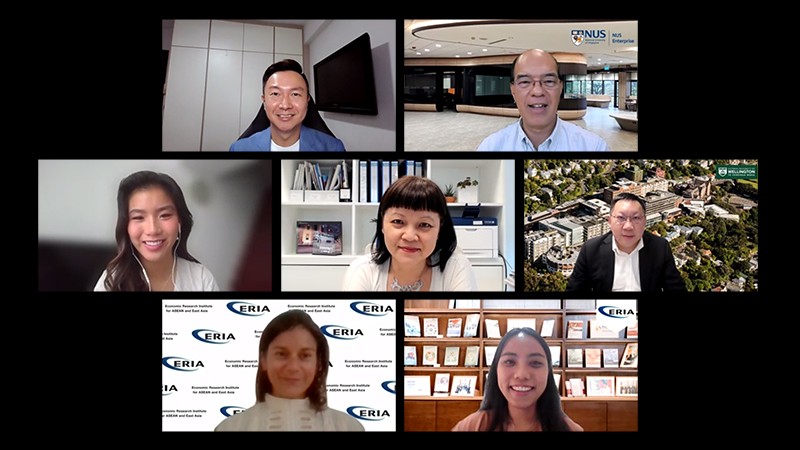 Jakarta, 22 July 2021: Incubators and accelerators are organisations providing services to entrepreneurs to help them start, grow, and scale up their businesses: from support to raise capital, to skills development and training, to mentorship and networking. Over the past decade, innovation eco-systems across ASEAN and East Asia have emerged and/or consolidated and many different types of incubators and accelerators have started to offer their services to a growing cohort of entrepreneurs. Now, during the COVID-19 crisis, these organisations are rethinking their role in order to continue to be fit-for-purpose and support entrepreneurs in times of disruption.
The 6th episode of ERIA's Entrepreneurship, Start-Up, and Innovation (E-S-I) webinar series with the theme 'Of Incubators and Accelerators: Shaping the Future of E-S-I' was held on 22 July 2021 and attracted more than 100 participants from the Asia-Pacific region.
Four speakers discussed incubation, acceleration services, and the entrepreneurship eco-systems in their countries:
Brian Koh, Director of NUS Enterprise, Singapore
Jayne Chan, Head of Startmeup HK, Invest HK, Hong Kong
Siah Hwee Ang, Professor of International Business and Strategy Chair in Business in Asia, Victoria University of Wellington, New Zealand
Cheryl Ng, Startup Ecosystem Support Consultant, UNDP, Cambodia
Mr Brian Koh, Director of NUS Enterprise, began by sharing the importance of universities providing platforms and digital facilities for students to learn about start-ups in a safe environment. He highlighted how universities can help students with their entrepreneurial journey from the initial stage of research and development to commercialization. Beyond education, the role of university as an incubator and accelerator plays an important part in connecting students with external actors such as SMEs and the private sector. In a small country like Singapore, connecting students and entrepreneurs internationally is also a critical step. He also highlighted the need for universities to develop training programmes to help students to become more adaptive and responsive to unprecedented, complex challenges.
Ms Jayne Chan, Head of StartmeUp HK, highlighted the current trends with emerging start-ups in Hong Kong as a global hub. The growing numbers of start-ups in different types of industries such as fintech, e-commerce/logistics and property services, has shown how diverse the Hong Kong innovation eco-system is becoming. Furthermore, she emphasised the role of the private sector as an accelerator to provide insight and deep industry expertise for entrepreneurs.
Mr Siah Hwee Ang, Professor of International Business and Strategy Chair in Business in Asia, Victoria University of Wellington, NZ, and Director of the Centre of Asia-Pacific Excellence (CAPEs), a university-led centre of excellence established by the New Zealand government, shared his experience in managing the Centre that connects New Zealand entrepreneurs to Southeast Asian markets. He also highlighted how the Centre has helped students in translating their academic knowledge into what the industry needs, as well as building partnerships and exchanging innovations to strengthen connectivity between ASEAN and New Zealand.
Ms Cheryl Ng, UNDP Cambodia Startup Ecosystem Consultant, shared her experience on entrepreneurship youth programs in Cambodia. Through incubators and accelerators, young entrepreneurs can learn fundamental skill sets on business models and upscale their start-up to generate revenue. A collaboration with the government, the private sector, NGOs, and entrepreneurs is crucial to boost the entrepreneurial ecosystem. She also mentioned the opportunities that the post-pandemic recovery can bring to the many start-ups in informal industries such as tourism and the creative industry.
The webinar was co-hosted by Dr Giulia Ajmone Marsan, ERIA Director for Strategy and Partnership, Ms Lina Maulidina Sabrina, Programme Officer, ERIA and Mr TJ Ooi, Founder of Curated Connectors, a Singapore-based start-up. During the Q&A session, moderated by Ms Lina, speakers discussed how younger entrepreneurs can upscale their business products. Speakers highlight how they can start by conducting targeted market research and adjusting their solutions to everyday problems.
In her closing remarks, Dr Giulia Ajmone Marsan reiterated two important aspects: the diversity of incubators and accelerators across ASEAN and East Asia (hosted in Universities such as NUS Enterprise or the SEA Cape, some as part of larger governmental agencies like StartMeUp HK, and others managed by the private sector or international organisations, like UNDP Cambodia). She also mentioned how collaboration and cooperation are key to foster the development of a healthy ESI ecosystem.
ERIA's E-S-I webinar series is organised under ERIA's Strategy and Partnership Programme, funded by Australia.
Related Articles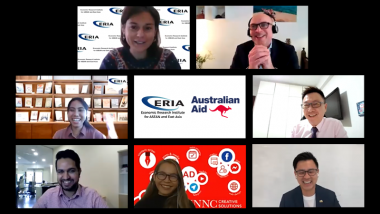 CHOOSE FILTER